10 Great Interior Design Ideas For a Modern Living Room
|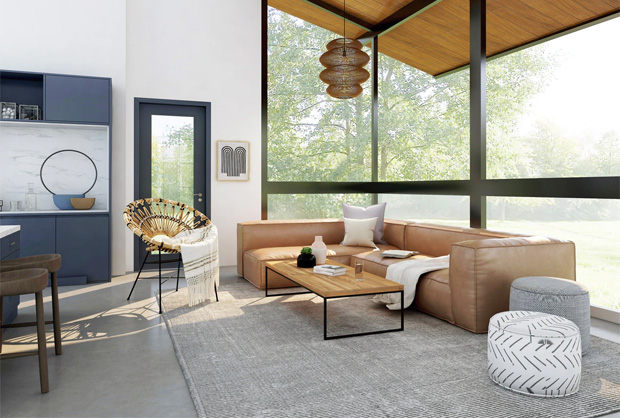 10 Great Interior Design Ideas For a Modern Living Room
Modern living room design is centered on creating visual interest which can be achieved through art and color. A neutral background sounds great but incorporates interesting art pieces to make the room stand out.
Some people prefer white walls because it creates a clean and nice canvas upon which you can easily add matching furniture and interior decor. Sectional sofas or mid-century chairs are classic and stylish base furniture.
1.  Keep off sofa sets
Only commit to a style that ensures you have cohesion and not simply to fill up the spaces. Sofa sets are outdated and give your living room a boring flatness feeling. Instead, pick foundational pieces like arm chairs, sofa, and rug. These pieces are different but actually complement each other.
Moreover, you can add a few design elements or styles provided they complement your overall design and not compete with it. Throw in pendant lighting to ensure the room instantly commands attention. When everything works together, the living room looks catchy and feels intentional and balanced.
2.  Don't fear mixing materials
Mixing materials is necessary if you want to create that fantastic modern look. Combine different finishes to get an overall layered look. Ultimately, this is what will give you the dynamic look you seek.
A mix of fabrics in velvet, leather, and linen gives the room that great texture. Throw in exotic wooden coffee table. Balance your soft and hard finishes to get an interesting layered design. Add color through art by picking ideal pieces like a modern blue sofa.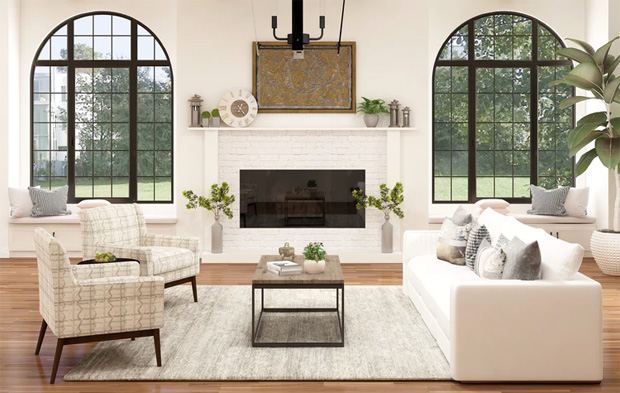 3.  Create a seating plan
A modern living room should have hints of functionality and balance. A seating plan is a good place to start as it's the center of a family gathering for social engagements or entertainment. Inadequate seating is a common problem. However, the seating plan is dictated by the room size.
Go for open spaces and clean lines to strike a fine balance functionality and look. You can consult a professional interior designer to help you with room layouts. It will ensure you only buy pieces that fit the space.
Seating is the biggest accessory in a living room, so you may want to carefully consider the frame style and upholstery fabric. If the room is angled, go for an angled sofa to maximize the space.
Add the right sectional sofa and accent chair combination to give you more seating without cramping the room. Again, consult an interior designer to ensure you have it right.
4.  Embrace color
In the modern living room interior, color plays a significant role. Use color to create focus. For example, navy blue sofa offers an anchor to an otherwise dreamy and light living space. Use a neutral color on the walls then add more color through other accessories like modern end tables and vases.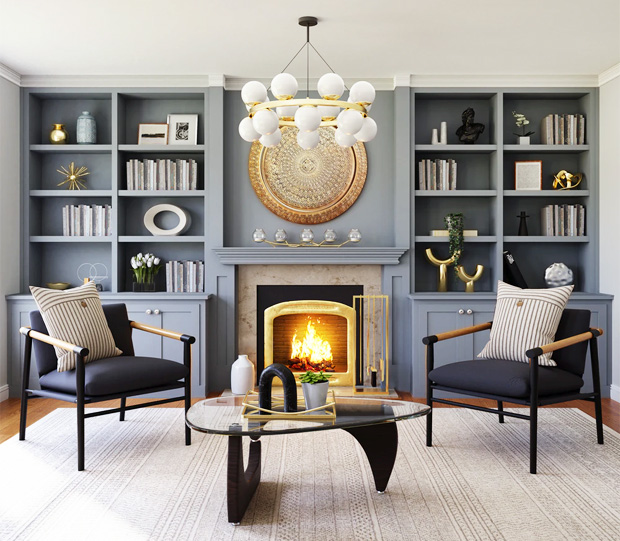 5.  Install a cool modern fireplace
Fireplaces increase home value and serve as an artwork, which gives the room a focal point. Also, you can throw in a modern TV stand to create your focal point.
6.  Create a multifunctional space
This allows you to free-clutter and let the space be more suited for relaxing and entertainment. Eliminate things that are extraneous to make the room more comfortable. Create an inviting space that appeals to many activities.
Use modern sofa beds and classic armchairs to boost comfort and make the room ideal for watching your favorite game on the big screen or catching a Netflix movie or reading some DIY tips from Lottoland. Place the room for versatile spaces and make it more usable and welcoming. 
7.  Include things your love
During the interior living room design, it's tempting to go shopping to fill the room with a lot of unnecessary stuff. Always watch for real characters which are easily brought by curated pieces. For instance, a vintage pillow or your grandfather's hat hanging on your wall.
Don't rush to fill up the room. Do your decorations slowly and let the rugs and furniture punctuate the room.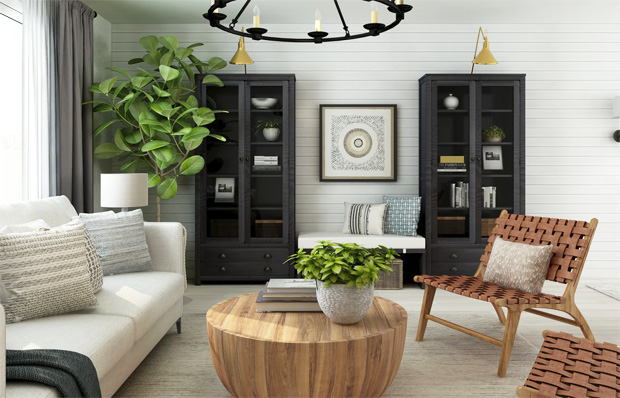 8.  Skip molding
Your living room doesn't need cornices and molding. Instead, opt for more embellished designs when it comes to cabinetry and doors.
9.  Lighting
A well-designed living room is easily spoiled if the lighting is wrong. Windows provide natural light. Consequently, furniture and colored walls open up dark spaces. Factor in overhead lights or accent lighting to ensure the room is well-illuminated. 
10. Focus on accent pieces
Make your living room feel more visually interesting and personalized by adding books, bowls and decorations such as coffee tables or jazz up shelves. Strike a perfect balance of livability and a beautiful design. The sentimental pieces make the room more realistic and personalized.
Conclusion
Every room needs a focal point that draws attention. Try not to have too many focal points as it makes the room feel unfocused and affects the balance. Properly distribute the visual weight by rightly placing the furniture to make the room feel more balanced and complete. 
Guest Article.