5 Design Tips That Make Your Home More Beautiful & Eco-Friendly
|
5 Design Tips That Make Your Home More Beautiful & Eco-Friendly
Being green doesn't have to be boring! When you're designing your next major home improvement project, just say "yes" to being eco-friendly.
Environmentally friendly furniture and furnishings sometimes have a bad reputation of being ugly and dull. This is simply not the case nowadays! Now, the environmentally-friendly home decor is sleek and sophisticated.
There is no reason to choose between being eco-friendly and being fashionable anymore. We will show you how! After reading this post, don't forget to check out these tips for making a garden more eco-friendly.
Vintage Goods are all the Rave
It's time to go to Goodwill! Thrift stores like Salvation Army and Goodwill are full of beautiful pieces of furniture. Search through these stores for anything from coffee tables to sofas. You can find anything there! By buying furniture at a thrift store, you are reusing goods. This means that you are not adding to your carbon footprint by buying brand-new pieces of furniture.
Also, where else are you going to find awesome, vintage pieces for a fraction of the cost? Thrift stores not only save you money and add to the chicness of your house, but they also help the environment by decreasing the number of goods in circulation. Go treasure hunting and find yourself an amazing piece of furniture at your local thrift store.
Go Au Naturale With Lighting
There's no better source of light than the sun! If it's at all possible, use as much light from the sun as you can vs. using artificial light sources. This may sound like an impossible task especially since we can't seem to live without electricity these days. However, there are some awesome ways to maximize natural lighting in your household. Skylights can add an incredible amount of natural lighting to your home. Some varieties of skylights can even absorb the sun's energy during the day, and illuminate a room at night.
Another great way to maximize natural light is by installing large energy-efficient windows. Large windows can do wonders for a room. They let in a whole lot of light, and if they're energy-efficient, they won't let your heat out or drive up your energy bill.
LEDs are Your New Best Friend
Throw out your old light bulbs! LED light bulbs are energy-efficient and look just as good as traditional light bulbs. LED bulbs used to give off a blue glow that people did not enjoy. Now, these bulbs come in golden tones that can bring warmth to your home. Some light fixture manufacturers even make light fixtures that come pre-installed with LED bulbs (for example, Allen and Roth lighting.) There is no excuse for you to continue using old, traditional bulbs.
CFL bulbs are also a great choice to make when decorating your home. These bulbs (while not as green as LED bulbs) last much longer than traditional bulbs and waste much less energy as heat.
Don't worry. You don't need a house plant as big as Audrey II from "Little Shop of Horrors" to decorate your house with. You just need house plants that are cute and eco-friendly!
Buy a shoot of bamboo for your bathroom. Bamboo requires less sunlight than other plants, so it would work great in a room without windows. Succulents are beautiful and require little to no maintenance. Put a variety of succulents in a pot and leave them in your foyer or living room.
Buy a tomato plant or herb garden for your home. Not only will this serve as a green decoration, but it will also allow you to harvest your own herbs or vegetables instead of buying them from the supermarket. House plants are completely green and look wonderful. Load up your home with house plants galore!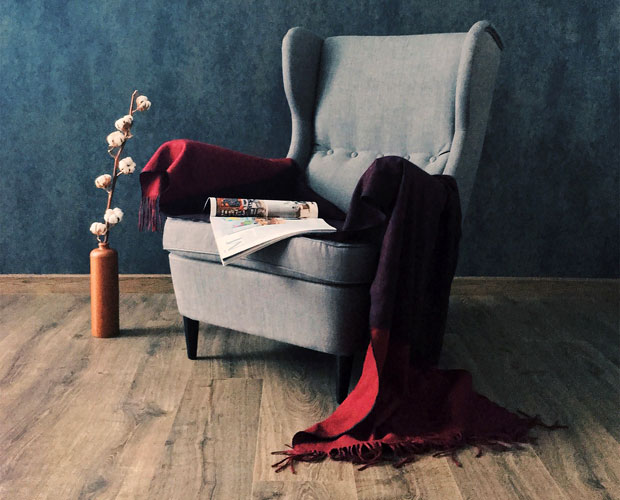 Clean, Green Floors & Walls
There are plenty of green flooring and wallpaper options available to homeowners. Wool, seagrass, jute and natural sisal can all be used to produce green carpeting and bamboo is a great textile for wooden flooring.
Wallpapers that are produced with ink that is water-based are great for decorating walls. Bamboo and grass cloth wallpaper can also be bought and used in your home. There's no need to use the traditional textiles of our parents' and grandparents' generation!
Now It's Your Turn
You are now ready to go out and decorate your home with these green, style tips! By buying your furniture at a thrift store, you are reusing perfectly good home furnishings. Natural light can light up your rooms and won't use extra energy. LEDs and CFLs are great alternatives to traditional light bulbs. House plants can make your home look inviting and are completely eco-friendly. Green wallpaper and flooring will make your home look wonderful and won't add any dangerous chemicals to the environment. So go out there and get to decoration, you green goddess!
What tips and tricks do you have for making your home decor green and eco-friendly?
This is a Guest Post. About the author:
Nadya J. is an entrepreneur and a blogger behind AlleRothHQ.com, a popular website home design and improvements. She and her husband Brett write about home improvements they do at their home in Raleigh, North Carolina. In their blog, Nadya and Brett share styling and home renovation tips using their favorite brand.