9bar Top Seeds Sampler 6 Pack – The Classics – Review
|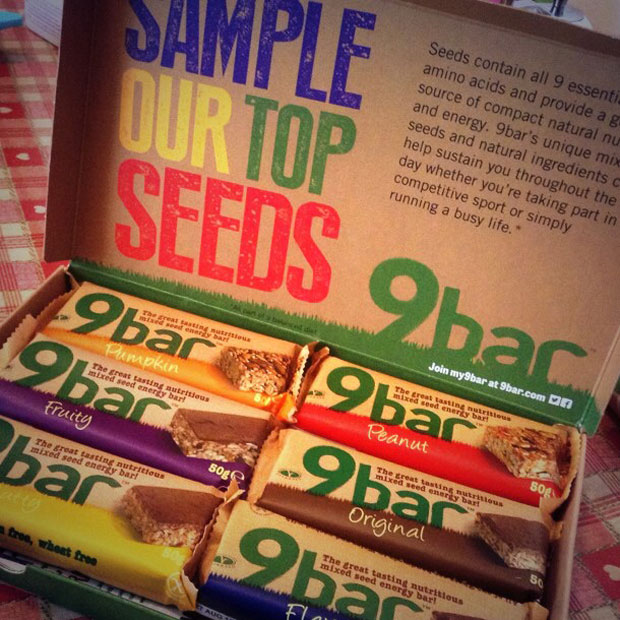 Ah, the classic 9bar flavours! They are the ones that made me fall in love with 9bar in the first place. I would buy them individually from Asda to eat as an afternoon snack. What made me love them was that they were yummy, healthy and very filling! My favourite back then was the Flax one but I really like them all.
The 9bar Sampler 6 Pack contains one of each of the classic 9bar flavours: Original, Flax, Nutty, Peanut, Fruity and Pumpkin. This box is a great way to try all flavour to see which ones you like the best or just a great selection box if you like variety.
The classic bars are all full of nutritious seeds and are all savoury and sweet at the same time, in my opinion. The Pumpkin Bar and the Peanut Bar do not come with the carob topping like the other 4 flavours do. The Peanut Bar and the Fruity Bar are vegan, all others are vegetarian.
These bars are dense, full of seeds and nuts or fruit, and make a great filling snack. I would say this range is more filling than the Breakfast range or the Indulge range.
On their own they are great snack, but if I have one for breakfast I'll add a fruit and something new I've discovered that works so well: butter and a bit of cheese on the 9bar! Delicious! This makes them filling enough for breakfast for me. (I'm really hungry in the mornings!)
These classic 9bars will always have a special place in my heart as they helped me through the very early mornings of breastfeeding my baby. I would always keep some of these in my cupboard because: 9bars are easy to reach for with one hand, you can eat them while you are feeding you baby and they are full of nutrients that are good for you and will give you that energy boost that you really need.
Always having healthy cereal/nut bars available is a tip I always give to new mums (especially breastfeeding ones). Good tip in general, to make healthy snacking easy!