Abis Electric Heated Clothes Airer Review
|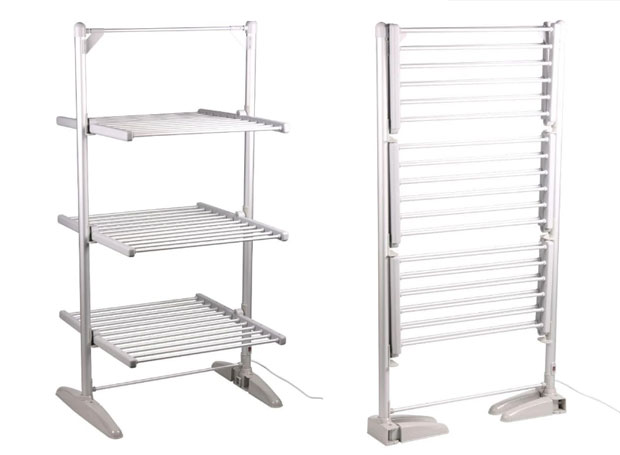 Abis Electric Heated Clothes Airer Review
Drying clothes is easy peasy when the weather is warm and dry but it can be quite difficult to keep on top of the washing during the rest of the year, especially if you have a large family.
Using a dryer uses a lot of electricity and costs a lot of money so it's something that I try to avoid as much as possible even though we do have a washer/dryer.
I'd been considering getting a heated airer for quite some time but wasn't sure how beneficial they'd be to us as a family. I thought that maybe the electricity costs would be similar to a dryer or that they might not make much difference to the drying time.
When Abis got in touch to see if I wanted to review one of their airers, it gave me the perfect opportunity to try one for myself and see if heated clothes airers are worth the hype.
The 3 Tier Electric Heated Clothes Airer from Abis has a brilliant design. It provides so much hanging space and the bars are distanced perfectly to provide good air flow between the clothes which speeds up drying a lot too even without it being turned on. I use ours without the heat a lot of the time too because of this and my washing dries much faster than when using our previous airer thanks to the perfect spacing between the bars.
This airer provides 20.5 meters drying space and easily fits big items too. The weight capacity is 15kg which is generous. We have a large washer and dryer and our Abis Electric Heated Clothes Airer fits about 1.5 loads which is great!
The airer is made from durable premium quality aluminium and is rustproof too. It can be used indoors and outdoors and has a waterproof switch and a long supply cord. The feet have anti-slip material to keep the airer steady while you're hanging up your washing.
It's hard to say exactly how much it speeds up the drying time as all materials are different but around 5 times as fast is a good average estimate. You can keep the airer on as long as you wish and it will help you dry your washing and warm up the room it's in too.
The bars get warm but not hot to touch so they will not burn anyone's hands. The top bar is not heated so ideal for delicate fabrics that can't be put on heat. I often put reusable nappies here that are not supposed to go on direct heat.
I love the shape and design of this airer – it provides so much hanging space and fits so well in our house. We keep it in our utility room and it's a perfect fit. I also love that you can fold it up for storing when not in use (this will be great in summer).
I'm really happy with our Abis Electric Heated Clothes Airer and would highly recommend it if you're looking for a new airer!
Check out my short video review here:
This product was kindly gifted for my video review above. As always, all my reviews are 100% honest and all thoughts and opinions are my own.