AD | Oliver's Kitchen Kitchenware Review & Giveaway
|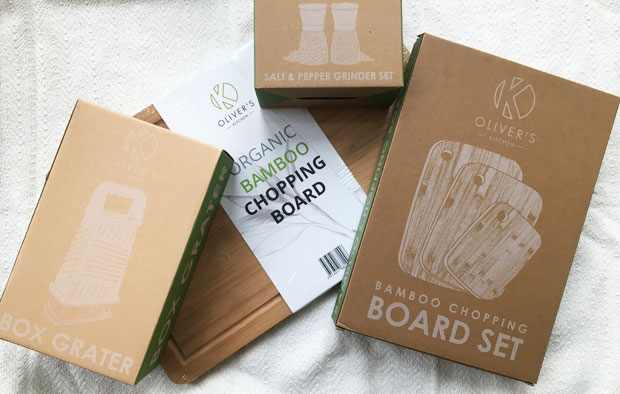 AD | Oliver's Kitchen Kitchenware Review & Giveaway
I have been a kitchenware nerd for as long as I can remember. When I was little I loved kitchen toys (still do, actually!) and my family members like to tease me for having a shopping list of all the kitchen items I needed to purchase for when moving to my own house. I made this list about 15 years early! It's safe to say that I love kitchenware!
Oliver's Kitchen is a small family run company that sells a growing range of cookware to make home-cooking fun and easy. The range includes lots of beautiful items for a stylish and practical kitchen — at affordable prices too. We've been testing a few of the items and also have a bundle to give away to one of my readers. More about that at the end of the post.
Let's look at the items that we've been sent for review:
Salt & Pepper Grinder Set
Electric Salt & Pepper Grinders
Large Chopping Board
Bamboo Chopping Board Set
Box Grater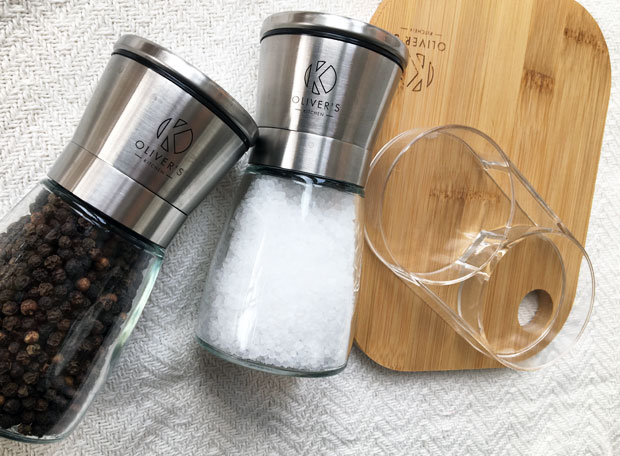 Salt & Pepper Grinder Sets
We love using sea salt and pepper at the table and this stylish set of salt and pepper grinders is ideal for us. We are using the manual salt and pepper grinders set as that works best for us and I love that it comes with a little stand too to keep everything neat and clean.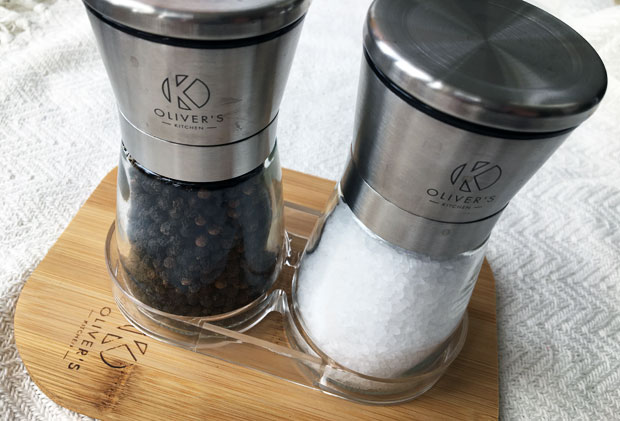 The grinders have a large capacity so you don't need to refill very often and you can adjust the coarseness of your salt and pepper too — choose from fine, medium and coarse.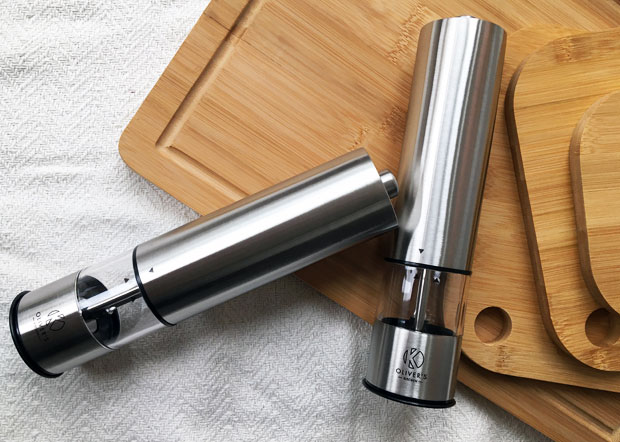 The electric salt and pepper grinders look amazing too — very stylish — and are perfect for people with delicate wrists.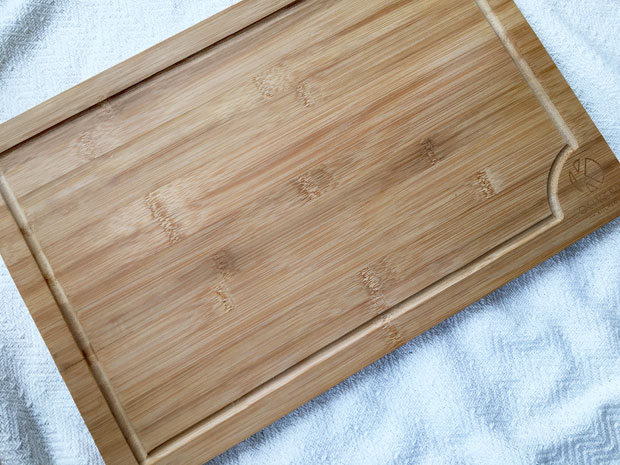 Bamboo Chopping Boards
The chopping boards from Oliver's Kitchen are made from 100% natural organic bamboo and are very sturdy and durable. They look great and are very easy to clean too. Did you know that because bamboo is naturally less porous than hardwoods, it is more resistant to harmful bacteria?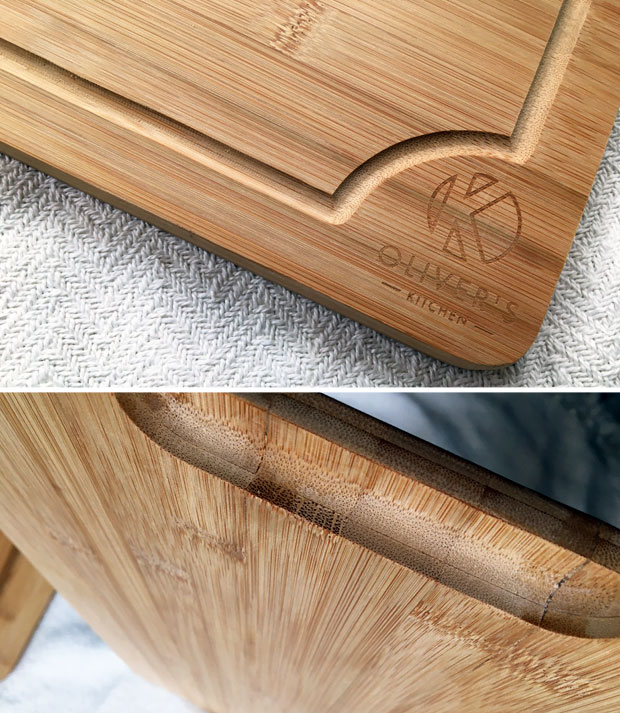 The Large bamboo chopping board is a great size (45 x 30cm & 2cm thick) and perfect for serving pizza on or presenting a cheese selection on for a dinner party. It's beautiful! It's got a juice groove to contain any mess and inset handles to make carrying the board easy.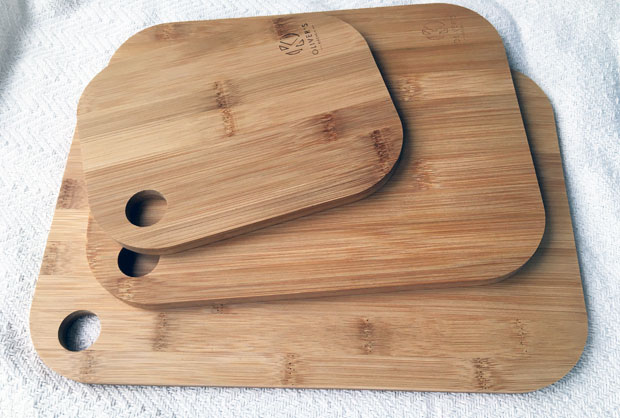 The 3 x Set of Wooden Bamboo Chopping Boards consists of three smaller bamboo chopping boards of different sizes, all with a handy hole to help carry them or hang them up. These are great for food prep but can also be used for serving food.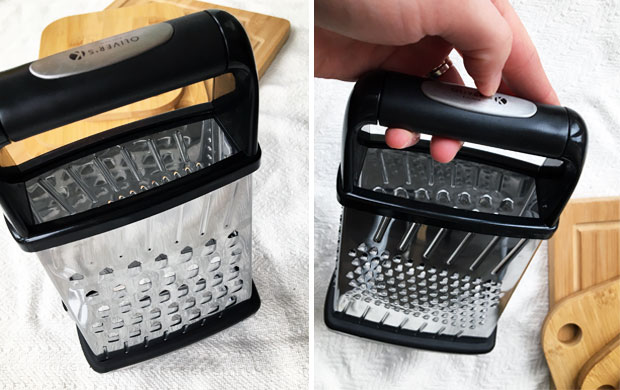 Box Grater
A large box grater is something we've been missing in our new kitchen but now we finally have one and one that can shred, grate, slice and zest which is very handy. It also comes with a box with measurements that you put on the bottom to catch what you're grating which is especially handy for smaller amounts like zest or Parmesan cheese. The box also has a lid so that you can use it for storing food in too.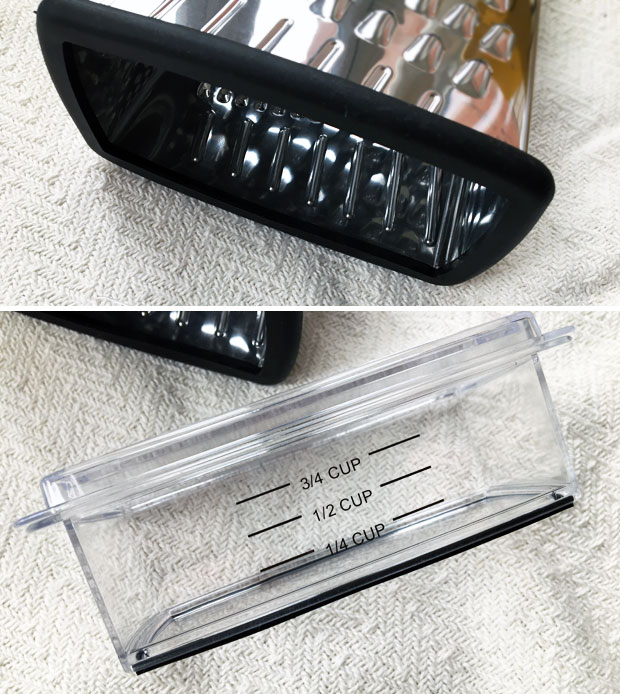 The grater itself has an ergonomic handle and seems very sturdy! The non-slip base makes it really easy to use too.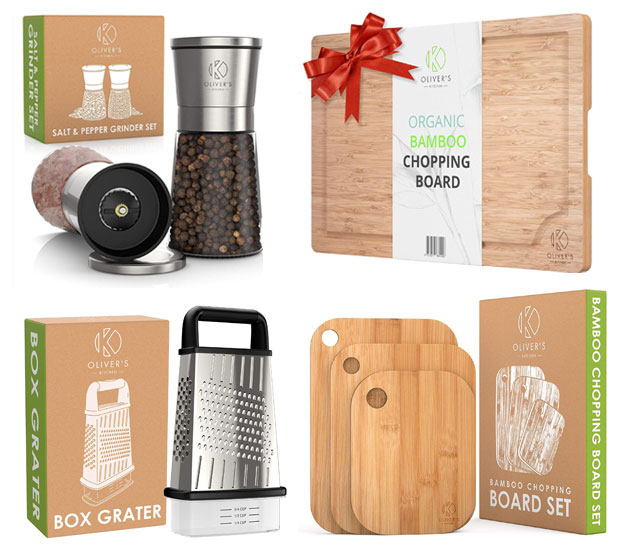 Giveaway! Win a bundle of Oliver's Kitchen Kitchenware
For a chance to win the bundle of Salt & Pepper Grinder Set (manual), Large Chopping Board, Bamboo Chopping Board Set and Box Grater (subject to availability), enter my giveaway through the Rafflecopter below. The price will be sent out by Oliver's Kitchen. UK entrants over the age of 18 years only. Terms and conditions apply. The giveaway will end on the 15th of April 2021.
The products were kindly gifted to me for review. As always, all my reviews are 100% honest and all thoughts and opinions are my own.