Anatomicals Skincare Products Review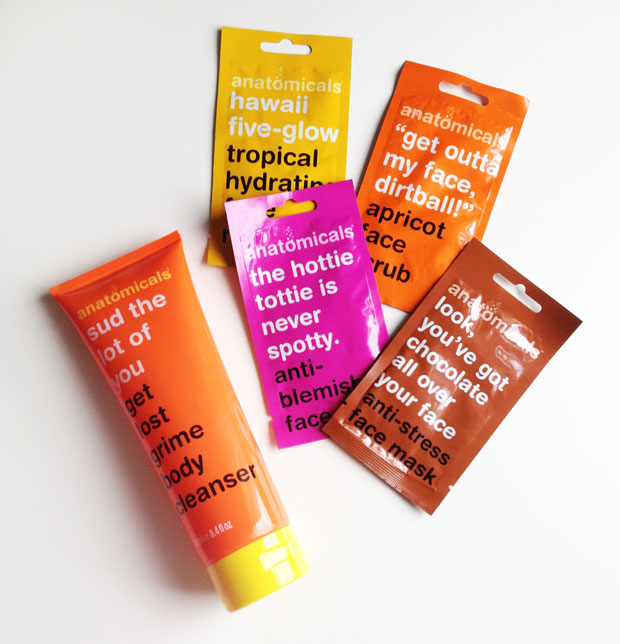 Anatomicals Skincare Products Review
I've always been a fan of Anatomicals products and am always attracted to them when I see them in a shop. I love the fun packaging designs, bright colours and cheeky messages. I've tried a few of the products before, including some of the face masks, a delicious lip balm and a soothing eye gel. All experiences have been good so I was very happy to try some more of their products.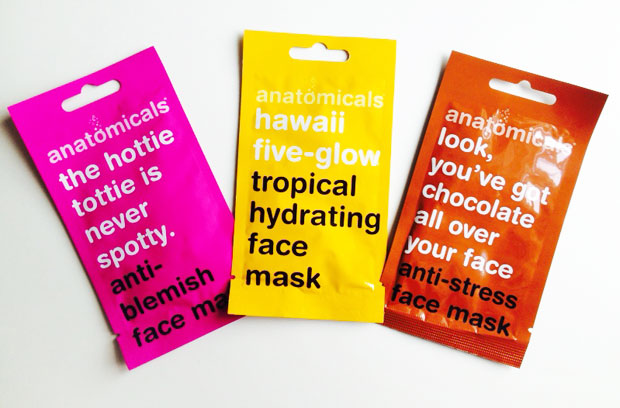 Anatomicals face masks are always winners. These three are all very suitable for my skin type which is blemish prone, but sometimes dry. As a busy mum looking after a toddler at the same time as working, stress is a common feeling in my life too.
The Hottie Tottie Is Never Spotty is an anti-blemish mask packed with ingredients that help flush out blocked pores. It's got tea tree oil in it which is anti-bacterial and great for treating existing spots and keeping new ones away. It also contains sage oil which is very soothing and evening primrose oil to help calm any inflammation and redness of the skin. It's a great mask to use weekly if you're prone to breakouts and blocked pores.
It's during the autumn/winter months that my skin often gets dry and then a treat like the Hawaii Five-Glow Tropical Hydrating Face Mask is perfect for balancing my skin. This creamy mask contains hydrating coconut water, cleansing papaya and pineapple extract, cocoa butter and soybean extract which moisturise and leave your skin silky smooth. The mask is like a piña colada for your face on a sunny day — so thirst quenching and fruity! It leaves my skin soft and with a healthy glow.
The Look, You've Got Chocolate All Over Your Face Anti-Stress Face Mask looks and smells like chocolate! It really smells good enough to eat but it's best used on your face. It will make your skin calm, relaxed and radiant and will chill you out too. It's great for those long, stressful days where everything seems to go wrong. It does make you fancy chocolate though, so make sure you have some available that is edible.
All the masks come in generous sachets that will give you two applications each. Leave them on for 10-15 minutes before washing off with a hot, wet cloth to reveal smooth and soft skin. Follow with your regular moisturiser.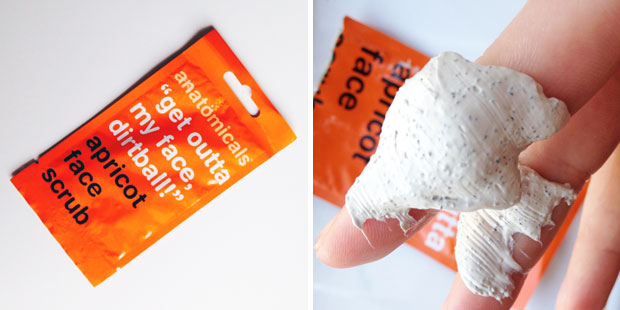 The "Get Outta My Face, Dirtball!" Apricot Face Scrub is a thick and creamy scrub with nice, large pieces of apricot seeds. It's not for the most sensitive skin types but perfect for tougher skin that needs a proper scrub. The sachet is generous and will last you for at least two scrubbing sessions but probably more. My skin feels renewed and fresh after using this and all dead skin cells are definitely long gone. Hello, soft and smooth new skin!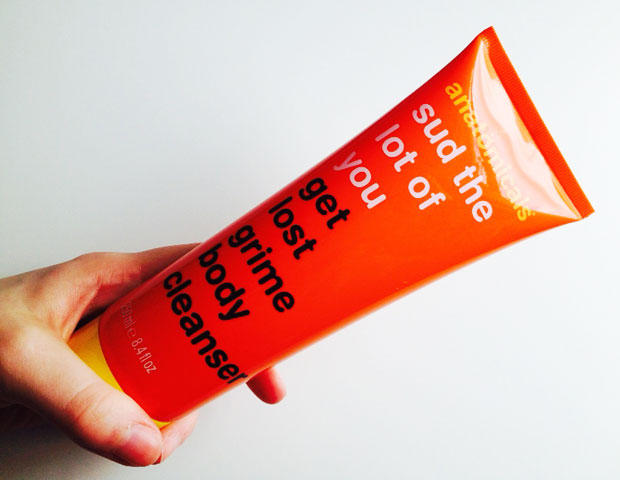 The Sud The Lot Of You Get Lost Grime Body Cleanser is a natural cleansing body wash with papaya and mango. The exotic fruits smell lovely but I wish the scent was a bit stronger. The 300ml orange and yellow tube really brightens up our shower and the shower gel itself is a clear orange too. Lovely! The product is unisex and free from DEA'S, Sulphates, Parabens and SLS's. It leaves my skin clean and soft and because the wash is gentle it doesn't dry my skin out.
Great products from Anatomicals! See more on their website. You can also buy the products from Amazon.co.uk and in some stores.
I was sent these products for this review. As always, all my reviews are 100% honest and all thoughts and opinions are my own.