Babymoov Nutribaby(+) Baby Food Maker Review
|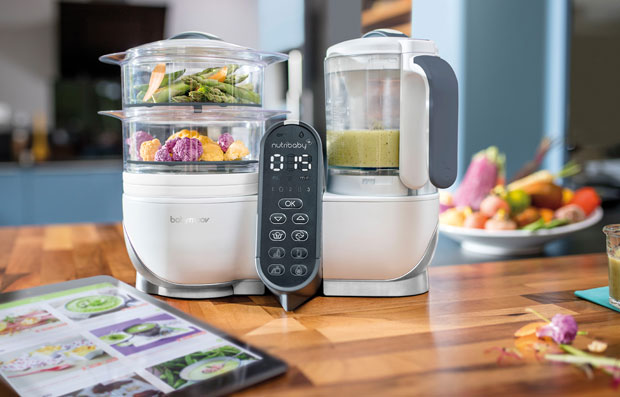 Babymoov Nutribaby(+) Baby Food Maker Review
We have a new kitchen gadget and it's the Nutribaby(+) Baby Food Maker from Babymoov. It's not just for babies though, as it is a large capacity all-round food preparation system that makes daily cooking chores much easier and more convenient.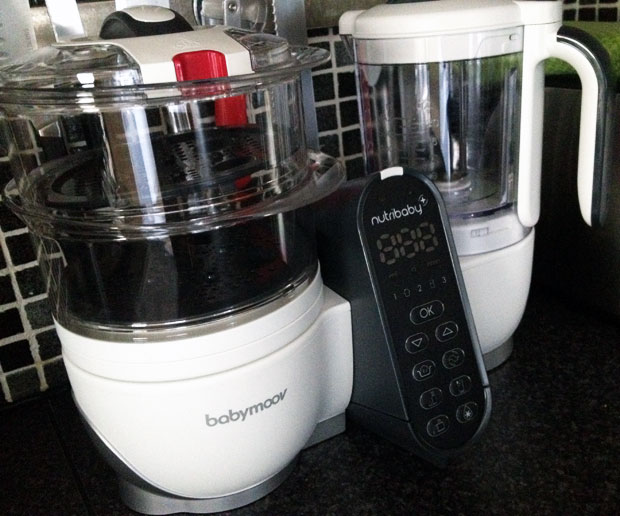 It's a great addition to busy, modern family life and it has lots of functions that help make life easier. The Nutribaby(+) can perform tasks like:
Steam food which maintains freshness, flavour, minerals and vitamins.
Blend food for preparing healthy smoothies, soups, sauces and purées.
Heat baby bottles and baby food jars.
Sterilise baby bottles, dummies and accessories.
Defrost meals prepared in advance or produce to be used in meals.
There are 10 pre-programmed functions in total. As you can see, there are two sides of the machine — one steamer/cooking side (1500ml capacity) and a blending side (750ml capacity). You can also take the blender side off completely if you want to save space on your worktop when not in use. The steamer side has two removable cooking baskets so that you can prepare different foods separately or only use one of them when preparing a smaller amount of food.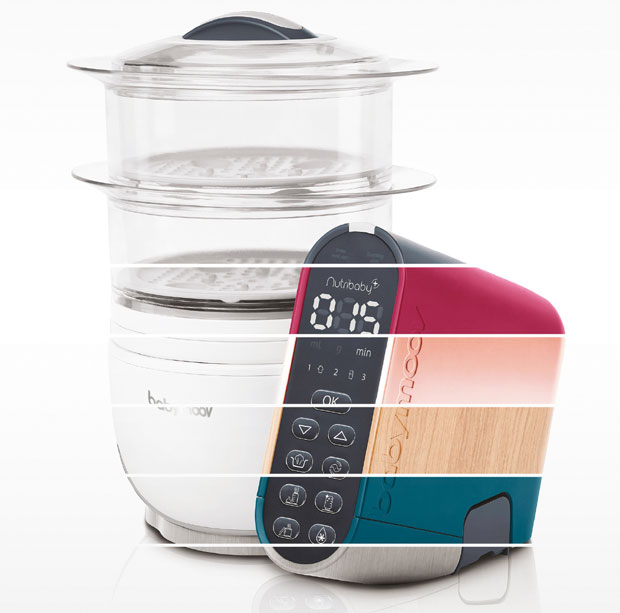 This little kitchen genie looks great and is very compact considering all the things it can do. It's very easy to use and you set it all up using the smart centre console. This can be customised with shells to suit your kitchen décor and the whole machine comes in Soft White or Industrial Grey. I really appreciate that it looks so nice too! I want to keep it on display — it looks so stylish!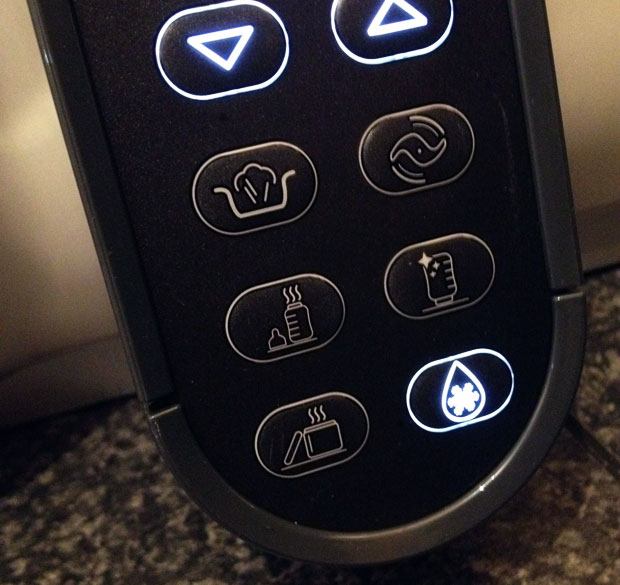 The settings are easy to understand and with the clearly labelled buttons on the front and the digital display where you set the timer.
The parts can be cleaned in the dishwasher and the Nutribaby(+) is of course free from BPA. It also comes with a lifetime guarantee which is great.
We no longer use baby bottles, dummies or baby food so I've not tested these features but it looks very easy in the Nutribaby(+) videos that I've watched online.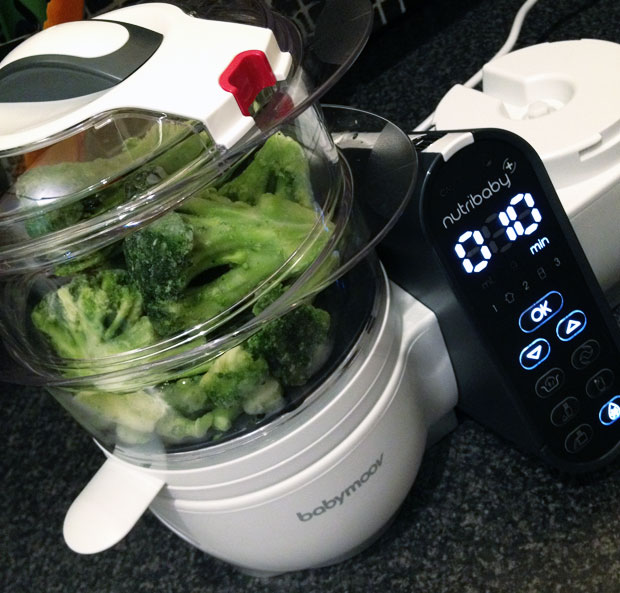 We often steam vegetables for ourselves and the kids in a pan or in the microwave and I much prefer doing this task in the Nutribaby(+). It helps the food cook more evenly and the machine is so easy to use and clean. I also love that I can separate the different vegetable but do them all at the same time.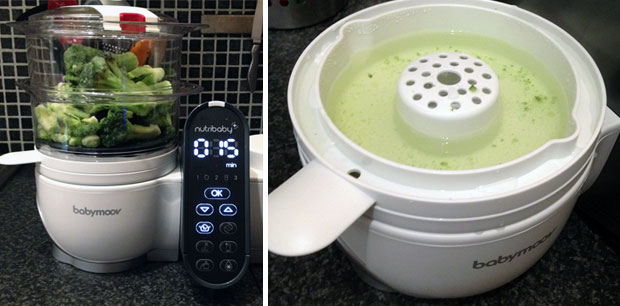 The water from the vegetables collect in the bottom of the steamer and you can easily pour this into soups, purées and smoothies etc. to not waste any of the nutrients.
The blender is really useful too as we didn't have one before. It's great for making healthy smoothies for the girls and I and to purée sauces and fruit or vegetables.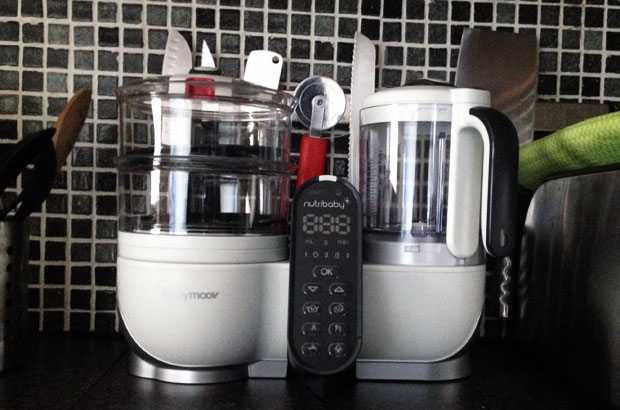 The only change that I would make is to make the blender jug out of glass instead of plastic just because glass last better and doesn't stain from things like tomatoes. Other than that, it's quite a perfect kitchen machine that makes cooking healthy food for the whole family easier. I can't wait to use all the baby functions when it's time for Baby No 3 sometime in the future.
The Nutribaby(+) is priced at £139.99, available to purchase from the Babymoov website here, John Lewis here and from Amazon.co.uk. for example.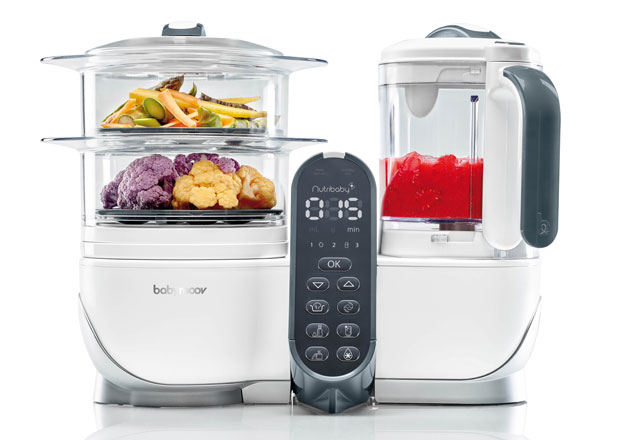 This product was sent to me for this review. As always, all my reviews are 100% honest and all thoughts and opinions are my own.