The Best Baby & Toddler Socks (That Don't Fall Off!)
|
The Best Baby & Toddler Socks (That Don't Fall Off!)
If you have kids you'll know that baby and toddler socks seem to fall off very often. I've tried a bunch of different socks for babies and children and here are my favourite ones. From my experience I can say that these ones stay up, wash well, keep their shape and colour and don't cost much to buy.
Baby Socks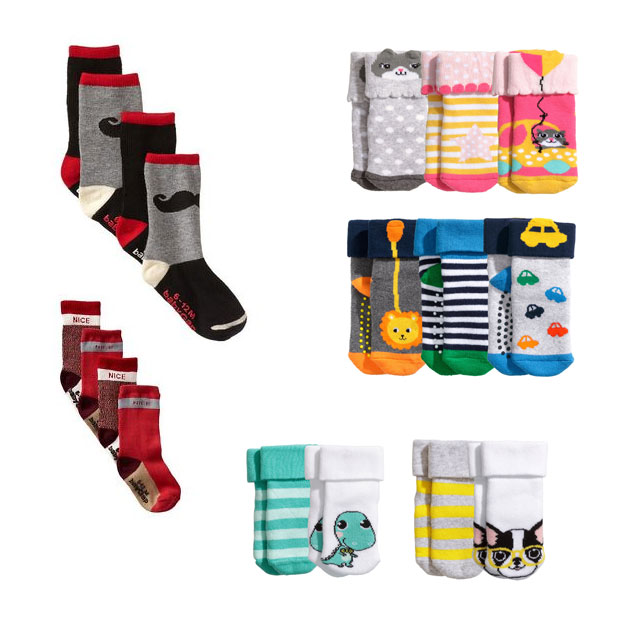 The best baby socks that we have used are the two types above. The ones to the left are by BabyGap and we bought these two sets of two in size 0-6 months. They are long and thin, but warm. They reach up over the knee on a small baby which means they stay up well and are difficult for a baby to pull off. They are really cute and nice and soft, too!
To the right is another favourite sock style available from H&M. They are shorter, roll top socks. They are quite chunky so really warm. They are soft and easy to put on. You can choose to roll the top up if you want them to go further up. They have a nice fit, stay on, come in lots of cute designs that change all the time and are a proper bargain.
Toddler Socks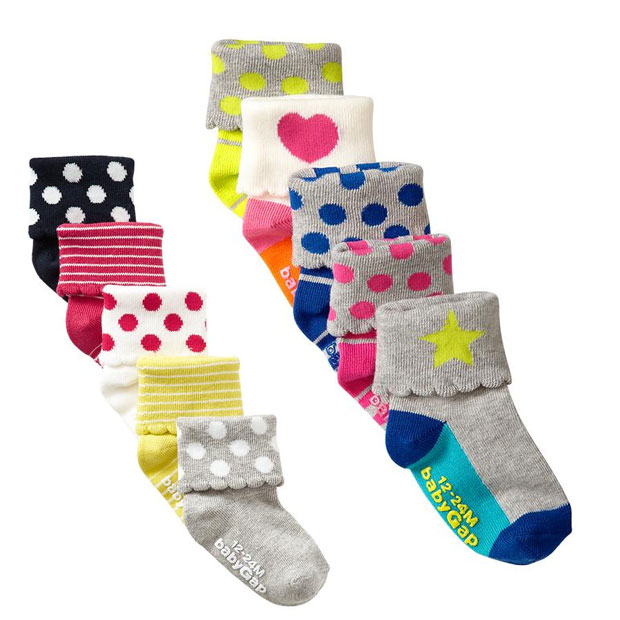 The ones above are from BabyGap. The scalloped roll top design is lovely. They fit so well and again – stay on! If you roll the top up they stay on even better and make nearly knee-high socks. The Gap clothes wash really well and are such great quality. The packs of 5 socks are a great price, too. I have recommended these socks to many other parents who are also very happy with them for their boys and girls!
Below are a few more items from H&M. The socks are similar to the baby ones. They are thick, soft, warm, fit well and can be worn with the rolls up or down. We usually roll them up to the knees for a more even layer of warmth.
Moccasins are great for toddlers and older children and H&M have some really nice ones. We have these green ones and use them as slippers (with or without socks/tights) and also as shoes when we're out with the pram or in the car now that it is cold but not cold enough for the snow suit. They are comfy, warm, have non-slip soles and are very cute. They make wonderful slippers or first shoes.
Toddlers are usually quite good at getting any socks and shoes off but at least these socks/moccasins do not fall off.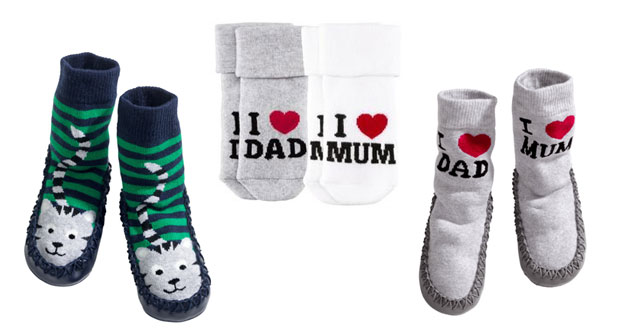 Not all the designs in the pictures are available at the moment. Both BabyGap and H&M change their designs very frequently but they usually have products of the same fit and just change the colours and the patterns.