Christmas Gifts for Kids – Children's Christmas Gift Guide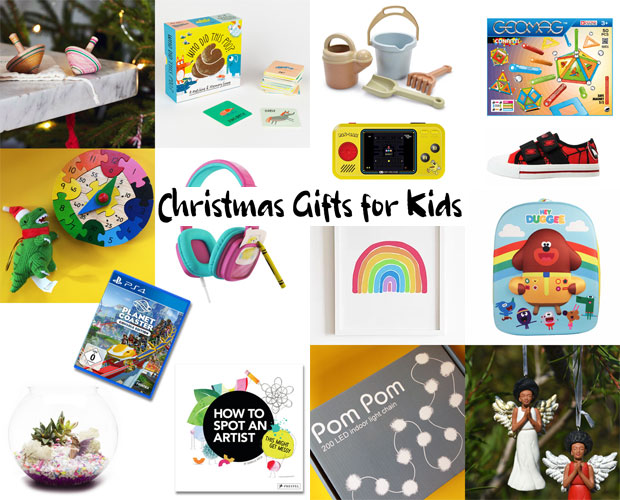 Christmas Gifts for Kids – Children's Christmas Gift Guide
It's time for my Children's Christmas Gift Guide! Kids are probably the most fun to buy Christmas presents for as they are the most excited about Christmas, usually!
In this guide, I've gathered lots of lovely gifts for children of different ages. Hopefully you'll find some inspiration if you're looking for some ideas for Christmas gifts for kids. Check out my other Christmas gift guides here.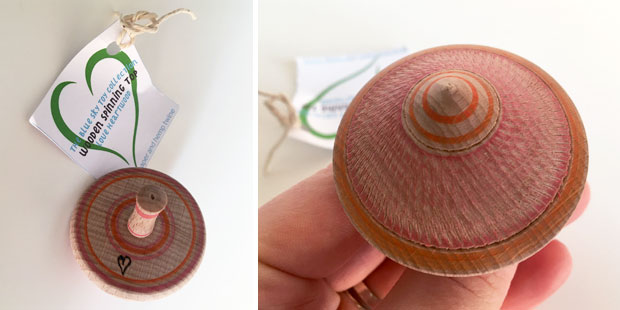 Handmade Wooden Spinning Tops
Let's start the guide with a perfect stocking filler that will keep children of different ages mesmerised. A beautiful handmade wooden spinning top from Blue Sky Toys makes a lovely little gift. They're eco-friendly, plastic-free, sustainable and can be enjoyed from a young age. They're available from MettaLife which is a platform that is home to lots of vegan and ethical brands. Make the gift extra special by having a name or initials hand burnt into it.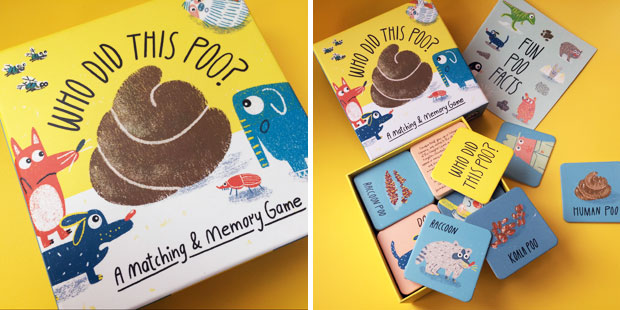 A New Game to Play: Who Did This Poo?
Who Did This Poo? is a matching and memory game from Laurence King Publishing. It's a fun game for kids that teaches them to match 27 animals to their droppings. The game also includes a booklet full of fun poo facts. We all know children are fascinated by poo and this is a fun game that celebrates that fact. Available from Amazon.co.uk here.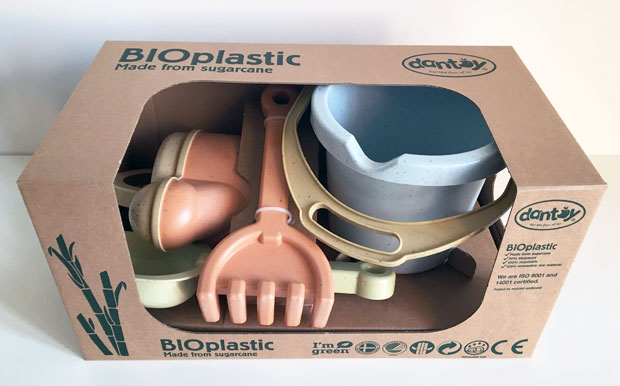 Dantoy BIO Plastic Bucket and Spade Set
The Dantoy BIO Plastic range is made of at least 90% sugarcane which is a sustainable raw material. This makes the toys 100% recyclable. The toys are sturdy, just like traditional plastic toys, but are eco-friendly too. I love this Dantoy BIO Plastic Bucket and Spade 4-Piece Set – my girls love playing in the sand in the garden so this will be perfect for them. My toddler will be especially pleased!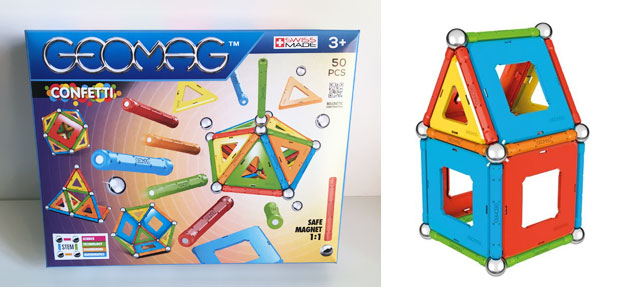 With Geomag, you can build endless designs and structures with magnetic rods and non-magnetic steel spheres that come together to create a huge number of shapes. There's a wide range of sets to choose from, including this fun Geomag Confetti set that is full of colour. This set also includes platforms that allow for more rigidity to structures. The Confetti line is available in 8 different boxes from 32 to 127 pieces. Geomag is a great Swiss invention for the family to enjoy together. The products are manufactured to strict European and American Safety standards and suitable from age 3 years and beyond.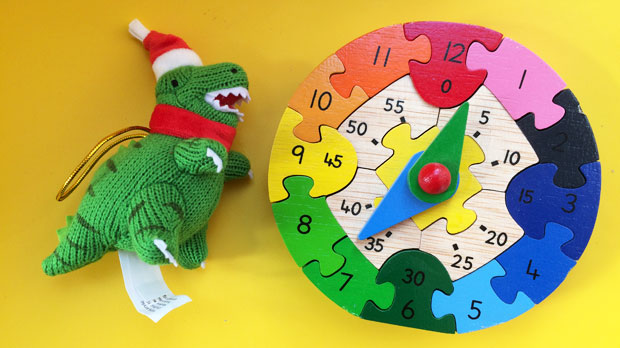 Best Years Wooden Educational Clock Puzzle & Dinosaur Xmas Decoration
Best Years have a lovely range of toys and products for babies and children.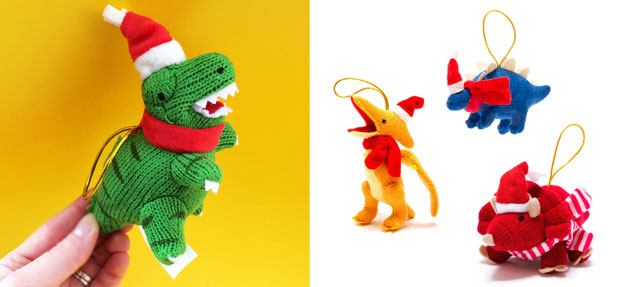 They now have a quirky range of knitted Christmas decorations, including a bunch of festive dinosaurs and more.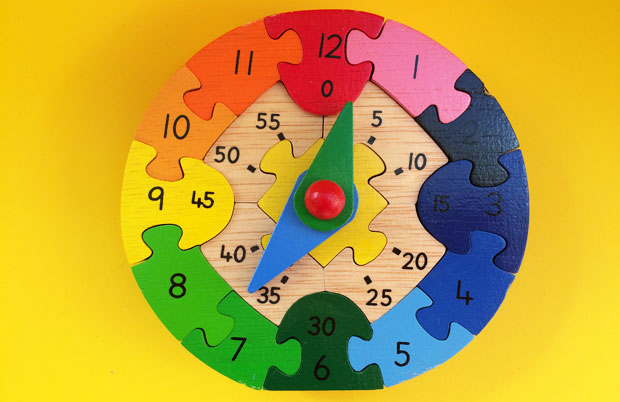 They also have wooden toys and we love this wooden educational clock puzzle. All three of my girls (aged 20 months, 4 years and nearly 7 years) love playing with it and it looks great too.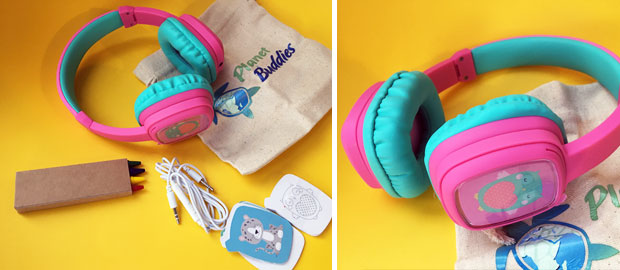 Planet Buddies Colour and Swap Kids' Headphones
My two older girls are now at an age where they use a tablet for school work and headphones are so useful for this (and when travelling!) to ensure anything that they're listening to is not disturbing others. Planet Buddies have a range of great children's headphones.
These Colour and Swap headphones have a volume limit of 85 decibels to protect young ears. This is the WHO recommendation. With your headphones, you get 24 Planet Buddies character cards and crayons to mix and match cards or colour in your own designs to decorate your headphones. These headphones also come with an eco-friendly pouch to protect them when they're not in use.
Enjoy 30% off when purchasing through www.planetbuddies.co.uk with the Voucher Code: BUDDIES30 until the 31/12/2020.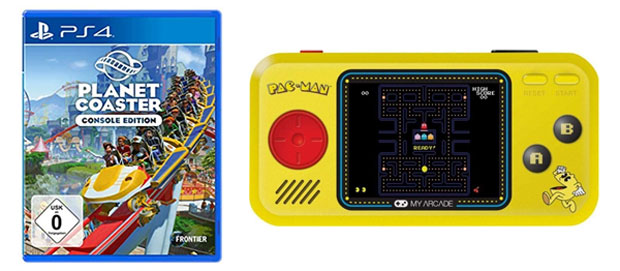 New Games for Christmas Entertainment
The Christmas holidays are perfect for enjoying a new game. Planet Coaster, the celebrated coaster park simulation game, is now available as a Console Edition. A great game to enjoy if you're into roller coasters and theme parks! It's available for PlayStation or XBOX.
For a more retro game, check out the Pac-Man Pocket Player from My Arcade. This handheld device lets you enjoy three classic Pac-Man games: PAC-MAN™, PAC-MANIA™ and PAC-PANIC™. It's got a 2.8″ full color back-lit display featuring 16-bit graphics, built-in front facing speakers with volume control and 3.5mm headphone jack. You can run on 4 AAA batteries or by any Micro-USB cable. Comes with a lanyard to make on-the-go gaming even easier.
Some New Prints for their Room
S Prints by Shauna offers unique and personalised prints in A5, A4 and A3 sizes as well as greeting cards. There's a range of Christmas designs available too!
I love the wide range of prints that includes illustrations, inspirational quotes and typographical designs. Perfect for decorating any room of the house and a lovely gift to give and receive. You can see my favourites above:
Rainbow Print Bright Positive Vibes
Happiness Typography
You Can Rainbow
Their Favourite Character Accessories
Kids of all ages have favourite characters and something that features their favourite one is sure to be a hit. CoolClobber is the best shop for things like this. You can browse by character to find items that feature your child's favourite character. Here we have a Hey Duggee backpack and some Spiderman trainers for example. Browse the full range of products on the website for fun character Christmas gifts for kids.
Cool Cobber Discount Code:
Use my code "PETRA15" for 15% off your order.
The code is valid now and has no end date. There is no minimum spend and no usage limits. Apply the code at checkout.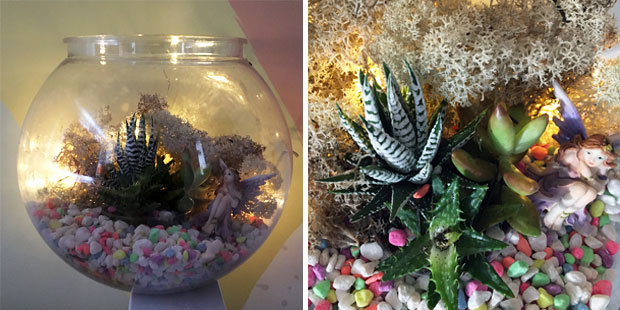 Their own Fairytale Terrarium
For children who like a bit of gardening or who are simply fascinated by nature (and fairies and magic), this adorable Kids Fairytale Terrarium from The Urban Botanist would make a lovely Christmas gift. It includes easy to care for succulent plants, a little fairy, multi-coloured sparkly gravel and preserved reindeer moss to create a magical terrarium at home. It's also available as a dinosaur version.
How to Spot an Artist Book
How to Spot an Artist – This Might Get Messy by Danielle Krysa is a brilliant book that helps children bring out their inner artist. It's full of vivid illustrations and encouragement for children who enjoy art but might think that it has to be done a certain way. This book encourages creative freedom and inspires children to get creative in their own way. Like a real artist would! Available from Amazon.co.uk here.
Sparkle Lighting have a beautiful and fun range of lights for children's bedrooms that includes children's fairy lights, children's bedroom decorations and children's night lights. These adorable mains powered white pom pom fairy lights would make a sweet gift to brighten up a child's room this winter.
They provide a good amount of light and lots of cosiness. The garland is 9 meters long and has 200 warm LED lights. We have this in my middle girl's room, and they look great! They're bright enough for reading a bedtime story but gentle too so perfect for winding down at the end of the day.
Christmas Decorations of Colour
I think it's a lovely tradition to give children their own Christmas decorations that they can enjoy during their childhood and also take with them to their own homes when they're grown up. March Muses is a brand that has created the U.K. only Christmas decorations of colour with black angels, choir boys, nativity sets, angels and Santas. The small business has a range of beautiful and well-made products. Let's add a bit of colour this Christmas! We love our stunning Lady Afro Angel.

Fun Books to Enjoy from Little Gestalten
Little Gestalten make brilliant children's books and of course they'd make great Christmas gifts for kids. In my opinion, each child should receive at least one new book at Christmas. Here are a few recent releases:
The Who's Who of Grown-Ups by Owen Davey is all about different professions and hobbies that grown-ups get up to. Most children have heard of these jobs, but do they know what you need to do different jobs? This is a large-format book with bold illustrations that show the details of different professions and leisure activities. The big illustrations show what tools, clothes and accessories are needed for these different activities.
Penguins and Polar Bears by Alicia Klepeis is an introduction to the Arctic and Antarctic full of lots of interesting and fascinating facts. We learn about these two ends of the world, what lives there and how. We meet animals and people and learn lots of new things. The illustrations by Grace Helmer are beautiful and captivating. My girls love looking through this book!
Tasty Treats – Easy Cooking for Children by Adina Chitu and illustrated by Elenia Beretta is a book for foodie children. It features fun and simple recipes for children to make themselves (sometimes with a tiny bit of help from a grown up). It's such a fun book for children who are into food and want to be the head chef too! The illustrations are great and show what kind of kitchen equipment you need and how to do the different steps of a recipe.
Tales of the Rails: Legendary Train Routes of the World is a book for children who love trains – which many of them do! The book embraces travelling by train, the onboard experience, the spectacular scenery and the places you can visit. It features 13 impressive train routes from around the world and different trains that do them.
Hope this guide has given you some inspiration if you're looking for Christmas Gifts for kids!
Collaborative post. This gift guide features gifted PR samples. All items have been chosen by myself to be in this guide.