#ClothNappyMonday – Ecopipo Newborn Pocket Nappies Review
|
#ClothNappyMonday – Ecopipo Newborn Pocket Nappies Review
There's been a while since I posted a cloth nappy review here on my blog. Life with a newborn (and two other kids!) is busy! We've been using lots of new types of cloth nappies though so there will be lots of reviews coming gradually. Lots of them will be newborn nappies which is fun because they are extra cute! First out is Ecopipo newborn pocket nappies.
Ecopipo is a reusable nappy brand that we discovered and fell in love with last year when we tried a bunch of different Ecopipo nappies with my toddler. Now we've tried their newborn nappies with my new baby girl too. Let's have a little closer look at them.
Ecopipo Newborn Pocket Nappies Review – Details!

Ecopipo newborn pocket nappies fit from 2.8 to 6kg (6 – 13lbs) and can easily be adjusted with the rows of front snaps to grow with your baby. I had some smaller nappies that I used in the first month or so before using these but they would've fit from the start at their smallest setting.
Ecopipo newborn pocket nappies come with two inserts each. One is a 3-layer absorbent microfiber insert ad the other a 2-layer bamboo insert. You can choose to use just one of them or both together depending on the absorbency you need. Microfiber inserts are best placed on top of bamboo inserts when using together. This is because they absorb quickly but don't hold liquid for as long. The wee gets absorbed fast by the microfiber then moves down to the bamboo that holds more for longer.
The nappy itself has an outer layer of PUL to make it waterproof and the inner layer is made from stay-dry microfleece meaning you don't need to use a liner unless you want to. I still like to do it to protect the nappy from staining. The inside and the shape of the nappy have been designed with containment in mind to keep those newborn poo explosions safely contains within the nappy! The back is elasticated and the inside features a double gusset. It also has laundry tabs for the Velcro which is always handy!
Ecopipo Newborn Pocket Nappies Review – Cost, Life Span and Conclusion

An Ecopipo newborn nappy costs £10.25 which is a very normal price for newborn nappies. I've definitely found that it's been worth it having newborn sized nappies for the first few months. Birth to potty nappies are simply too big at the start. For some babies, these Ecopipo nappies could fit until around 6 months. My third baby is a really fast grower and she's large and tall for her age. She's just outgrown these nappies at 3.5 months but they would fit longer on an average sized or small baby.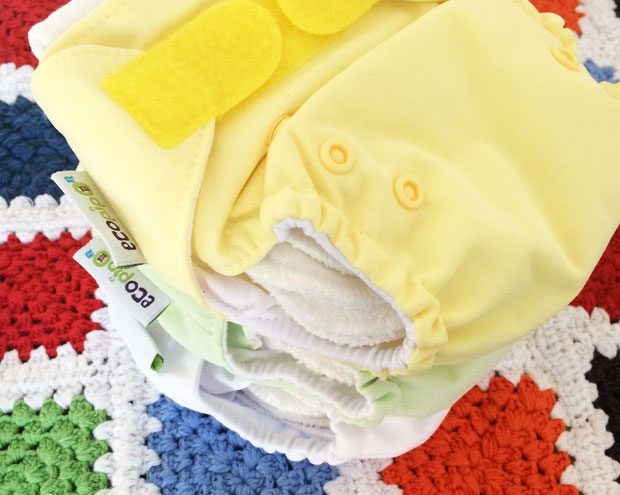 I'm really happy with the fit, the quality and the absorption of these nappies. I also like that they're larger than most newborn nappies. These are the same kind of size as Baba+Boo newborn nappies. Because they're more generous in size, your baby can wear them for longer and you get more use for your money.


We were sent a few of these nappies to try for this review. As always, all my reviews are 100% honest and all thoughts and opinions are my own.