Diono Traverze Review – The Original Super Compact Stroller
|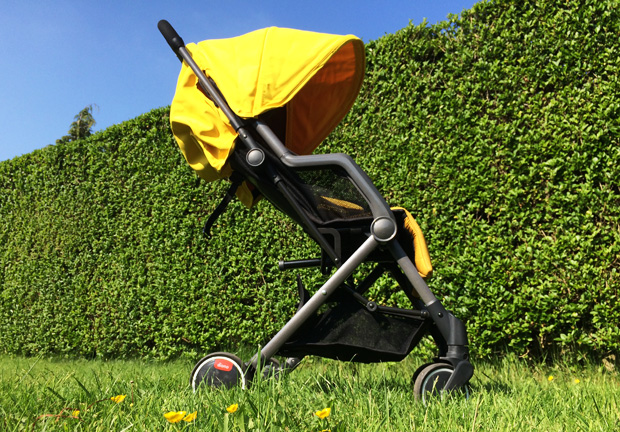 Diono Traverze Review – The Original Super Compact Stroller
I'm excited to write this review today because I think I have come across the ultimate travel pushchair! Diono Traverze is a luggage-style super-compact stroller that is ideal for travelling but brilliant for everyday use too.
We've been using it for just over a month now and we're really enjoying using it! Let's have a closer look at the Diono Traverze and all its details.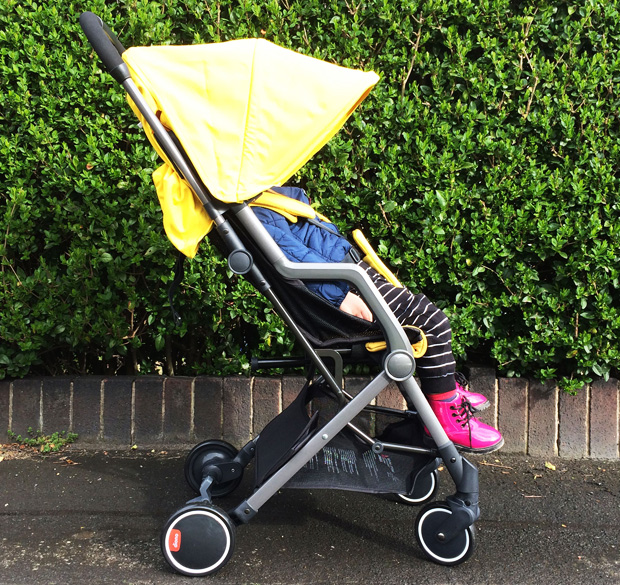 Unboxing & First Impressions
The Traverze comes ready to use which is amazing. You don't need to build anything — you can head out on an adventure straight away which might be what you're doing if you buy it as your travel pram.
Ease of Use & Folding
It's extremely simple to use as it unfolds beautifully and folds down just as easily. I've never come across a pushchair or a pram that folds as smoothly as the Traverze! It impresses me every day. Imagine a yoga master going from standing to the floor in one swift and effortless move. That's how smooth the fold and unfold of the Traverze is. I'm so happy about this as I've had quite a few pushchairs that have been a bit annoying to fold!
You don't really have to learn anything to use this pushchair as it's very intuitive and straight-forward how to change any settings and how to fold it.
It's also really lightweight at just 12.3lbs/5.6kg which is great for travel and general use too.
Storing   
This pushchair is amazingly compact when folded — it even fits in most overhead cabins which makes it the perfect travel companion. The small size is also great for small houses and apartments or simply for when taking it with you in the car or out and about where you might need to fold it up. We have the tiniest hallway and the Traverze fits very nicely there and even leaves some room for our shoes.
I also love that it can stand up on its own. The folded size is: Height – 60cm, Width – 41.5cm, Depth – 23.5cm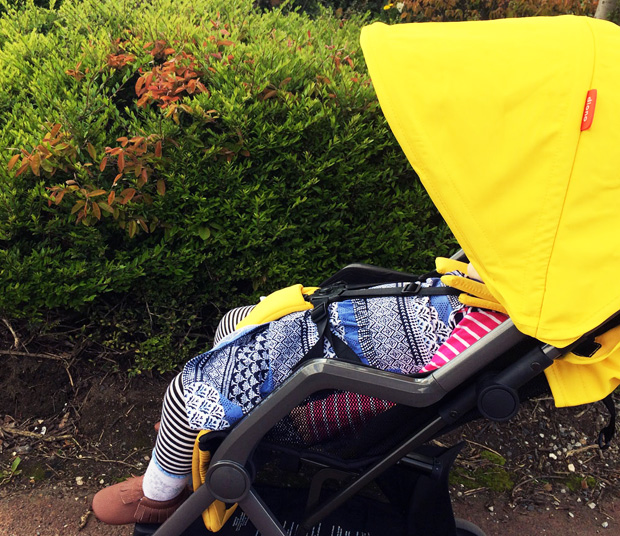 Comfort
The Traverze is quite well-padded and the seat seems comfortable to sit in. The pushchair is suitable from birth thanks to the reclining backrest which allows a near flat position which is what newborns need. I'm really happy about this feature as most travel pushchairs are not suitable from birth. I don't have a baby at the moment, but my toddler sits happily in the Traverze and often naps in it too. Once she's fallen asleep, I recline the seat for her to sleep more comfortably, like you can see in the photo above.
The seat doesn't sit up completely upright which I thought would annoy my curious toddler at first, but it doesn't. She just leans back and enjoys the ride when we're out.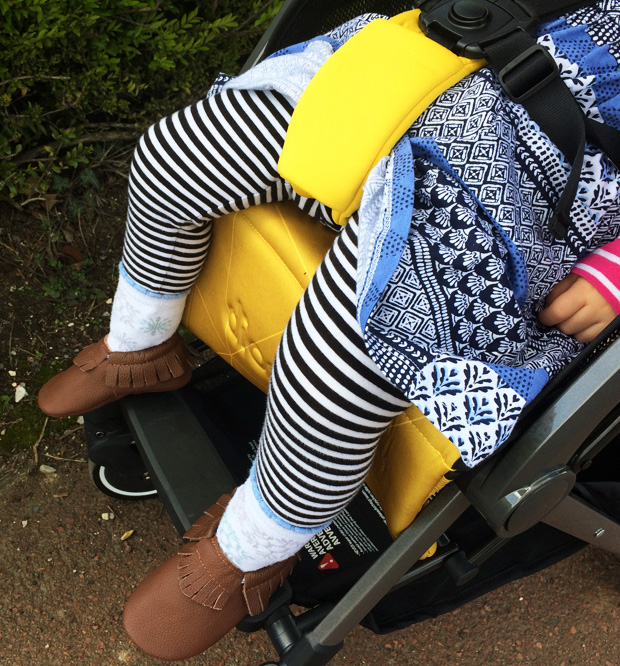 There's a padded leg rest that doesn't come up which I thought it would but it's still nice and keeps my toddler's legs comfortable. There's also a footrest for toddlers to rest their feet on.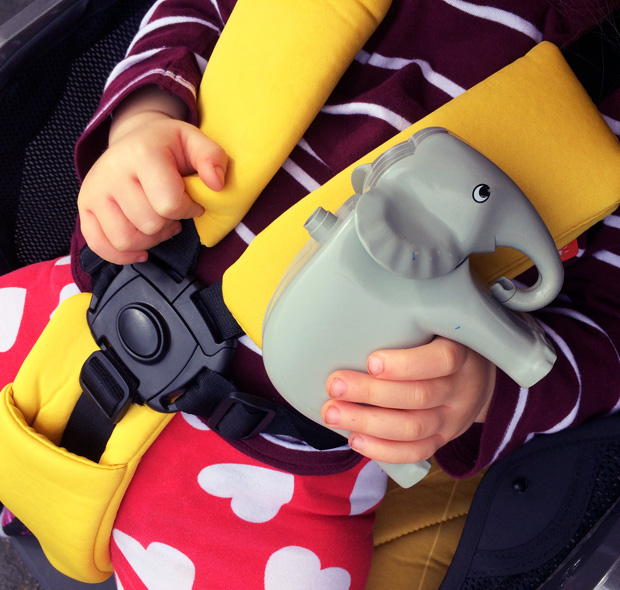 The Traverze also features an integral 5 point harness with removable plush pads to keep your child securely and comfortably in their seat.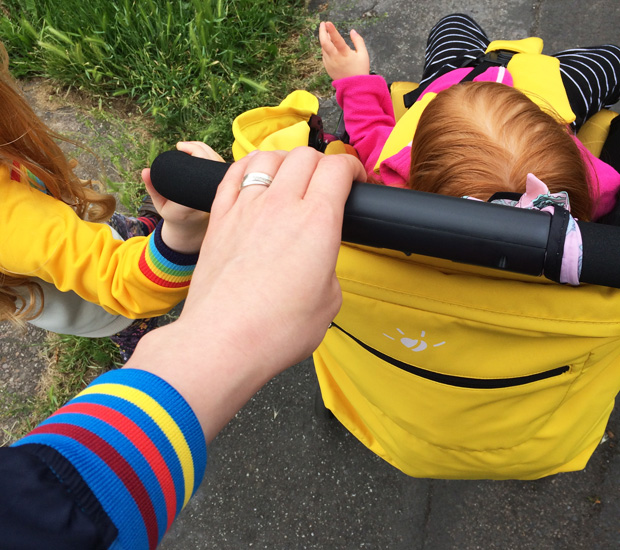 Wheels & Brakes
The wheels are small like they usually are on travel pushchairs, but I'm really impressed with them! They provide a really smooth ride thanks to shock absorbers and all-wheel suspension. The swivel is smooth too and the wheels work beautifully on all terrains I've tried so far, including pebbles and bark chip which can usually be quite tricky with smaller wheels. I also don't need to tip the pushchair backwards to go up curbs which is nice. It's really easy to steer and you can even do it one-handedly.
The one-touch brake is really easy to use whatever shoes you're wearing – even flip-flops on holiday!
Weather Protection
The Traverze comes with a water resistant travel carry bag that you wrap around the folded up pushchair when you want to store it or take it with you and pull it like a suitcase. It also comes with a tailored rain cover (not with Silver products) which I actually like. I normally don't like plastic rain covers but this one is a perfect fit and super easy and quick to put on.
The hood is decent and offers quite good protection but I do add a sun shade on really sunny and hot days to protect my toddler from the sun completely if she's napping.
The sides are made of a mesh material which is great for hot days as it provides good airflow and helps keep your little one nice and cool.
Shopping basket
The shopping basket is very large for a compact pushchair and can hold a large changing bag or a few smaller items like my 4-year-old's school bag and lunch bag. I often do my food shop with the Traverze and can fit a normal midweek shop in the basket which is great.
The storage basket can expand if you need it too as you can see in the photo above. It closes with magnets when not expanded. I really like this feature!
There's also a zipped storage pocket on the back of the hood which is great for your phone, keys or other small items that you want to keep close to you.
Public Transport and Stairs  
The Diono Traverze is a breeze to get up and downs stairs — either by bumping it up and downs with the back wheels or by simply lifting it and carrying it up or down as it's so lightweight and compact folded and unfolded. The compact size and easy and super quick fold are naturally great for travelling with public transport.
Price
The Traverze retails at £250 which I think is great value for this high-quality pushchair with lots of handy features.
Advantages
The compact size, folded and unfolded
Lightweight
Suitable from birth
Super smooth, quick and easy fold
Great for travel as it's cabin sized when folded up
Easy to use
Large shopping basket
Great rain cover included
Well-padded and comfortable
Easy to steer one handed
Can be pulled like a suitcase when folded up, using the telescopic handle.
Gorgeous colours to choose from!
Very stylish!
Disadvantages
The seat does not sit up straight which might annoy some toddlers.
The leg rest cannot be folded up to stay up which might have been beneficial for babies and younger toddlers' little legs.
I would like the travel bag to have an option to cover the wheels too, in case they're dirty.
Overall / Conclusion
I would go so far to say that the Diono Traverze is the ultimate travel pushchair. It's got all the features you would want in a travel pushchair and more. It's lightweight, easy to use, easy to maneuver and push, the fold is amazingly smooth and it's suitable for babies and toddlers of all ages. It's compact and folds up small enough to take on a plane with you and comes complete with a protective cover and a built-in telescopic handle so that you can easily pull it along when it's folded up.
I'm of the opinion that you should still be able to do things, including travel, when you are a parent and have young children to look after and it's clever inventions like the Traverze that make it all easier. I can't wait to take the Traverze on a holiday with us!
The Diono Traverze is available in six stunning designs/colours. Find them here on the Diono website. Some colours are exclusively available from Mothercare.com.
Sample provided for this review. As always, all my reviews are 100% honest and all thoughts and opinions are my own.