Do The Unthinkable Food & Fitness System | My Husband Tries It Out
|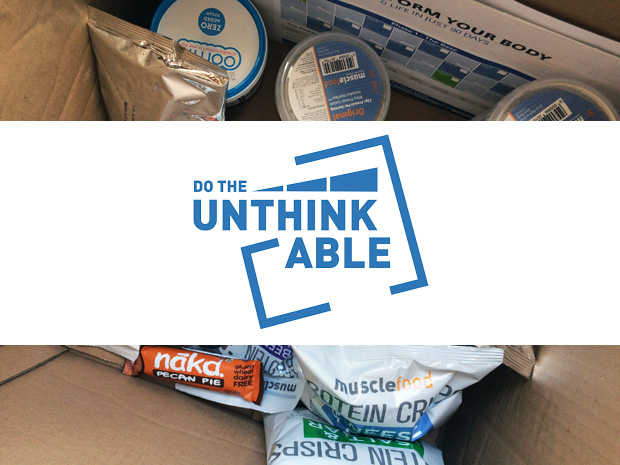 Do The Unthinkable Food & Fitness System | My Husband Tries It Out
Do The Unthinkable is a food and fitness programme by MuscleFood.com and my husband has had a look at what the programme entails. He's only had a 5-day meal plan and a quick look at the exercise DVD so this post will not be about how much weight you can lose or how fit you can get doing the programme but more about what kind of meals you can expect and what he thinks of them.
When you sign up to the Do The Unthinkable Food & Fitness System, you provide information about yourself and your goals to ensure the foods you get are suitable for your needs. With this programme, you get every meal and snack you need delivered to your home. Everything is perfectly portioned so there's no prep and no waste either. Every meal is ready in under 10 minutes so it's quick and easy — very convenient.
You don't have to think about breakfast, lunch, dinner or snacks when you're doing the Do The Unthinkable Food & Fitness System. Everything is there and you can choose your own meals too so that you only get things that you enjoy and like. You can change the meals each week too so that it never gets boring. My husband received a mixed box of meals that he didn't choose for this review to show a wide range of meals and products.
Breakfasts were porridge pots and he didn't really like them but he's not a huge fan of porridge so that's why. There are different flavours to choose from which is good to keep things interesting.
Some meals are clean ready meals like the lasagna below and the meals above. You just heat these up in the microwave which is handy when you're short on time. All the ready meals were really nice, according to the husband. You an even have a pizza on this plan — this is best cooked in the oven. This was not as good as the other ready meals but still okay.
Other meals are ones that you cook but everything is already chopped and portioned, ready to just quickly be fried or put together in a frying pan so there's not much actual cooking required. My husband enjoyed several stir-fry type meals with chicken breast, red onion, peppers and different sauces. All really nice and fresh! The only thing he suggested is that the vegetable part could have been larger. We've really upped our vegetable intake this year so compared to what we normally eat, the vegetable serving for each meal was quite small.
You get three snacks per day and they include protein bars of different types, Nakd Pecan Pie bars, Ready to Eat Chicken on a Stick, vegetable soups, biltong, beef jerky and crisps/snacks.
My husband really liked the different types of Ready to Eat Chicken on a Stick, some of the protein bars (Chocolate Decadence Protein Bar, I think was the name of the best one), the Nakd bars, the biltong and beef jerky. He didn't like the some of the protein bars — some were very salty — and the crisps and zippers. You only got a tiny amount of crisps in a very large bag too which was a bit weird.
With your plan, you get an exercise DVD with every workout you need. The training system is scientifically proven and the exercises are easy to do anywhere. You can also stream them anywhere on any device instead of watching them on the DVD.
You also have access to Steve, your own personal trainer and nutritionist, who streams live workouts every week and provides support and Facebook Live Q&A sessions.
Overall, most meals were really good. My husband liked all the main meals (lunches and dinners) and they were really good quality, fresh and convenient. He would have preferred more vegetables and less sodium content as most of the meals and snacks were really salty. He doesn't usually add salt to anything other than chips so it was very noticeable for him. Also, as his goal was to lose a little bit of weight, not build lots of muscle, he felt that the protein amount was a bit too high too as all meals and nearly every snack (expect for the Nakd bars and the soups) were high protein ones.
If you want to know more about the Do The Unthinkable Food & Fitness System, head over here.
We were sent a 5-day box of food for my husband to try out for this review. As always, all my reviews are 100% honest and all thoughts and opinions are my own (or my husband's, in this case!).