Doona Review | Doona Car Seat Stroller Review
|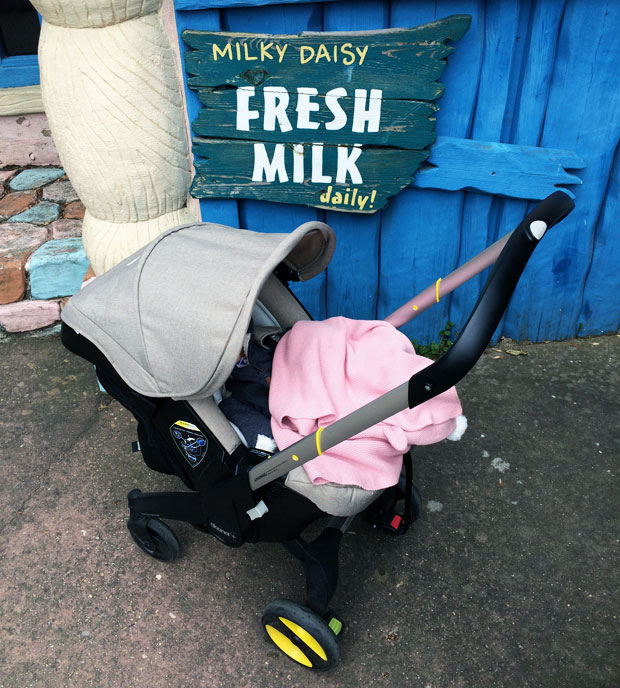 Doona Review | Doona Car Seat Stroller Review

Ever since I first came across the Doona, I thought it looked great and was a brilliant idea! When I knew my third baby was on the way, I suddenly found myself needing to make decisions about both prams and car seats as we no longer had any suitable from birth prams and needed a new infant car seat that would allow us to fit three kids in a row in the back seat.
After having a reflux baby who used the carrycot once or twice (Baby No. 2), I was reluctant to buy a big pram with a carry cot, concerned that it wouldn't be used. I also didn't wan to buy another travel system as they're big and I do already have pushchairs suitable for older babies. After considering my options, I bought a Doona Car Seat Stroller! I knew it would be great for my needs and 4 months in, I can confirm that I was right!
What is the Doona Car Seat Stroller?
The Doona is an infant car seat and a stroller in one product. Unlike a regular travel system, the wheels simply fold up and are not taken off the car seat. The Doona is the world's first complete and fully integrated travel system which allows you to move from car seat to stroller in seconds. It's great for short outings and travelling. The recommendation is that babies shouldn't be in car seats for long periods of time so if you do find yourself out for longer, get your baby out of the Doona every now and then to let them stretch out. Babies usually need feeding and changing all the time anyway! Doona is a Group 0+ Car Seat suitable from Birth to 13kg.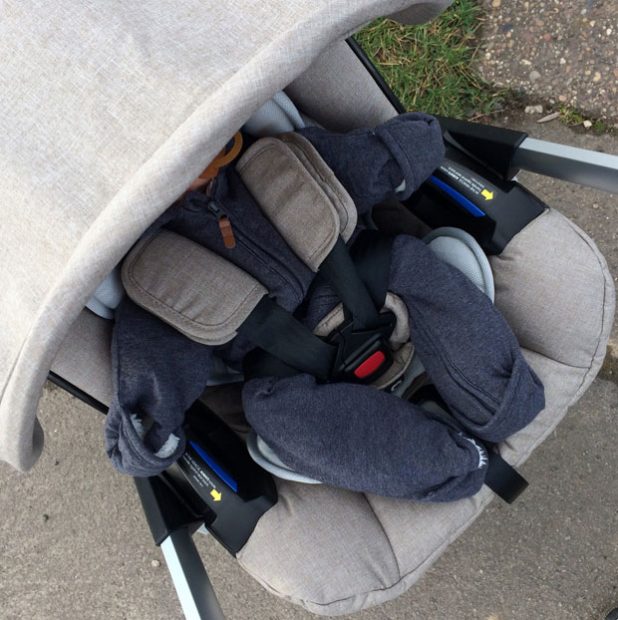 How we use the Doona
I use the Doona for the school run which is a short walk for us now and for travelling and days out too. I don't use it as our main infant car seat because it's simply a little bit too big for us to comfortably fit all three girls in the back seat together. I do use it as a car seat when travelling though — I'm finally happy taking a baby in a taxi! It's great on trains and buses too. I sometimes use it in our car if we need the boot space because and we'd like to use the Doona when out and about. It's very handy!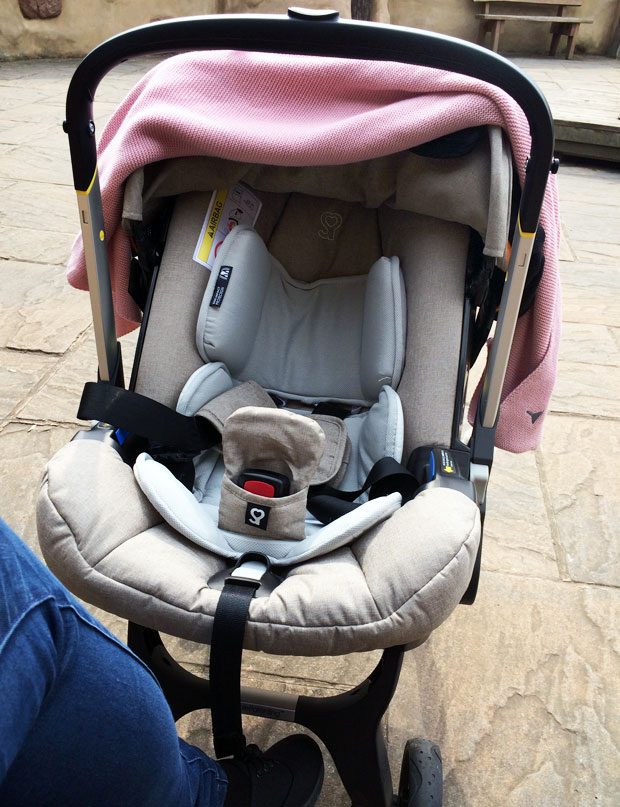 Safety, Features & Details
The Doona is a safe car seat that has been tested and certifies as an Infant Car Seat, a stroller and an infant carrier providing overarching safety for your child in all circumstances.
It's got generous and unique 3-layer side impact protection, anti-rebound bar crash technology, superior 5-point safety harness and an ergonomic infant insert that ensures that your baby's neck and back are ergonomically aligned.
"Designed, alongside medical and engineering experts to ensure that the baby's body is properly supported in the correct ergonomic position."
The Doona is easy to use and made from baby safe materials & new and improved breathable textiles and inner foams. It comes with a Bamboo Infant Insert and Bamboo Head Support to ensure your newborn is in an ergonomic position. We have just stopped using the Infant Insert at 3.5 months but are still using the Head Support as it looks so comfortable.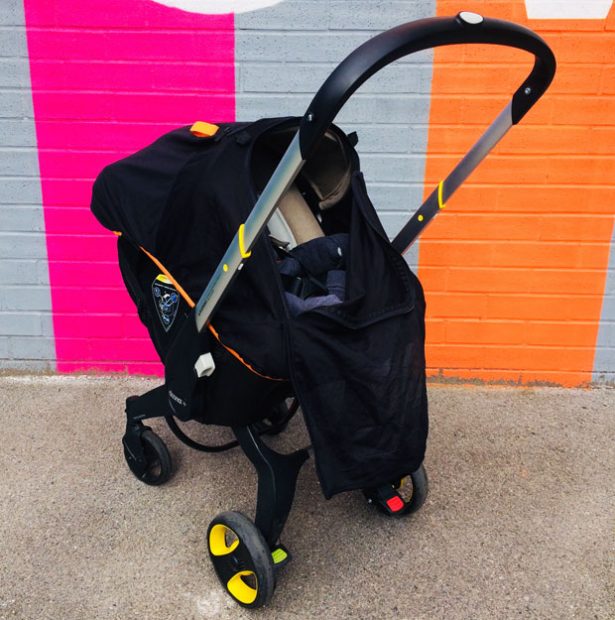 You lock and unlock the break by using the pedals near the wheels closest to you. There's a red one and a green one for lock and unlock and they're clear and easy to use. Because you just step down, you don't mess up your shoes either.
The handle has three positions. Fully extended, pushed down (great if you're sat down and want to keep moving the Doona to settle your baby or if an older sibling would like to push the Doona) and upright which is handy when carrying the Doona up and down stairs (with the wheels folded or out) and when putting your child in and taking him or her out.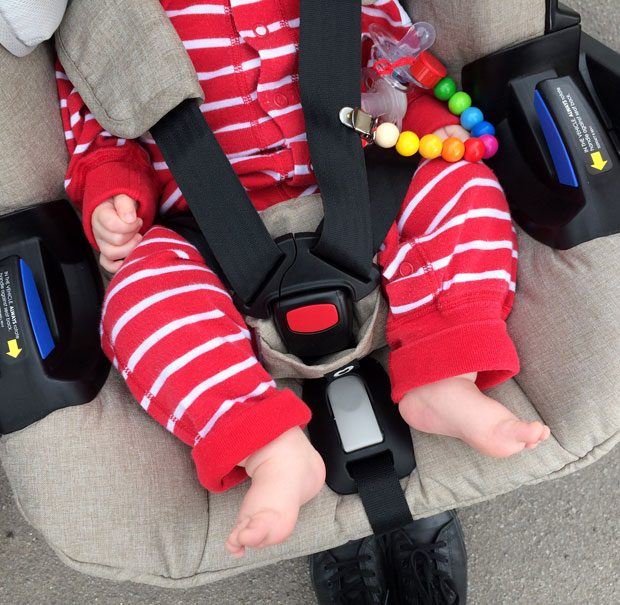 Comfort
The Doona must be one of the comfiest infant car seats that I have come across and used. My baby looks like she's very comfortable and always enjoys being in the Doona, almost always falling asleep as soon as we leave the house. It seems to keep her back in a more straight position compared to other infant car seat which tend to curve the back more. I prefer the Doona because of this and my baby definitely agrees!
The seat is padded and cosy and the padding on the harness is generous too. When I'm just using the Doona as a pushchair, I don't tighten the straps fully but of course you need to remember to do this if you get into a car. This is really important when using any car seats but it can be easy to forget when your child is already in the car seat.
Folding
As you can see in the video above, folding and unfolding the Doona is really easy and takes just seconds. It took a few tries to get used to it but now it's like riding a bike and I don't even think about it.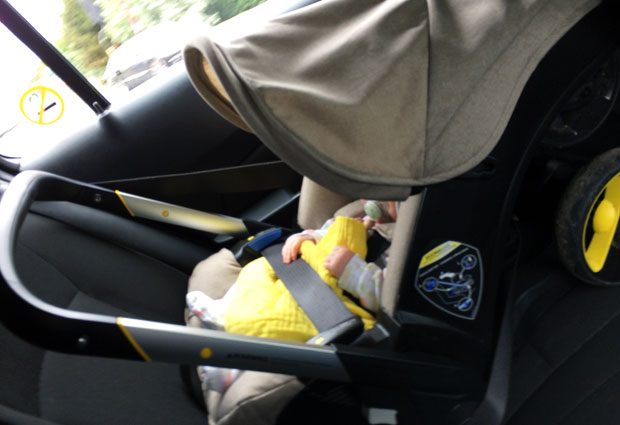 Installation
The Doona car seat can be installed into your car with a 3-point seat belt or can be installed using the Doona Isofix base that is sold separately for added safety and convenience. We don't have the Isofix base but I find it really easy to install in the car using the belt. I really like that the installation instructions are on a sticker on the side of the Doona too so that if you're ever unsure or if you're new to using the Doona, it's all there. When installing the Doona in the car, you fold the handlebar towards the seat in the car which allows it to act as an anti-rebound bar.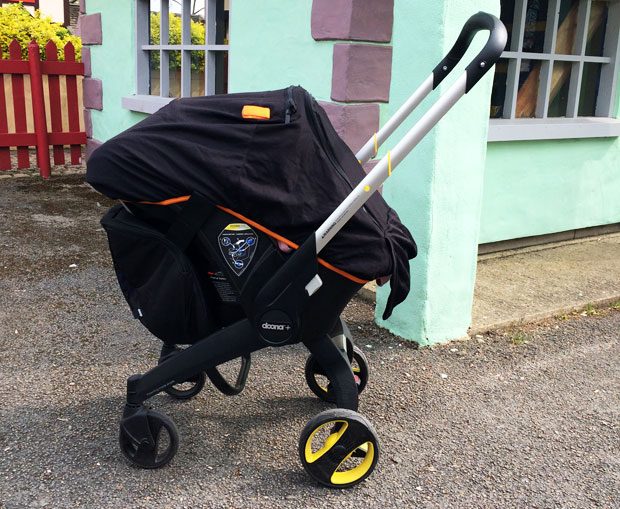 Accessories
There are a bunch of accessories available to buy for your Doona:
The Doona comes with a car seat protector to use under your Doona in the car but the Doona Wheel Covers are probably worth investing in too to protect your seat more. I've used the Doona in four different cars and in three of them, the wheels didn't touch the seat but in one they did so it depends on your car.

I have purchased the Snap-on Storage bag for our Doona and this is quite a spacious zipped bag that fits at the back of the Doona seat. You have to take it off before folding but I don't find it inconvenient at all. It has a carry handle so that you can carry it and it's easy to put on and take off the Doona when needed.
The Doona doesn't come with any storage like a pram so for me it's essential to have this extra bag as I don't always want to take a large backpack or changing bag with me. I can comfortably fit nappy changing equipment, spare clothes, muslins and drink bottles for my older girls in this bag.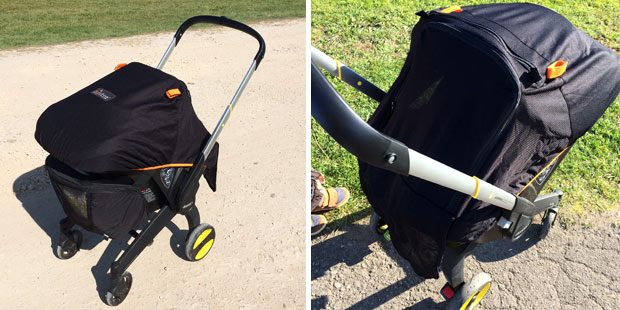 As you can see in many of my photos, I use a sun shade on my Doona nearly all the time. It protects against sun, wind and cold and even light rain and snow. It's an essential for me and as you can see it's a perfect fit for the Doona. I would recommend getting one of these if you have a Doona. For heavy rain, I use our other rain cover from Sweden..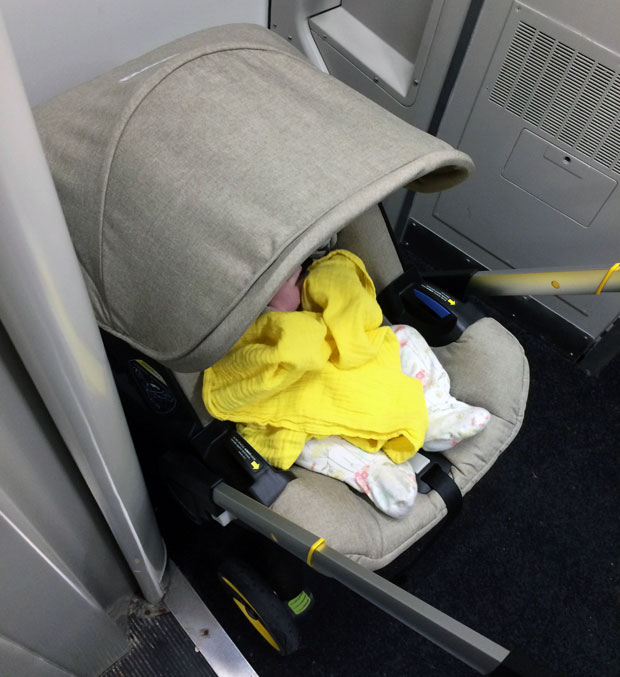 Public Transport
The Doona is brilliant on public transport! It doesn't take up anywhere near as much space as a regular pram or pushchair and if needed, you can fold the wheels up and put the Doona on a seat. It easily fits in the aisles of buses and trains and is easy to get on and off the bus or train too.
Why is it so good?
It's easy to use, compact which is great on narrow roads and public transport, it's versatile, really comfortable, great quality and a car seat and pushchair in one product! What's not to like? I love having a Doona!
Verdict – Is it worth the price?

Yes! It might seem expensive but you get so much from it so it's worth it! I use it most days and it helps me so much on a daily basis so for me it's definitely been money well spent and I'm sure I'll have another year or so of using it daily which is great. I think even my husband is convinced now!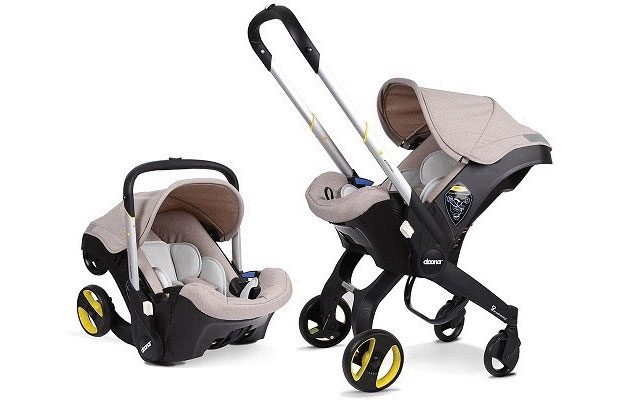 Contains a sponsored link.