Eco by Naty Eco Friendly Disposable Nappies Review
|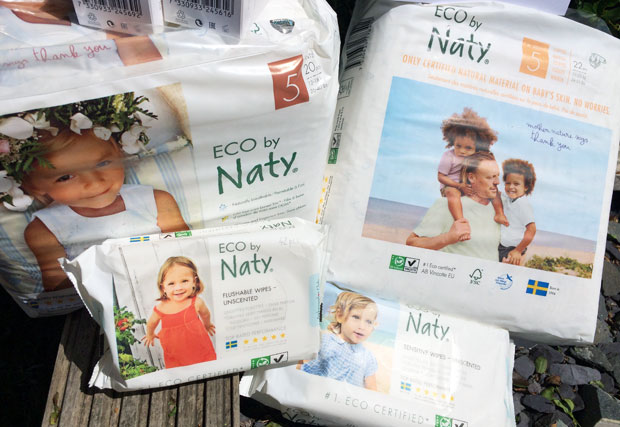 Eco by Naty Eco Friendly Disposable Nappies Review
If you're a regular reader of this blog, you'll know that we use cloth nappies and we've been doing this for over a year and a half with our second baby (now a toddler). We're now at a stage where we've been using cloth nappies nearly full time for quite some time — we're probably using them 95% of the time. I know some parents manage to use cloth nappies 100% of the time but there are times when it doesn't work for us, so we usually have a pack of disposable nappies in the house for those events.
For us, the times when we use disposable nappies is when we're travelling (for the journey, I usually take some cloth nappies with us if there are washing facilities), for long days out where it might be difficult to carry enough nappies or look after the used nappies properly and for when my littlest one has a dodgy tummy… We also use them when visiting my father-in-law's caravan for a few days as there's no washing machine and nowhere to store used nappies (I tried once, and it wasn't successful!).
Cloth nappies are definitely the best choice of nappies from an environmental point of view but it's not for everyone or all times. Disposable nappies come in many different varieties and they're definitely not all the same. Many are full of chemicals and plastic and are simply not very nice and I have to say you notice this a lot more once you've started using cloth nappies as they don't have that strong smell that most disposable nappies have.
One brand that is very different from the leading brands, is Swedish eco nappy brand Naty and they've asked a very important question:
"Is it possible to make an environmentally friendly disposable nappy with the same quality as the market leaders?"
The answer is yes! They have done it. Naty make independently certified by AB Vincotte eco nappies that are made from certified natural materials. They are naturally breathable, free from chlorine, latex, TBT and fragrance, based on natural and renewable materials and made with a GM-free, corn-based film as a leakage barrier — this is fully biodegradable and just as effective as plastic.
The absorbent core of the nappy is made from wood pulp, responsibly harvested from Scandinavian forests and with an FSC certification. The other layers of the nappy are made from natural, biodegradable materials, such as compost certified tissue and sugarcane. The nappies are not 100% biodegradable yet but they must be the best choice when it comes to disposable nappies.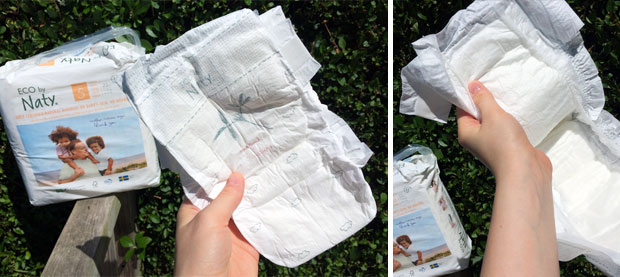 They're better for you baby and better for the planet than conventional disposable nappy brands. Naty nappies are also designed to minimize the risks of allergy and nappy rash and also certified by the Swedish Asthma and Allergy Association.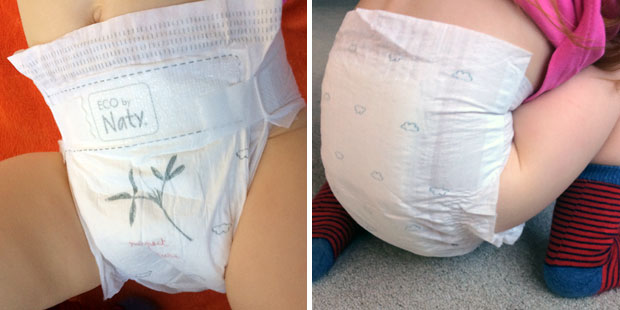 We have tried Naty's baby nappies and pull-ups in size 5 on my toddler and get on with them quite well, especially the pull-ups. The regular nappies are good but the pull-ups fit better and stay in place better on my always-on-the-go toddler.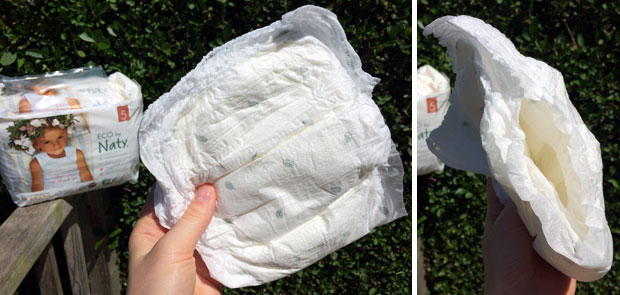 They're really easy to put on and take off too thanks to the tear-away sides. These pull-ups will definitely be our go to nappies for when we need a disposable option. They seem really comfortable and easy to move around in.
Both types of nappies are very slim-fitting and absorbent without irritating my toddler's skin. They do not have that horrible chemical smell that most disposables have — I'm very happy about this.
You can buy Naty nappies from the Naty online shop and you'll also find lots of other products there including wipes, skincare, menstrual products and more. The nappies are also available to buy from Boots. Enjoy 15% off your shop when buying from the Naty webshop (excluding the subscribe and save box and the trial box) when using my discount code below:
"amumreviews"
Samples were provided for this review. As always, all my reviews are 100% honest and all thoughts and opinions are my own.