Forever Living Facial Skincare Products Review
|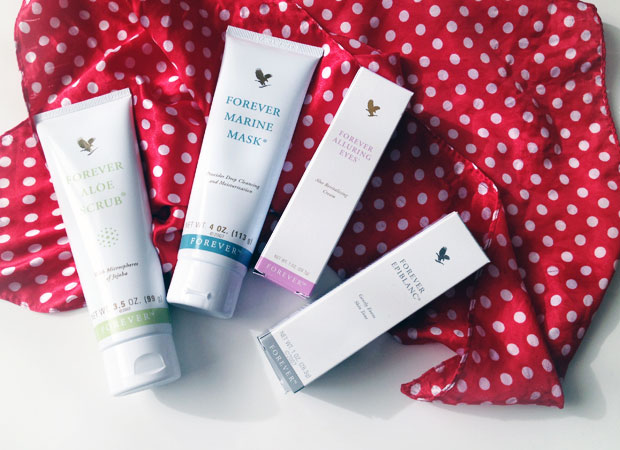 Forever Living Facial Skincare Products Review
Skincare has been a big interest of mine since I was about 12 years old. I love trying new products and brands and finding new gems for my bathroom cupboard for a bit of pampering when time allows. I've got two young children who are not the most reliable of sleepers so I don't have much time for my skincare which means that I need products that are quick and easy to use and that give the desired results quickly. I also prefer to use natural and organic products where possible.
I've got a few new facial skincare products by Forever Living that I'm using at the moment and they are:
Forever Alluring Eyes
Forever Epiblanc
Forever Marine Mask
Forever Aloe Scrub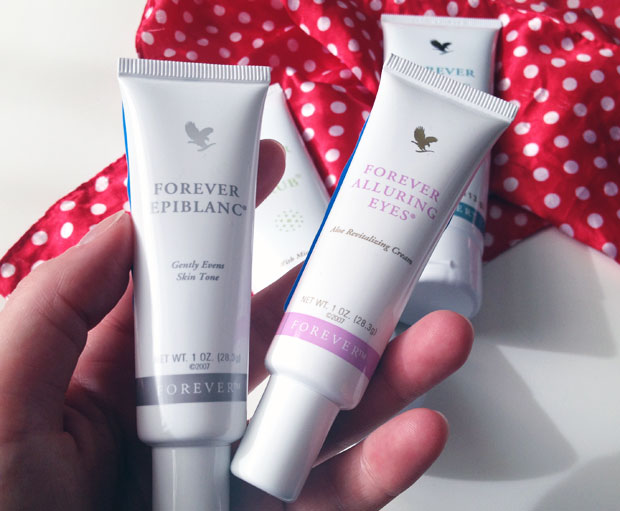 A lot of people don't use eye creams but for me it's essential to have a good eye cream available. I have sensitive skin around the eyes and can't use most face creams on that area so I need a gentle eye cream that hydrates my skin without irritating it. Forever Alluring Eyes is a revitalising eye cream that helps to reduce the appearance of fine lines, wrinkles, under eye-puffiness and dark circles. It contains moisturising agents that target the delicate skin around the eyes and help with skin elasticity.
It's a nice cream and it works well on my skin and has not caused any irritation. It feels very hydrating and softens my skin nicely. I would prefer if it had SPF in it though as that's something I look for in a daytime eye cream.
Even at the mature age of 29 years old, I still get hormonal breakouts that cause uneven skin tone and dark marks when they've gone. Therefore, I'm always keen to try products that can help improve the texture and evenness of my complexion and that's exactly what the Forever Epiblanc cream is for. You use it on cleansed skin before your regular moisturiser and it's advised to apply sunscreen too when using in the daytime. I find it gentle enough to use daily but still effective enough to improve my skin texture.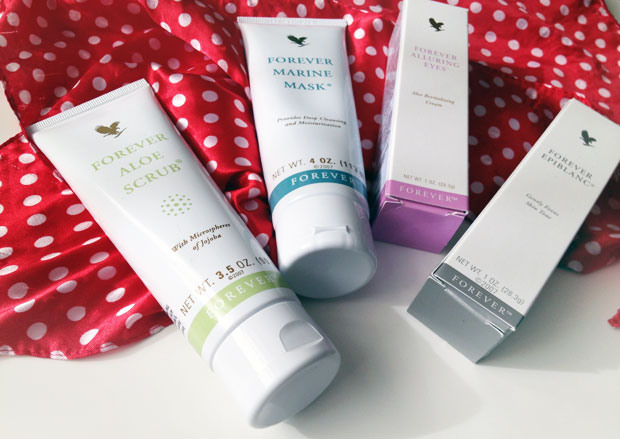 On the rare occasions that I do get some time to myself and have a bit longer to look after my skin, I love to use a facial mask. The Forver Marine Mask deeply cleanses and replenishes the skin after a long day and help balance its texture too. It feels great on my skin while I use it and makes my skin so soft and clean. The top of my cheeks, near my eyes, does get red after using the mask but there's no stinging or anything. It just means I can only use it before bed or when I'm staying in but that's not a problem for me. I'm still enjoying using it! The redness goes away after an hour or so and there's no discomfort — just clean and soft skin.
I tend to mainly use acids to exfoliate my face nowadays but I still really love a good scrub every now and then. I find them especially good after a breakout when I have dry skin that needs to come off quickly. The Forever Aloe Scrub has microspheres of jojoba which roll over your skin gently and removes the dead skin cells that can clog up pores and makes skin look dull and feel rough. It's so gentle and pleasant to use and makes my skin feel super smooth and fresh. You can use the scrub on your body too if you want but I find the tiny microspheres ideal for the face.
Forever Living makes lots of exciting products to help you care for your body from the inside and the outside. Check out the full range on their website.
These products were provided to me for this review. As always, all my reviews are 100% honest and all thoughts and opinions are my own.