Gift Ideas for Mother's Day + Giveaway!
|
Mother's Day Gift Guide 2020 – Gift Ideas for Mother's Day + Giveaway!
March is almost here here which means it will soon be spring and it's soon time to change the clocks too! It also means Mother's Day is just around the corner! This year, Mother's Day is on Sunday the 22nd of March which means we still have a few weeks left to make plans for how to celebrate our mothers. Most mums don't wish for much on this day but it's always nice to treat your mum to something special on Mother's Day anyway — something that's just for her and a bit of a treat!
Gift Ideas for Mother's Day
Here are some of my favourite gift ideas for Mother's Day 2020:
Luxurious pampering treats are always great gifts for a mum because mums really value a bit of me-time as it's often a rare occasion (depending on the age of the kids!). I've just discovered Live in the Light which is an online natural and organic lifestyle store sourcing a comprehensive collection of natural and chemical free ranges including skincare, bodycare, colour cosmetics, hair and nail care, mother & baby, men's grooming, home fragrance and more. I've sampled two amazing products from the Pura Anada range:
The Whipped Body Butter in White Grapefruit & Lime which is so rich and luxurious and has a wonderful scent that is perfect for spring. It feels amazing on my skin and is perfect for any dry patches.
The Hand & Body Wash in Fresh Cucumber which is a gentle and caring hand and body wash that feels great on my hands and leaves them soft and hydrated.
For a mum who likes to stay organised, a customised diary from TOAD Diaries would be a great gift. You can customise them as you wish — start dates, duration, size — with the designer tool and there are so many covers to choose from which can be personalised too. Create a lovely diary for your mum to help her keep her life organised. I have designed an A4 diary with one large page for each day that will allow me to write a long to-do list for each day.
Don't miss the giveaway at the bottom of this post where you can win £25 to spend with TOAD Diaries so that you can create your own diary or notebook.
I love this idea so much! Raise Up Mums Resilience Cards are cards with realistic self care for mums to encourage us to stop putting ourselves last and just surviving in motherhood. It's time to look after ourselves too and thrive instead.
These 50 cards come in a little bag and provide a toolkit of physical and mental tools to choose from to encourage you to look after yourself through the most difficult and sleep-deprived phases of parenting.
You don't need anything extra to do the things on the cards. The front of each card shows a short prompt, and the back some more detailed information or instructions. They're easy to read and use and will help you feel a bit more cared for each day. What a brilliant gift for mums, whether they're first time mums or have been there before.
A Beautiful Jigsaw Puzzle
I love a good jigsaw and especially wooden ones. Once you've tried Wentworth Wooden Puzzles, you will not want to do any others! They are exquisite — such amazing quality with thick laser-cut pieces (you can smell the wood and the cut when you open the box!) and of course Wentworth's signature whimsy shaped jigsaw pieces. A Wentworth wooden puzzle makes a great, long-lasting gift and provides a fun activity to do together as a family.
For Mother's Day, I love this design Island Retreat from the new Spring Puzzle Collection (use code HPSP20 for 10% off until the 31st of March 2020). It's a beautiful puzzle by artist Natalie Rymer and features lots of different species of flowers in the foreground and an island with isolated cottages and a forest in the background. The painting style is wonderful and I love all the bright colours! This jigsaw features whimsy shaped pieces too and these are shaped as insects and flowers to match the artwork.
You can also create a wooden jigsaw puzzle using your own photo with Wentworth Wooden Puzzles. There's a special puzzle that features jigsaw pieces in the shape of letters that spell out 'Happy Mothers Day'. It would make an amazing Mother's Day gift to treasure.
A Digital Photo Frame with your Favourite Memories
A digital photo frame is a modern alternative to a printed photo album and makes a wonderful gift. Nixplay is one of the leading digital photo frame brands here in the UK and they make a range of frames of different sizes and with different functionalities. They have a new Nixplay Smart Photo Frame that can display thousands of your fondest memories. You choose which photos to display via the Nixplay App and you can do this from wherever you are.
You can pick photos from your phone or your social media accounts. They also make a Non-WiFi frame that you can use with USB devices or SD/SDHD cards to transfer and play your photos and videos.Make sure to take photos to commemorate with Canvas backdrops to capture new memories too.
With Mother's Day just around the corner, Nixplay are currently offering 20% OFF on their UK Shop only with the code "BESTMUM2020"
Promo code is applicable until March 8, 2020.
This cannot be used on top of an existing discount
It's not a myth that many mums love gin! A nice quirky bottle of gin would make a perfect gift for a gin loving mum. PrezzyBox is a great place for finding fun and unique gifts and they also have a wide selection of gin related gifts. The Zymurgorium Gin in Sweet Marmalade is an interesting gin that's full of flavour. It's packed with citrusy flavours which makes it ideal for spring and summer. It's got ingredients such as Seville Blood Orange, Lime, Bergamot and Tangerine and it's oh so smooth! It's delicious in a classic G&T or over ice with a little bit of lemonade.
If you're buying a gift for a tea loving mama, then this beautiful My Favourite Brews Tea Box from Happiness is a Gift is perfect. It's a wooden box with a teapot illustration on the lid which you personalise for the recipient. Inside, there are compartments for teabags and the box comes complete with lots of lovely Pukka Tea and you can also engrave a message on the inside of the lid. Mine says "Enjoy your tea with a good book and some peace and quiet!" to remind me to take some time to myself and make time for reading. The traditional selection of tea includes Elegant English Breakfast, Gorgeous Earl Grey and After Dinner. There are a few more styles of pine tea boxes and tea selections to choose from too.
For the mum that's always on the go, this stunning tote bag from Kate Guy would make a lovely gift. The Rebecca's Cupboard print is beautiful and the bag is really sturdy. It's been designed, printed and made here in the UK and the bag is made from top quality cotton. This tote bag features long handles for comfortable carrying and the large size is great whether used for a shopping trip or a day out. I love Kate Guy's prints!
Asda Photo is a great place for creating personalised photo gifts. For Mother's Day, I have created a Faux Leather Heart Shaped Keyring and a Faux Leather Passport Case (Full Cover) with some of my own designs and also a Mother's Day Foliage Large Make-Up/Wash Bag that says Happy Mother's Day on one side and has an area for personalisation on the other. I added a rainbow painting that one of my daughters made for me. All these products are lovely quality and the prints are great too. Check out all Mother's Day Gifts from Asda Photo here.
If you're buying a gift for a creative mama who likes to jot down ideas or write, then some beautiful notebooks from The Design Palette are perfect. The Design Palette makes and sells the most gorgeous notebooks (and greeting cards) in amazing prints. Look at these two that I have — I don't think I've ever seen any prettier notebooks. Any mum would love to receive these as a gift, I'm sure.
"The Design Palette is a pattern design brand. Bold and bright, diverse and individual – in colour, pattern and style. Just like you."
Enjoy 10% off all items in the shop until Sunday 8 March 11.59pm. To qualify, spend £15 or over. The code to use at checkout is: TDP10ONLINE.
A Wonderful Gift Box full of Treats
If you're looking for a great way to treat a mum, check out Out of the Box Gifts who create thoughtful gift boxes that encourage women to make time for self-care. The gift boxes contain a wonderful selection of items that have all been handmade in the UK and are carefully sourced from small, ethical businesses. The products are natural, cruelty free and vegan, plus all the packaging is compostable, reusable or recyclable.
The bundle comes gift wrapped and you can add a personal message too. Choose an already created box like the "A Gift Box for Mum" or "A BIG box for a Good Night's Sleep" (there's plenty of choice) or create your own box by choosing the items yourself. Full review coming soon! Another bonus of this gift is that it can can be sent straight to your recipient or to you to hand over in person.
Eco-Friendly Gift Wrapping
When you're trying to be eco-friendly with your gift giving, the wrapping is a part of it too of course. Tiny Box Company sell recycled gift boxes and ribbon for private customers and companies to easily be able to create eco-friendly and stylish gifts and gift boxes for special occasions.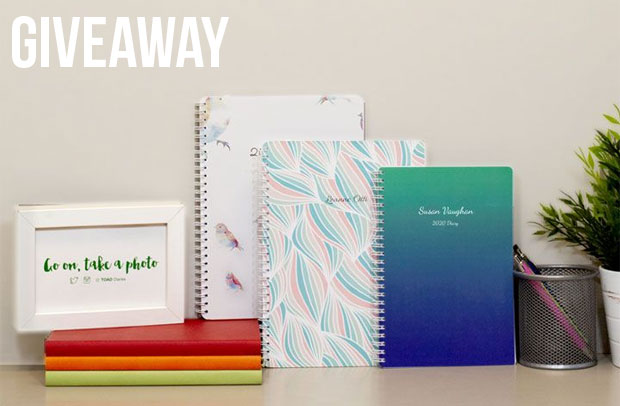 Giveaway: Win £25 to spend with TOAD Diaries
Hope you've enjoyed my gift ideas for Mother's Day! Now it's time to enter my giveaway through the Rafflecopter below for a chance to win £25 to spend with TOAD Diaries. Terms & Conditions apply. Open to UK entrants over the age of 18 years only. The giveaway will end on the 18th of March 2020.
This gift guide features press samples that have been sent to me. I've chosen all the items to go in this gift guide and as always, all thoughts and opinions are my own. Contains a sponsored link.