Gro Clock Review – Our Sleep Training Experience
|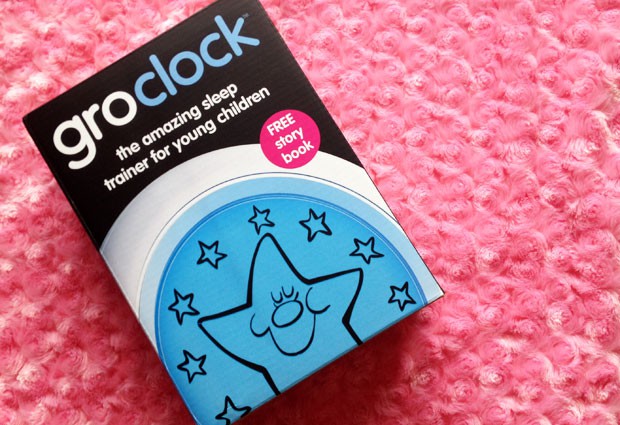 Gro Clock Review – Our Sleep Training Experience
Sleep or the lack of it is always a hot topic among parents of babies and young children. Our girl has never been a great sleeper but in the past few months we've managed to get her to go to bed at a normal time by cutting out her daytime nap. We started doing this a month or two before her second birthday and now she's 2 years and 2 months old.
She goes to bed at around 7.30pm now (instead of 10 or 11 o'clock!) and ideally we'd like her to get her full 12 hours of sleep and stay in bed until 7.30am. One of our biggest sleep issues is that our daughter likes to come into our bed in the night and this is something we're working on too. She just continues to sleep once she's in our bed but we'd like to wean her off this behaviour as soon as possible.
Some days, she also wakes too early at around 6am and then we need to explain to her that it's not morning yet and that she needs to sleep a bit more. Because she doesn't nap in the day, it's important that she sleeps enough at night. Sometimes she listens and goes back to sleep and sometimes she doesn't. That's why I wanted to try the Gro-Clock to have a visual aid for her as well.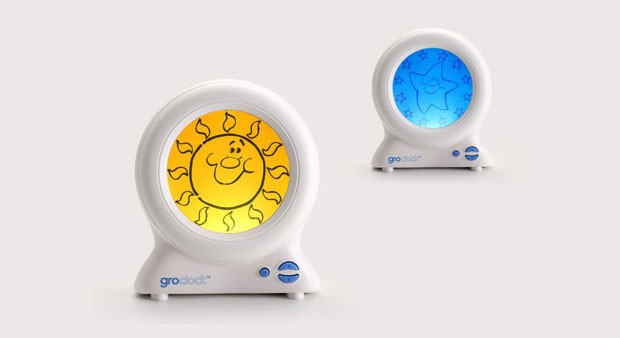 The Gro-Clock is a simple way to teach children when it's time to get up and when it's time to stay in bed. You simply teach them that when the sun comes up and the light goes yellow it's daytime and when it's blue with stars it's night-time.
Currently our girl is in our room due to renovations and because we have guests coming to stay with us later this month, in April and in May who will be staying in the guest bed in her room, she'll be with us for a few more months. When she's back in her own room, she'll be used to the Gro-Clock and hopefully will be happy to just consult it to see if it's time to get up or not.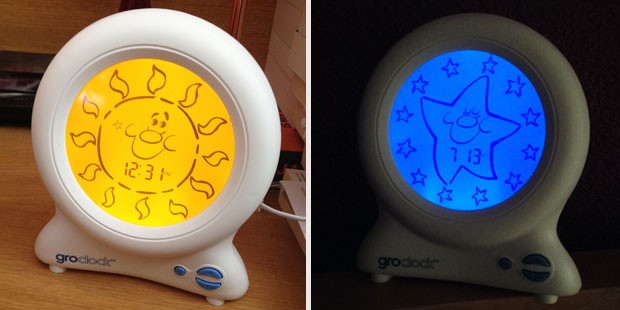 We've currently got it set up on my bedside table which is within sight from our girl's bed. The Gro-Clock was really easy to set up with our time preference and the little one was instantly interested in it, wondering what it was. I explained how it works, that we only press it when we go to bed to say night-night to the sun and then we stay in bed until the sun comes back up.
The design of the clock is really nice. It's simple and stylish, but friendly and fun, too. You can adjust the brightness of the light which is really good since some children are more sensitive to light. There are no batteries needed as it's powered by mains electricity so you just plug it into the wall socket. Other great features include a key-lock to avoid little fingers changing the settings and an audible alarm which can be useful for older children. The Gro-Clock also comes with a beautifully illustrated book to help reinforce the message to stay in bed for longer.
You can set two separate wake-up times if you wish, for bedtime at night-time and daytime naps or weekdays and weekends.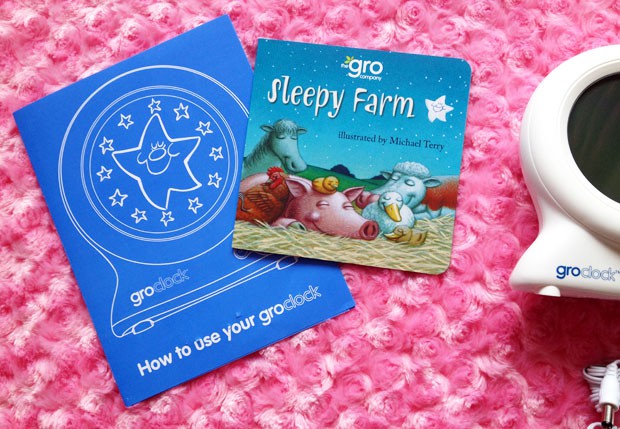 If you have a child that wakes up really early, it's best to change the wake up time in increments as your child adjusts to the new times. Start by setting it to the time the child normally wakes up and then adjusting the wake up time each day by 10-15 minutes until you get to the desired wake up time. Naturally, the time it takes for a child to adjust varies and for the best result, you need to use the clock consistently.
For us, it was a matter of working the Gro-Clock into our routine and making our daughter aware of it so that she knew to look at it for guidance on whether it was time to get up or not. She understood quickly what the different screens meant and now when she wakes up, we look at the clock and she says "night-night" when it's blue and "up" when it's yellow!
It will be a different challenge when she's in her own room and hopefully stays in her bed but I think it's been great getting her used to the clock now before that change happens.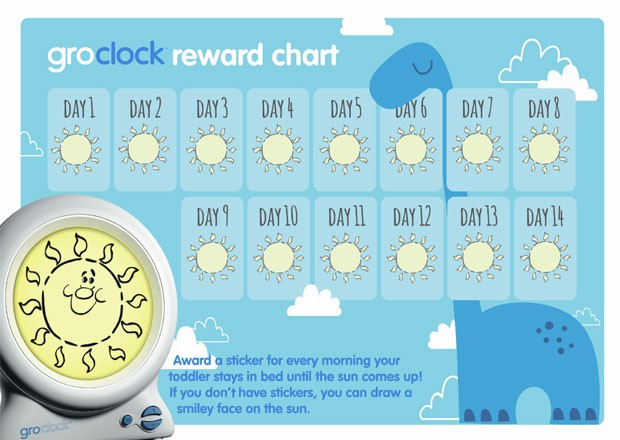 There's a two-week reward chart that you can download here to help encourage your child. Most little kids love stickers so this can be a brilliant aid. Consistency, rewarding positive behaviour and lots of praise will help loads!
The Gro-Clock has an RRP of £29.99 but currently costs £17.49 from Amazon.co.uk. It's also available from The Gro Store and other online and local stockists. Find out more here.
We were sent a Gro-Clock for this review. As always, all my reviews are 100% honest and all thoughts and opinions are my own.