Hospital Bag For Mum – What I Actually Used
|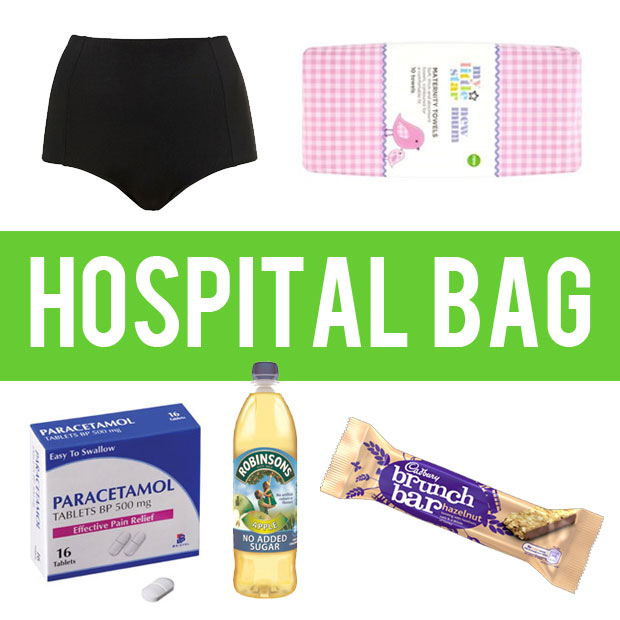 Like most first time mums-to-be I spent quite a bit of time researching what to pack in my hospital bag and managed to pack quite an elaborate bag with things that I thought I'd definitely need.
These are the five things I actually used:
1 frozen 1-litre bottle of diluted squash. This is a great tip: keep a bottle or two in your freezer when you are getting close to your due date and throw in your bag when you head to hospital. That way you will have a nice drink that stays cold during labour. This was the only thing I used before our baby was born.
1 or 2 Superdrug Maternity Towels. I'd brought I full pack! I didn't need that many.
1 pair of high rise full brief underpants in black. Again, I'd brought a 5-pack but only needed one pair.
2 Paracetamol for after the birth. Not needed really, because the midwife can get you some.
1 Cadbury Hazelnut cereal bar to eat after the birth.
And that's it!
I'd packed my iPad (no time and I couldn't possibly use one during contractions anyway), a towel (I just used one from the hospital), going home clothes (I had a naked water birth and my water broke in the pool so the clothes I came in were clean), lots of toiletries (again no time, we only stayed a few hours after the birth so I didn't need anything; I didn't even use my lip balm and I'm usually completely addicted – guess I had other things on my mind!), more snacks (no time and didn't feel hungry during labour), breast pads and nipple cream (you don't need them until feeding is more established and your milk has come in), hair brush (no need, I just put my hair up and it was fine), some make-up (again, no need), footwear (slippers, socks, flip-flops that I never got the chance to use), a TENS-machine (never even tried it!) and probably a bunch more things that I have since forgotten.
When we got to the hospital (for the second time!), I was examined and then moved to a pool room. There was no waiting time where I needed entertainment and I was far too busy having contractions to want to do anything anyway. In the pool all I needed was a cold drink every now and then (and gas and air!) and after our baby was born we just wanted to get ready and go home as soon as possible (which we did). I know I had a straightforward birth and that if labour is not progressing or if you want to/have to stay the night then you will need more things in your bag.
Next time I will pack lighter! If I need to stay over, my husband can get overnight things from home. I think the hospital bag packing is part of preparing for labour and makes you feel more relaxed about birth and like there are some things you are in control of. A nice little ritual but most likely you will not use most of the things on the hospital bag lists that you can find online.
What items did you use?