How to Achieve a Scandinavian Interior Design Style in Your Home
|
How to Achieve a Scandinavian Interior Design Style in Your Home
There's something special about Scandinavian interior design – it's simple but also beautiful and stylish. In this article, we will look at a few things that you can consider for your home if you too love the Scandi home interior style and want to achieve a similar feel in your own house or apartment.
In Scandinavia, the winters are long and very dark. The very limited daylight hours during a large chunk of the year means that Scandinavians celebrate the light and make the most of it. Curtains are not as common in Scandi interiors as it's more important to let the natural light in. If there are curtains present, they're usually sheer or simply venetian blinds if required for privacy. When it's light, Scandinavians let the light in and when it's dark, they use candles and other light sources to make homes feel cosy. More about that further down.
White wooden floors is not something you see much here in the U.K. but they are very common in Scandinavian interiors. The white-washed or white painted floors brighten up rooms and make them feel lighter and more spacious. Again, this is about the importance of light. You will most likely want to get painting professionals in to do this job.
Neutral Colours, Contrasts and Pops of Colours
In Scandinavian homes, you will find a lot of neutral colours. Wood, black, white, grey, beige. It provides a sense of calm and creates simple contrasts that are not overwhelming. There is usually a pop of colour here or there too but in a more minimalist manner – maybe a yellow chair in an otherwise neutral room, rather than several colours at once next to each other. Often small details might tie together too, like the dish cloth might match the tea towel and so on.
In Scandi interiors, you'll often see retro furniture from the 50s or in a retro style mixed with newer, more modern designs. This creates interest and makes a home feel more unique compared to if only new pieces were used. Think classic Danish antique furniture mixed with modern IKEA items. It works well and celebrates different styles.
Nature is important to Scandinavians and we love the outdoors so much that we like to have some aspects of it in our homes too. Flowers, plants and natural wooden furniture are great ways to bring nature indoors. Other details could be botanical prints on fabrics around the home – a duvet cover, a towel in the bathroom or a cushion on the sofa.
Bold Art or Black & White Photography
Art in Scandinavian homes are a bit of a mix too. It's common to see quite bold and colourful art as stand-alone pieces but also large-scale black and white photography. Sometimes you'll see floral Nordic prints too. What the different styles have in common is that they're usually all minimalist and sophisticated.
Last but not least, make it cosy. It's easy to imagine that the minimalist and simple Scandinavian homes would not be cosy but that's not the case. Making sure your home is cosy is very important to Scandinavians. You might have heard of the Danish word Hygge or the Swedish word Mys. Make your home cosy with the right kind of lighting and lots of candles for the dark season.
Spending time with family in your home is an important part of life and in Scandi homes you'll usually find large, cosy corner sofas or plenty of other seating options to be able to host lots of friends and family at the same time.
Blankets are very important too and there's always at least one on hand in the living room in a Scandi home. People always have soft, warm blankets to wrap themselves in as they sit in their gardens or balconies when spring makes it appearance too and you'll even find blankets hung on chairs outside restaurants and cafés for customers to use and space heaters to heat the areas. Scandinavian people love being outdoors so much! As soon as the sun is out, Scandinavian people spend time outdoors, even if it's still cold.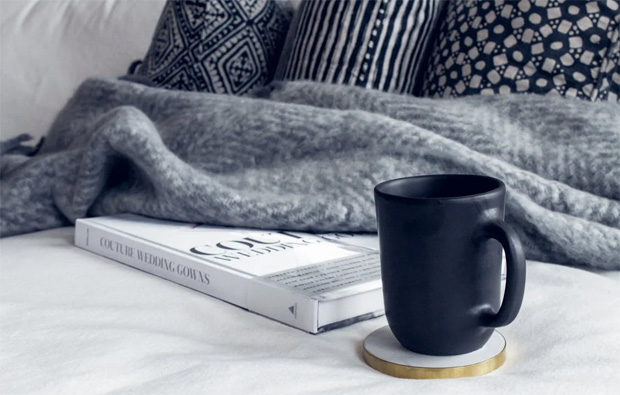 Contains sponsored links.