How to do a Weleda Harmonising Rose Facial at Home
|
How to do a Weleda Harmonising Rose Facial at Home
Sometime around this time of year, Weleda usually host a lovely event for bloggers and journalists and it's one of my favourite days of the year when I attend. It's such a lovely event! It's relaxing and interesting and enjoyable in so many ways. Due to the current situation in the world, it doesn't look like the event is happening as usual so I thought I'd write about one of the lovely pampering treatments that we were shown during the event last year.
"This harmonising facial is the perfect skin prep for weddings or celebrations – a revitialising, deep-nourishing routine to relax, refresh and pamper before the big day."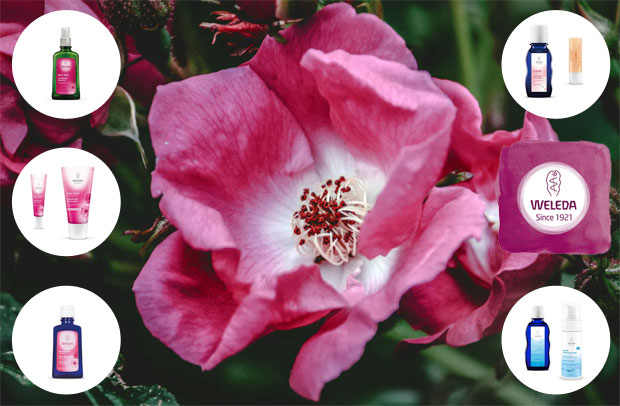 Weleda Harmonising Rose Facial | What you need:

A great skin treat for special occasions but also so lovely when you just want to relax and pamper yourself which we could all do with during this stressful time.
To do a Weleda Harmonising Rose Facial at home, you need about 30-45 minutes (the middle of the day is best for the skin) and some gorgeous Weleda products:
You also need some cotton wool pads, a couple of flannels, a couple of bowls and some warm water.
Weleda Harmonising Rose Facial Steps:
Step 1 | Cleanse your skin for a clean start
Start by removing any make-up, including eye make-up, if applicable. You can do this by taking two damp cotton wool pads and applying a few drops of Weleda Almond Soothing Facial Oil, then placing over your eyes for a few seconds then gently moving them, sweeping them outwards to remove any eye make-up. Repeat until clean.
Then take a pump of Weleda Gentle Cleansing Foam and massage into your face, working the product into your skin with both hands. Next, remove the cleanser using damp cotton wool pads.
Step 2 | Tone & Steam
Add 5ml of Weleda Refining Toner to a bowl of hot water. Use a fresh flannel and soak it into the mixture, wring it out and then gently place it over your face. While you're doing this, relax and think of roses opening up in the sunshine. The heat of the flannel will relax your face and the invigorating ingredients will stimulate your skin's circulation and balance out your skin's pH.
Step 3 | Begin the revitalising massage
Mix a few drops of Almond Soothing Oil with a few drops of Weleda Wild Rose Body Oil and warm the oils between your hands. Then apply a thin layer over your face, neck and décolletage. Massage your skin with upward stroking movements with slow movements using your whole hands to awaken the circulation and relax the facial muscles. The oils will soak in fast, feeling great on your skin and the rose fragrance is soothing and luxurious.
Step 4 | Apply a mellow mask
When the oils have soaked in, it's time to apply a layer of Weleda Wild Rose Night Cream over your face and neck like a mask. Let the cream sit on your skin and take some time to pamper and massage your hands with the Wild Rose Body Oil while you let it work. A hand massage will release tension and also nourish your nails and cuticles.
Step 5 | Apply a warm compress
Soak a clean flannel in a bowl of warm water with a few drops of Weleda Rose Cream Bath, wring it out and apply to your face to remove the mask. Breathe in and enjoy the warmth of the flannel and the relaxing Wild Rose fragrance, then sweep away any excess cream.
Step 6 | Spritz & Refresh
Lightly spritz your face and neck with the Refining Toner for a lovely refreshing feeling.
Step 7 | Moisturise
Finally, it's time to moisturise. Add a small amount of Weleda Wild Rose Smoothing Eye Cream around the eye area with gentle fingers. Then apply a light layer of Weleda Wild Rose Smoothing Day Cream or Weleda Wild Rose Facial Lotion over your face and gently pat into the skin. Finish with a little bit of Weleda Everon Lip Balm onto your lips.
All products are available from Weleda's website or from shops like Amazon.
This is such a lovely and relaxing treat for your skin and it will also relax YOU and make you feel calm and pampered.