How to Make Your Home a Safe Place for Your Baby & Toddler
|
How to Make Your Home a Safe Place for Your Baby & Toddler
The facts and figures about accidents in the home involving children are shocking! More accidents happen at home than anywhere else and over two million children under the age of 15 experience accidents in and around the home every year, for which they are taken to accident and emergency units. Children under the age of five and elderly people are most likely to have an accident at home and many could have been prevented.
Some more statistics from rospa.com are:
More than 62 children under 14 die as a result of an accident in the home every year.
Around 25,000 children under the age of 5 attend A&E departments each year after being accidentally poisoned.
An average of 13 children a day under the age of 4 suffer a severe injury from a burn or a scald. Even 15 minutes after a hot drink is made, it can still scald a small child!
Over 4,200 children are involved in falls on the stairs each year.
4,000 children under the age of 15 are injured falling from windows.
The living room has more accidents than any other room in the house.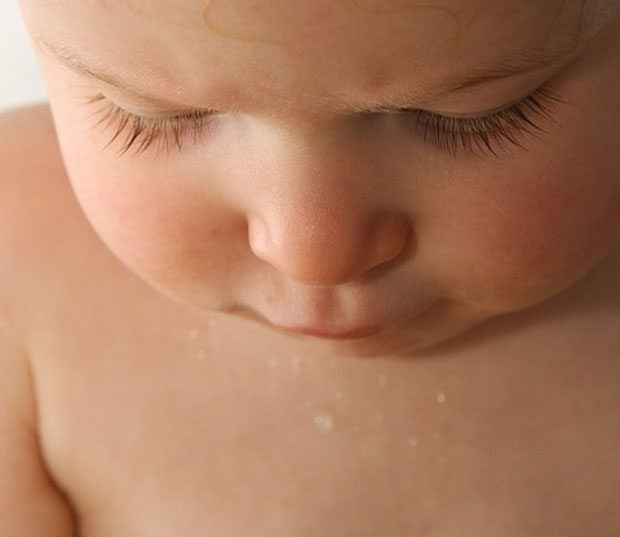 Young babies are quite easy to keep safe, but when they start crawling, climbing, walking, running and exploring everything, it suddenly becomes quite difficult! You need to do what you can to make your home as safe as possible for your kids by baby proofing your house.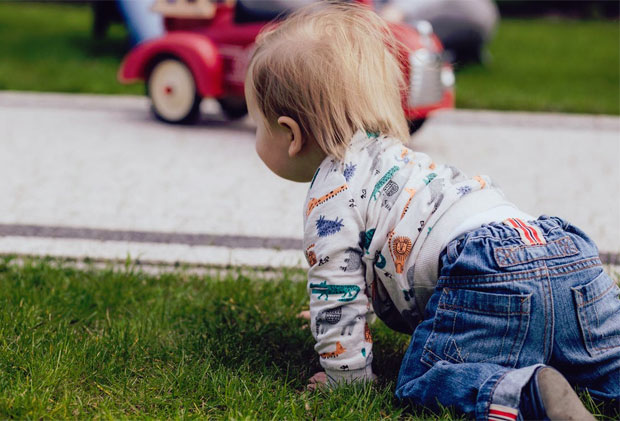 The things we did when our eldest started moving around were:
Installing a stair gate at the top of the stairs. We don't need one at the bottom as we have a door there that is always closed.
Put corner protections on our desk, low bed frame and living room table.
Installed plug socket covers on all sockets that were in reach.
Installed blind cord shorteners on all the blinds.
Moved any dangerous items to a height out of reach.
We also attached all tall furniture to the wall but this we did before she was born as it's the safe thing to do whether you have kids or not.

Fred is a new brand dedicated to exceeding home safety and offers a collection of innovative safety solutions. The range of exceptional childproofing products promises peace of mind for all the family and includes items like sleek, transparent stairgates, invisible magnetic locks, door stoppers, ingenious stove and hob guards, as well as anti-tip kits and more.
"The Fred range consistently delivers high quality products alongside clever features and thoughtful design. This winning combination means that not only is it easy to assemble, but that every product will stand the test of time, thanks to the thoughtfully selected, long lasting and durable materials."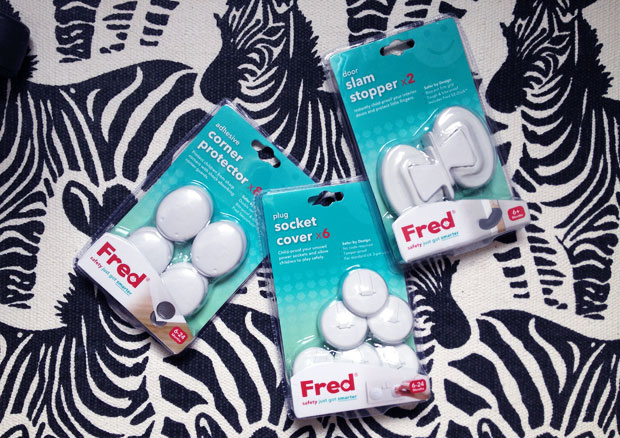 We have the following Fred products (some are available in black too):
Door Slam Stopper

—

Genius! My kids love closing and opening the door to my eldest's room and this keeps them from trapping their fingers!
Plug Socket Cover

—

These are really secure and much better than the cheap multi-packs that you can buy in most stores.
Adhesive Corner Protectors

—

You put these on the top and bottom for optimal protection. We've put these on our garden table that the kids run around all the time.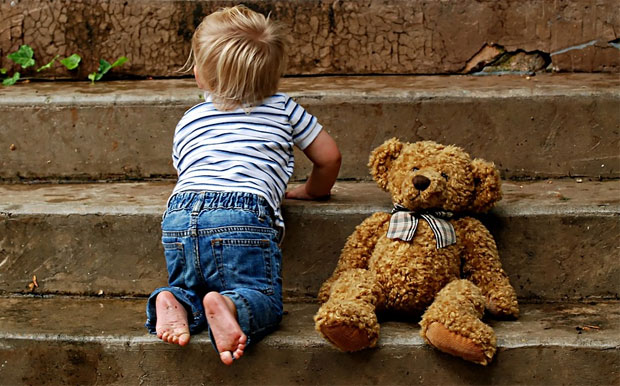 Here are some handy safety tips for your home from experts at Fred:
Hide things like treats or anything else that they might find interesting completely out of sight to reduce the temptation to climb to reach them!
Protect sharp corners from the bottom too as kids often crouch down.
Fire safety officers recommend that all doors are kept shut at night. Remember to remove the Door Slam Stopper at night.
Keep things like household chemicals, medicines and sharp or breakable objects in locked cupboards.
Children learn by copying

—

avoid using or installing home safety products while they are watching. Do it when they're asleep or in a different room with another adult.
Don't be tempted to climb over the stair gate. Children may try and copy you, and climbing over it when kids are present could reduce its effectiveness in protecting your child. Also, get in the habit of closing the gate every time you pass through, even when your child is asleep or on a different floor. Ensure that visitors know to do the same. You can also use stairgates to keep children in or out of certain rooms or to keep them from going out in the garden.
Use Drawer Catches on drawers to stop kids climbing them and don't allow them to play with the drawers at all.
Keep magnets away from children as they can be very harmful if accidentally swallowed.
Use the back burner of the hob when possible and angle pan handles inwards.
A 'safe' cupboard (with no hazards inside) that kids can access teaches them how to open and close doors safely and can be handy distraction. Store things like sippy cups and plastic plates and bowls in there.
"Crouch down and look at your home through your child's eyes. What would you do if you were a child? Now protect your home accordingly."
Thank you to Fred for these helpful tips and for providing us with the products mentioned! Our home is now a safer place for the kids.