InstaNatural Age-Defying & Skin Clearing Serum Review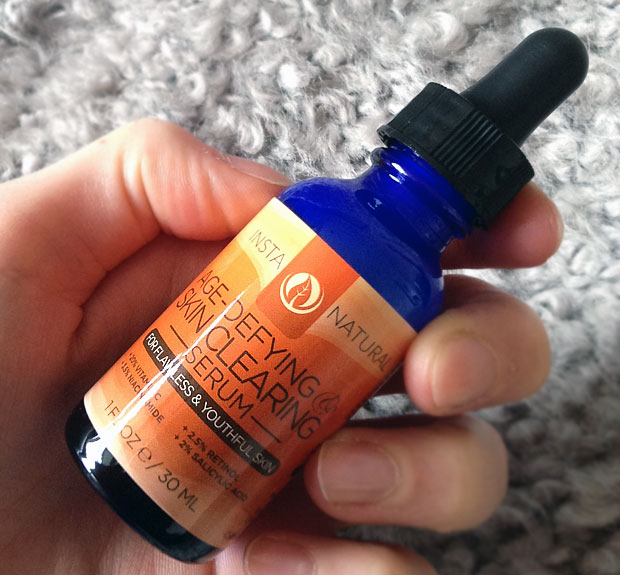 InstaNatural Age-Defying & Skin Clearing Serum Review
InstaNatural Age-Defying & Skin Clearing Serum contains 2.5% Retinol, 3.5% Niacinamide and 2% Salicylic Acid to help prevent blemishes, purify and shrink your pores and to soothe the skin, high strength Vitamin C that is an antioxidant that helps heal the skin and prevent further damage and Hyaluronic Acid to deeply hydrate your skin. Together, these ingredients help renew your skin and give you a more flawless complexion.
This serum helps reduce signs of aging and at the same time combats acne and hyper pigmentation — it's a complete solution for women who wish to keep their skin looking young but at the same time need skincare that helps keep blemishes away and helps treat acne scarring. This is a great product for me. I'm 27 years old so wish to use anti-aging products but I also suffer from breakouts (hormonal) and need to treat those too. There are not many products on the market that offer both and especially not natural ones so I'm so happy that I've discovered InstaNatural's wonderful products.
It's a fast acting product that you apply after cleansing your face. It absorbs quickly and then you follow up with your usual moisturiser. You can use the serum twice daily (only use it once per day if your skin is sensitive). In the day, you should apply a cream with SPF afterwards because retinol can make you skin more sensitive to the sun.
My breakouts are quite predictable and by using this serum before I'm expecting some spots, I can help keep them away. You can really feel this product working — I love it! I've saw results really quickly after starting to use it. Another good product for women who suffer from adult breakouts is InstaNatural's Retinol Moisturizer that helps fight spots and signs of aging, too.
I love the packaging — the blue glass bottle looks lovely and using a pipette for a serum is very handy.
InstaNatural Age-Defying & Skin Clearing Serum costs £17.95 and is available to buy from the InstaNatural website or from Amazon.
As always, InstaNatural's products are produced in small batches to ensure quality and freshness. InstaNatural is a lovely company that offers a 100% Satisfaction Guarantee Policy and will refund you if you are not happy with your product. It's very unlikely that you would not be happy though — I've tried several of their products and they are all great!
I was sent this product for this review. As always, all my reviews are 100% honest and all thoughts and opinions are my own.