Kitchen Storage Hacks Ideas & Clever Kitchen Gadgets
|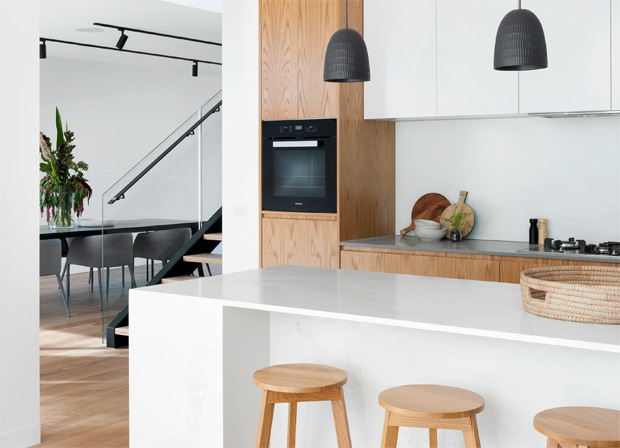 Kitchen Storage Hacks Ideas & Clever Kitchen Gadgets
The kitchen is one of my favourite areas of the home to make improvements in as it's a room that gets used so much and the small upgrades can make such a big differece to daily tasks that you have to do but might not enjoy very much. I don't really think cleaning is a fun task and the weekday cooking is usually more of a must-do rather than something enjoyable so I like to make these chores as efficient as possible. Creating more space is also a goal for me so I love finding space saving products.
In this post, I'll share some new product discoveries, kitchen storage hacks and clever kitchen gadgets: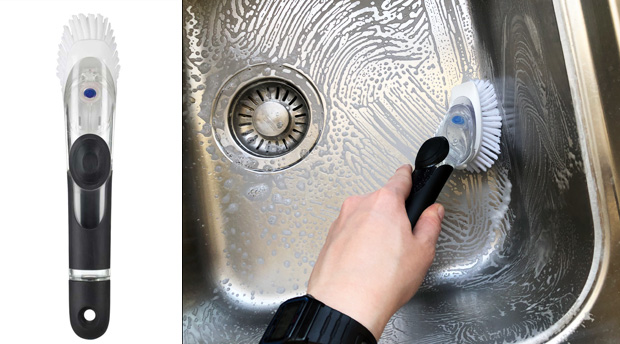 This OXO Good Grips soap dispensing dish brush is great as a dish brush but I'm using it for another task that I always find annoying – cleaning the sink! The comfortable handle and easy soap dispensing feature (press the button to release some soap, no drip or waste) makes it perfect for scrubbing the sink. You can use a mix of washing up liquid and vinegar if you have hard water like we do. The sink cleaning process is so much more enjoyable now that I've discovered this solution.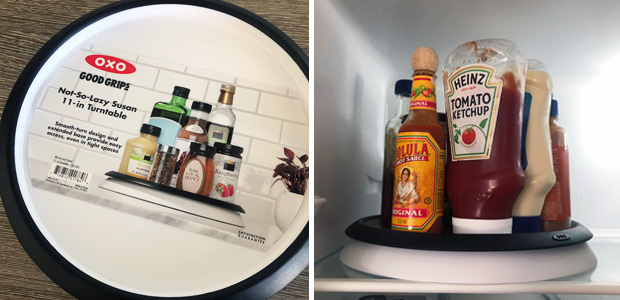 Lazy Susans are a game changer when it comes to kitchen storage. I'd been getting quite annoyed when trying to find things in our fridge recently so am so pleased to have this new clever Lazy Susan from OXO Good Grips. Now I no longer struggle to find things on our top shelf in the fridge as I can simply twirl the turntable to get a good overview of the condiments. It's got non-slip feet so stays put very well and the spinning mechanism is very smooth. It's got a deep ledge too so will keep items safely in place. We're using it in our fridge, but it can be used in lots of different places for other things too. Great in cupboards too or for the countertop to store things you reach for a lot. Like all OXO products, it's stylish enough to be kept on display!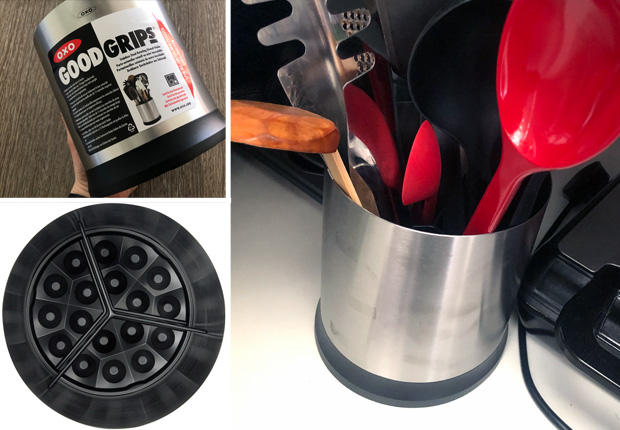 Another clever product from OXO, this is like a Lazy Susan utensil holder. It's a large-capacity utensil holder that will fit at least 15 large-handled utensils and keep the upright thanks to the tall body and contoured bottom. It's got three separate compartments for you to organise your favourite cooking utensils and the rotating feature makes it so easy to find what you need. It saves a lot of space in my cupboard too!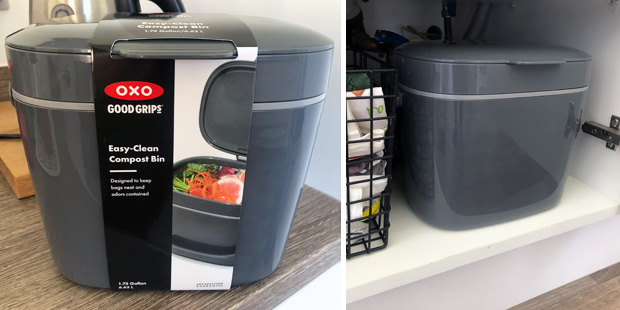 Lots of people haven't started composting yet due to space concerns but this clever Easy-Clean compost bin is easy to fit in most kitchens. It's got a unique design that keeps bags tucked inside for a neat lock and a removable, stay-open lid. The smooth interior makes it super easy to clean. This one is a 6.62L one that fits very comfortably under our sink but there's an even more compact 2.8L OXO Easy-Clean Compost Bin available too which is ideal for very small kitchens.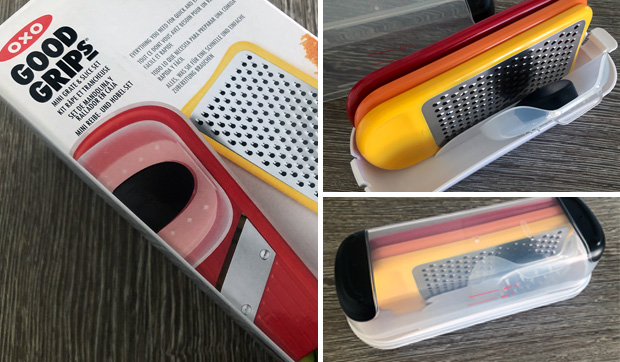 This is a product that I've chosen to feature because of its space saving properties and clever design. This little set contains a slicer, medium grater and coarse grater in a handy, compact storage box that can also be used to grate into and measure ingredients. It's got non-slip feet for safe grating and this wonderful little kitchen tool set also comes complete with a food holder to protect hands while slicing which is great!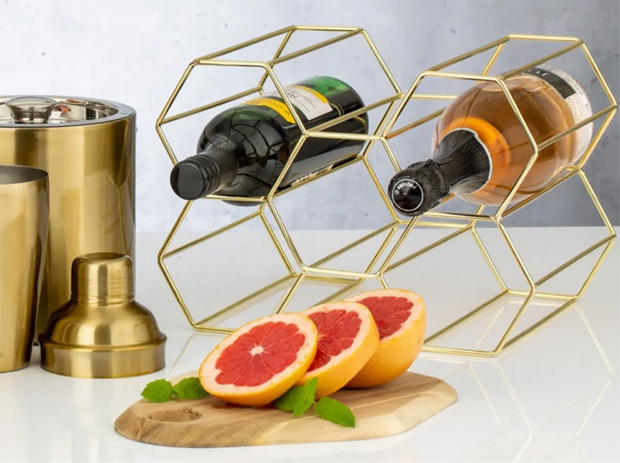 This wine rack from Viners is stunning and looks great filled with wine bottles but you can use it for other storage hacks too. Its compact design is brilliant as it makes it fit into most cupboards and shelves very well.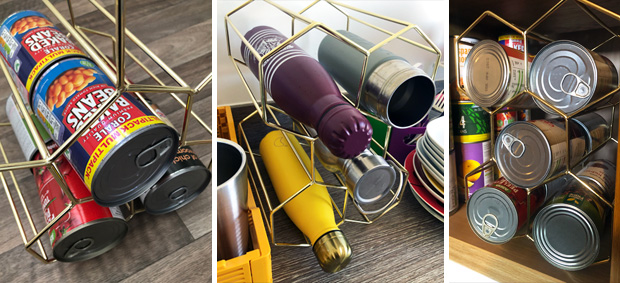 You can use it in any orientation to fit the space that you have. I've been experimenting with things that can be stored in a wine rack that are not wine and some of my favourite discoveries are canned goods and reusable drinks bottles. The wine rack helps store these things neatly and helps me get a good overview of what's available.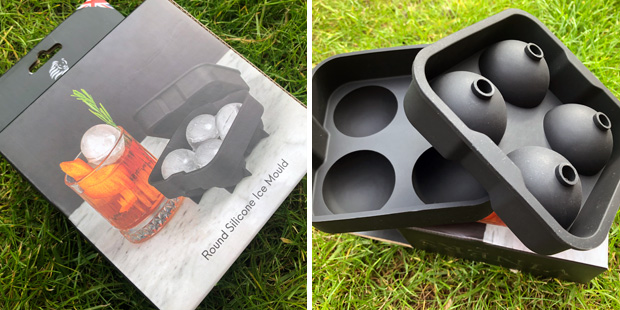 This is a brilliant ice mould that lets you make impressive, large ice balls to chill drinks without watering them down as they melt more slowly. They are especially great for whisky. You can make the ice balls extra fancy by putting some herbs or fruit pieces inside too which would look amazing in a cocktail! The mould is easy to use and the ice balls come out looking perfect every time.
You can use the mould for other things too. One thing I'll be using it for is to make fancy hot chocolate bombs by using the bottom half of the mould as a chocolate mould.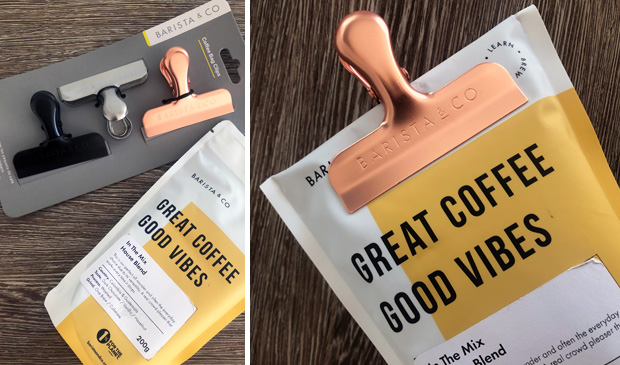 Who decided bag clips had to be ugly? They don't anymore – these metal bag clips from Barista & Co look very stylish and will ensure that your fresh coffee (and other food products!) stays fresh for longer. The set includes three colours: copper, steel and gunmetal. They're really sturdy and seal bags very well!
A few other tips for storing fresh coffee is to squeeze as much air out as possible before folding the bag down and attaching the clip, and to store your coffee in a dry and cool place. You can also store ground coffee in the freezer to keep it fresh for longer but make sure it's in an airtight container for that.
Barista & Co offers a coffee subscription service and also sells lots of great coffee accessories.
This post features gifted products.