Magnetix Wellness Jewellery Review
|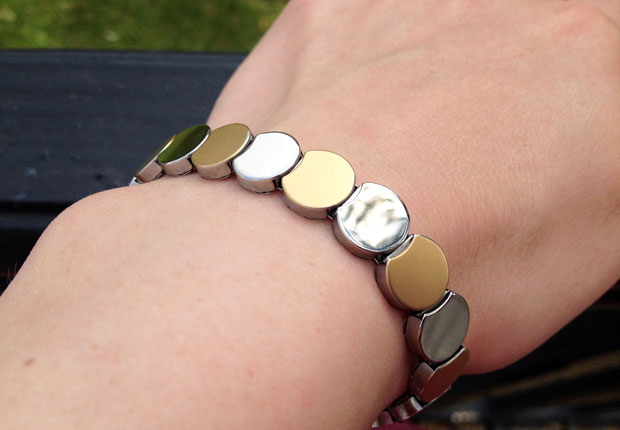 Magnetix Wellness Jewellery Review
Can magnetic jewellery improve your well-being? I know some people like wearing a solar watch, but I am not sure if they actually improve well-being. In this post we'll look at a beautiful magnetic bracelet from Magnetix.
Magnetix is a wellness jewellery brand specialising in items that look amazing but are also magnetic. The idea is that by wearing magnetic jewellery and accessories, you stimulate the supply of nutrients to all the major organs and give the body a natural boost.
Magnetix explains:
"In 1954 Linus Carl Pauling discovered the magnetic characteristics of haemoglobin, and was awarded the Nobel Prize for Chemistry to mark his achievement. This discovery is of particular significance because besides its function as an oxygen carrier, iron also plays a key role in the metabolism that takes place within cells. Iron is also a key energy carrier – which can be magnetised! Wearing magnetic jewellery and accessories stimulates the supply of nutrients. In addition, we use Neodynium magnets which are the newest, most powerful, most expensive and longest lasting on the market today."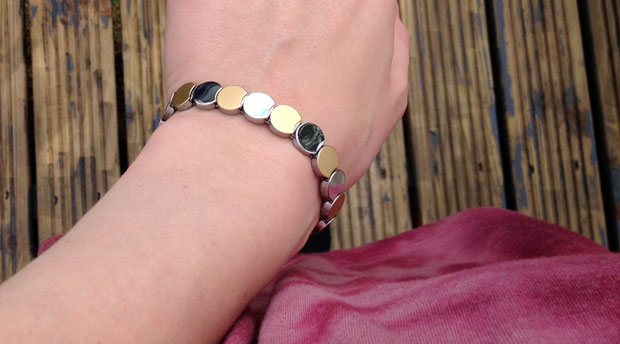 Magnetix Wellness Jewellery Review
The magnets revitalise the human body by ensuring the circulation to all the body's main organs is efficient. Good blood circulation is essential to almost all the processes within the body including providing oxygen, vitamins and enzymes. The idea is that magnets activate this metabolism and, as such, promote physical functions.
The magnets are said to improve many different general symptoms such as insomnia, arthritis, sports injuries, migraine, menstrual pains, mood swings and general tiredness.
This is a lovely idea but of course something that's difficult to prove! I do love the selection of gorgeous jewellery and if they might help mild conditions like the ones mentioned above, then why not wear them?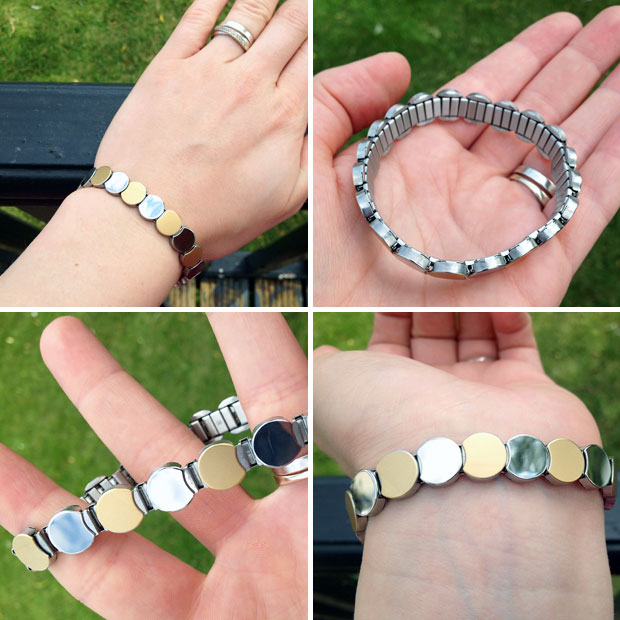 I have the Flexi-Armband Plain Disc bracelet (£39.00) which is a beautiful two-tone bracelet that is comfortable to wear and that looks good with any outfit. It's stretchy so is easy to put on and take off. It's available in three sizes.
There are lots of different bracelets, necklaces, earrings, rings, anklets and other accessories to choose from for women, men and children.
I was sent a bracelet for this review. As always, all my reviews are 100% honest and all thoughts and opinions are my own. Contains a sponsored link.