Mini Bub Reusable Bamboo Wipes Review
|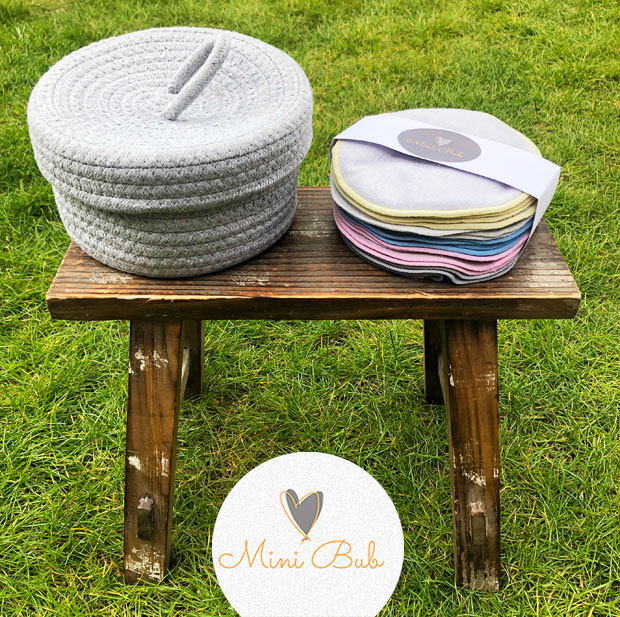 Mini Bub Reusable Bamboo Wipes Review
Wipes are essential when you have a baby or children and by choosing reusable wipes you are making an eco-friendly choice and will quickly save money too.
Reusable wipes can be used by anyone, whether you're using cloth nappies or not. I actually bought my first pack of reusable wipes a little before my first daughter was born as I thought they'd be handy for cleaning up milk dribbles. They soon got used for hands and faces too and then with my second baby I was fully converted to using just reusable wipes for everything, including nappy changes. I still use that first set of wipes that I bought nearly 8 years ago too!
Reusable wipes are so easy too use and they do a much better job at cleaning faces, hands and bottoms than the disposable kind. You usually only ever need one reusable wipe too which is handy. This is because reusable wipes are absorbent too so they clean and absorb. They wash well and dry quickly, then you can use them again. You'll never run either which is a big bonus too.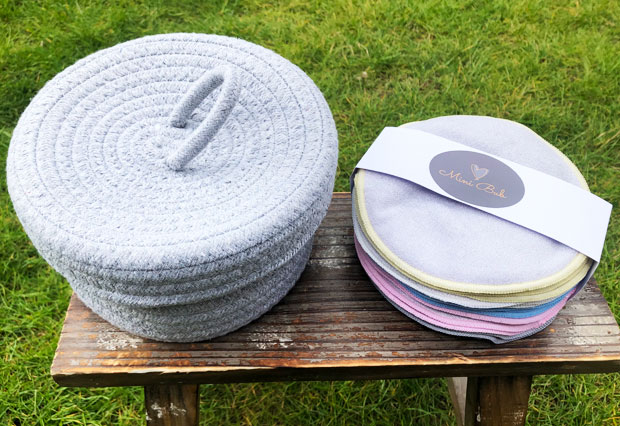 Today, I have an exciting new brand to share with you. Mini Bub is a small business run by a mum called Eleanor. She wanted to make washable wipes accessible to everyone by providing kits that make the wipes as user-friendly as possible. There's a big brand already doing this, but Eleanor wanted to improve this and make it more appealing to people and I think she's done this very successfully!
Mini Bub reusable bamboo wipes and accessories are designed to be easy to use at home and on the go plus they are very stylish too. Let's have a closer look…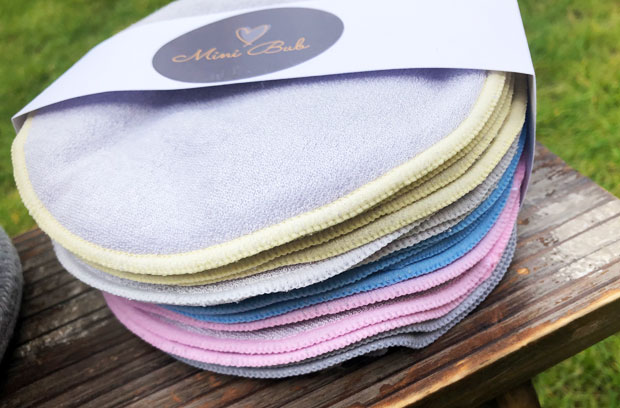 Mini Bub Reusable Bamboo Wipes Review
I have a set of 20 wipes in an adorable lidded rope basket, designed to fit the wipes exactly, which looks very nice on display in any room.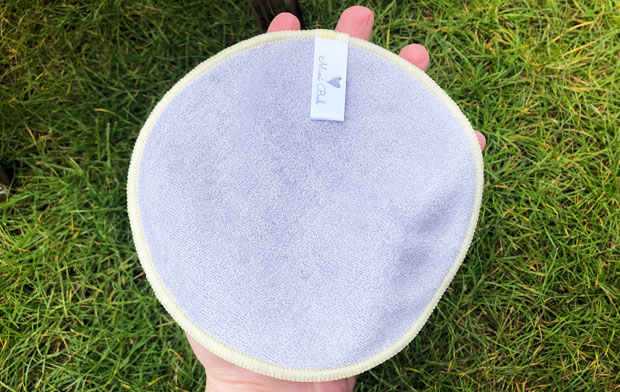 Shape: Unlike most wipes, Mini Bub reusable bamboo wipes are round which makes perfect sense! I haven't thought about this before, but a rounded shape is much more suitable for human bodies! I love that the wipes are round for this reason and it's also visually appealing.
Size: The Mini Bub wipes are a great size! 15cm is a perfect size whether you're wiping a bum, a face or hands. For me, larger wipes usually mean lots of unused material and more washing and drying space requires, so I'm all about wipes like these that are exactly the size you need for most clean-up jobs.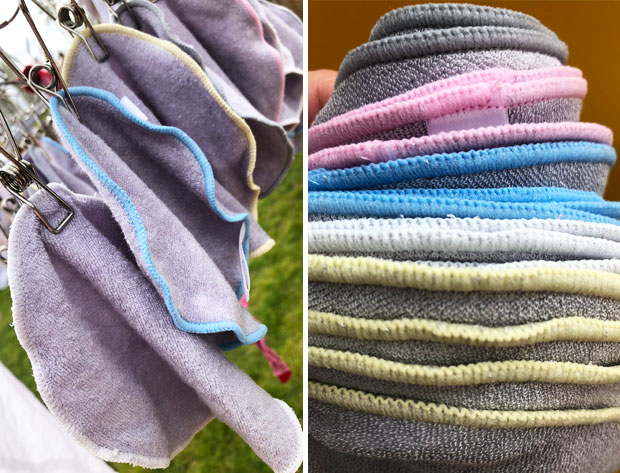 Thickness: The Mini Bub wipes are slim and lightweight to be more wipe-like (instead of towel-like) and to be compact too. They are not flimsy at all though and still very strong. They are made with 2 layers of bamboo material (80% bamboo, 20% polyester) so they are still very absorbent. The slimness also ensures that they dry quickly.
Style: The wipes have a stylish grey colour with edges in a choice of colour (or mix) which means that you can colour code the wipes if you wish to have separate wipes for different things. I love Eleanor's quote about the colour choice…
"G R E Y – for style and because, let's face it, most things end up grey anyway."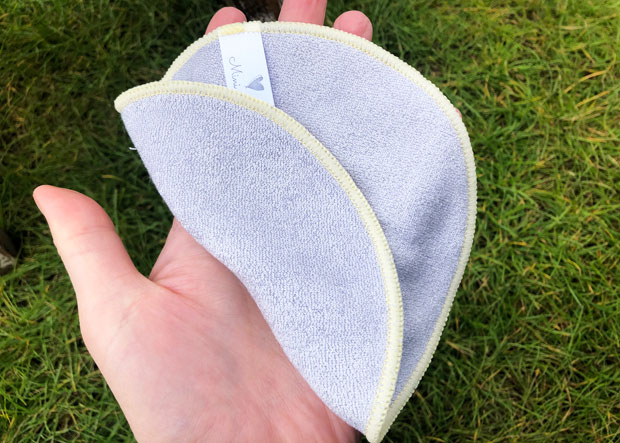 I've tested these wipes now and love them! They're soft, work very well and are the perfect size and shape. They wash well and dry quickly too. I love having the little storage basket for them too – it's such a neat storage solution.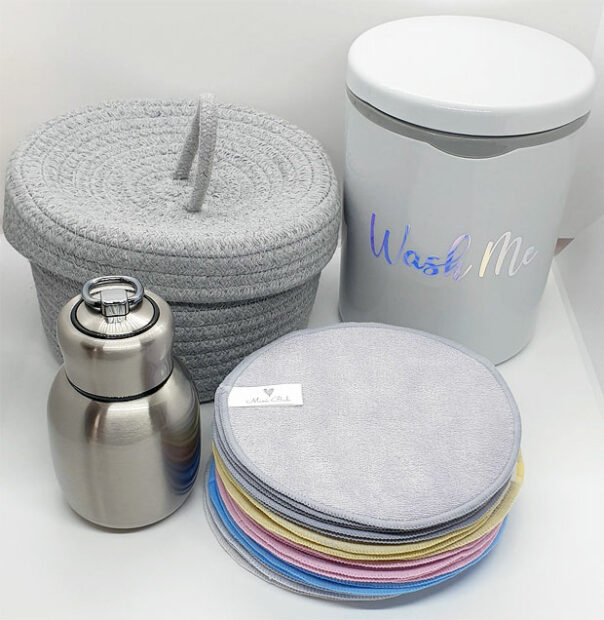 Mini Bub Kits & Accessories
The wipes are available to buy separately but Mini Bub are also offering different accessories to help make using reusable wipes easy. There's a Store-Dry Wipes Kit which has everything you need to get started with reusable wipes. I store my wipes dry and just wet as needed as this ensure they are nice and fresh. With this set you get 20 bamboo wipes, 1 rope storage basket, 1 Wash Me wash box and a choice of a Mini Spray Bottle or a Mini Thermos Flask. The Wash Me wash box is a mini push-lid bin to put used wipes in until wash day. Great for wipes used in other areas of the home or for families that don't use cloth nappies and therefore don't have a wet bag or nappy bucket to put the wipes in.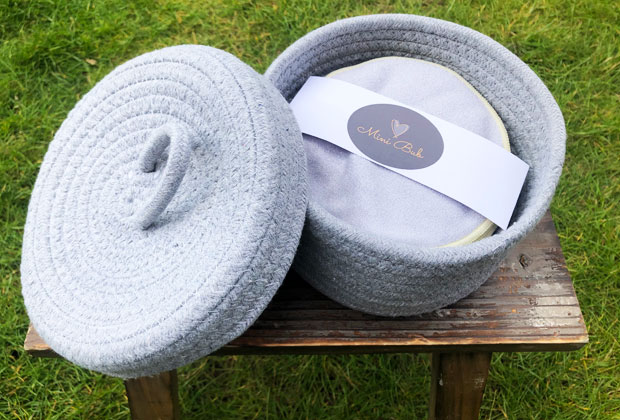 There are more exciting Mini Bub products currently in sample production and these will include storage for wet ready-to-use wipes and a travel bag.
Get your Mini Bub reusable bamboo wipes here!
My set was provided for me to test. As always, all my reviews are 100% honest and all thoughts and opinions are my own.