Nivea Skin Sleep Cream Review | Nivea Q10 Vitamin C Night Cream
Nivea Skin Sleep Cream Review | Nivea Q10 Vitamin C Night Cream
I think the full name of this cream is Nivea Q10plusC Anti-Wrinkle + Energy Skin Sleep Cream! I have always enjoyed using creams with Vitamin C as I find that they're usually good for perking up dull skin. This Nivea Skin Sleep Cream is designed for tired skin with fine lines and it's meant to be used overnight. You use the cream that's packed with the antioxidants Q10 and pure Vitamin C at bedtime and wake up with skin that looks more well-rested and a complexion that is energised and smoother looking.
I'm pleased that I picked up this cream in Boots the other month as I'm really enjoying using it! I have to admit that I use it incorrectly a lot of the time and use it in the mornings too as I really like how the cream makes my face feel.
The feeling after application is smooth and soft skin that feels deeply hydrated too. It soaks in really quickly and I don't feel the need to add anything else to my skin afterwards. The little perk-me-up from the Vitamin C is enough for me to be happy with how my skin looks.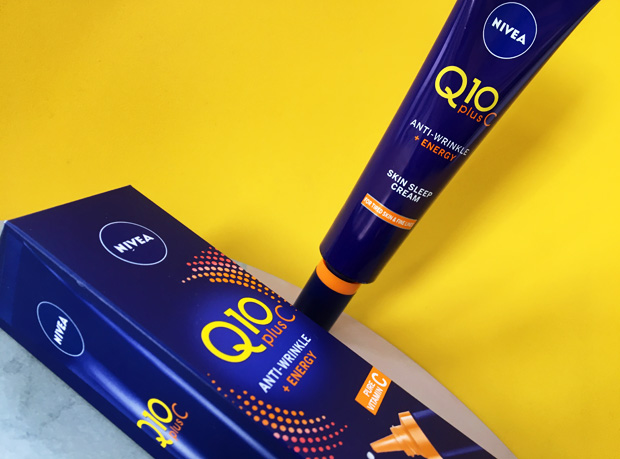 The packaging is great too. The cream has been packaged in a high-quality aluminium tube that protects the Vitamin C formula. The tube has a thin nozzle that makes it easy to not get too much cream out which I appreciate as it ensures none is wasted. A tube is also much more hygienic than a tub. You get 40ml in the tube which is quite normal.
I picked mine up when it was on offer in Boots and less than half price which was amazing. I will be repurchasing this cream when it runs out as I really like it! The regular price is around £10.99- £12.99 but I'm sure it will be on offer again and then I'll stock up!
I highly recommend it to other sleep-deprived mamas!