Omnio Review – The New Innovative Stroller | Full Review
|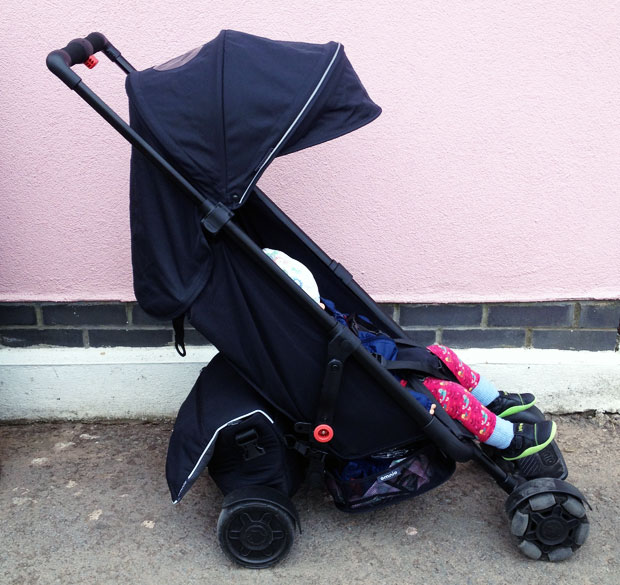 Omnio Review – The New Innovative Stroller | Full Review
It's time for my Omnio review and time to talk about all the details of the amazing new Omnio stroller. It's a really special pushchair that is lightweight, compact and wearable like a backpack. It's suitable for babies from 6 months up to 22 kg. My eldest is 3.5 years old and weight around 13kg so that gives you a good reference for how long you can use it. The wheels are very unique and amazing on all terrains. More about them further down in this post! Let's get started…
Unboxing & First Impressions
You can watch my unboxing video below and read my initial thoughts in my previous blog post here. If you've already seen that, read on for my Omnio Review.
Omnio Review
Ease of use & Comfort
The Omnio arrives already built so you don't have to do much before getting started. You just attach the hood if you want to use it. The front wheels fold back under the main part of the pushchair for a compact fold and you have to swing them out when you unfold it and swing them back under to fold it. This might require a few tries before you've mastered it but it's quite easy — you just have to remember that they have to unfold before the frame clicks into place. Everything else is really easy to guess — it's a very intuitive design.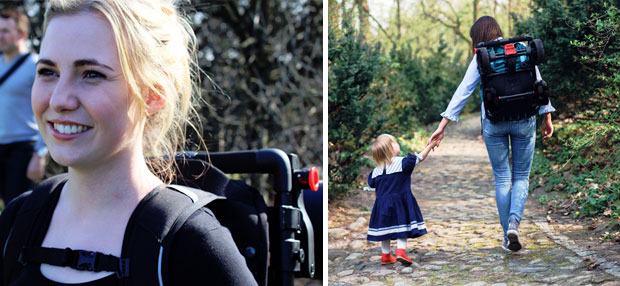 The cover is easy to put on and take off quickly and you can use it when wearing the Omnio on your back too if you want to. When wearing the Omnio as a backpack — when your child wants to run around and you want your hands free or when travelling, for example — you use the same straps that hold your baby in the seat. I love that there are no extra straps and that these are dual purpose ones instead. They're really easy to adjust quickly with strong pop buttons too.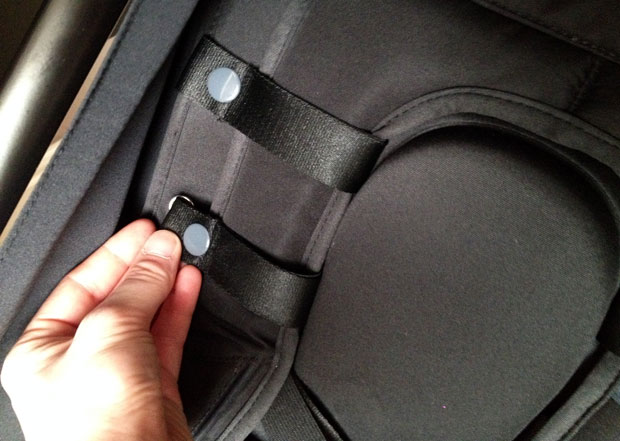 This video by Omnio demonstrates really well how it all works, if you want to have a quick look before reading my Omnio Review:
The harness is an adjustable six-point harness that seems really comfortable with its padded shoulder straps that are so easy to adjust to your child's size — which is great if you, like myself, have children of different ages using the pushchair.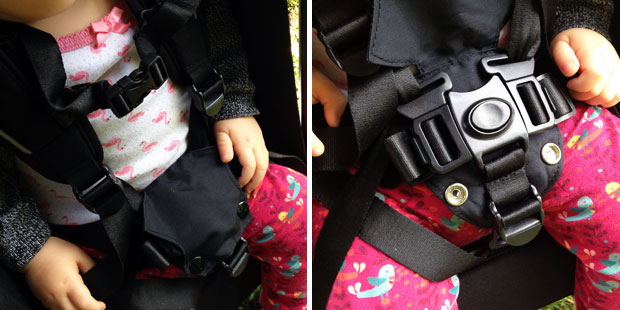 Overall, the Omnio is narrower than most pushchairs but the seat is still roomy and both my kids fit comfortably. My youngest is a quite a chunky 13-month-old and my eldest is a tall but slim three-and-a-half-year-old. There's still lots of growing room. There's a cover flap for the harness button to ensure no curious fingers try to unbuckle it.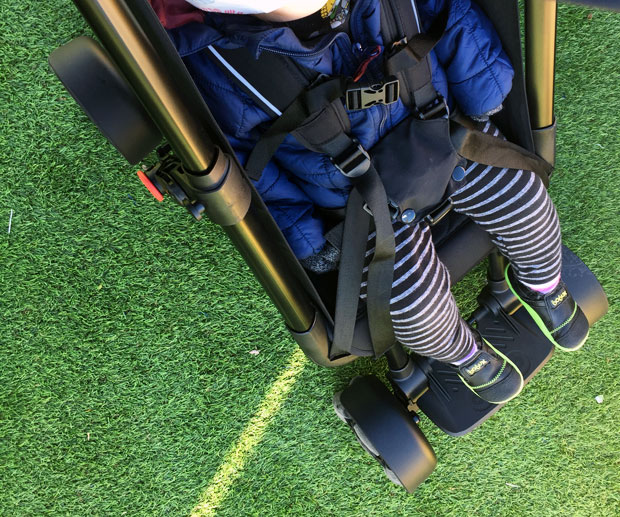 The Omnio as a Backpack
I've only worn the Omnio as a backpack around the house to try it and it's comfortable to wear. It's, of course, bulkier than a regular backpack but amazing when you consider the fact that it's a full size pushchair on your back!
The reason I've not worn it out and about yet is that, for me, this feature is for when we travel and we've not been anywhere where I would need to wear it yet. I can see how this feature will be very useful when we travel by train or fly somewhere, which we do a few times a year. We always struggle with where to put the pushchair on the train and getting on and off the train with two kids, the pushchair and suitcases. If I can just wear the pushchair on my back, this will be loads easier. You can also take it on-board as carry on which means your pushchair will not be broken when you collect it on the other side! Check your airlines size guidelines first though.
Sometimes when you're out and about, you come across stairs that are just too difficult or long to drag a pushchair up with no other option. That's another situation when the backpack feature is very useful.
The Omnio stroller is a great travel essential for families. If you're travelling with pets too check out my article about travelling with pets and consider whether you need to put your chihuahua in a harness or get any other special equipment for fun days out with the kids and your pets.
The adjustable handle of the Omnio is comfortable to hold and you can easily steer it one-handed thanks to the amazing wheels. It's so easy to push that I can easily hold onto one child and push it at the same time. If my toddler wants to walk, my eldest usually wants a break and likes sitting in the Omnio too.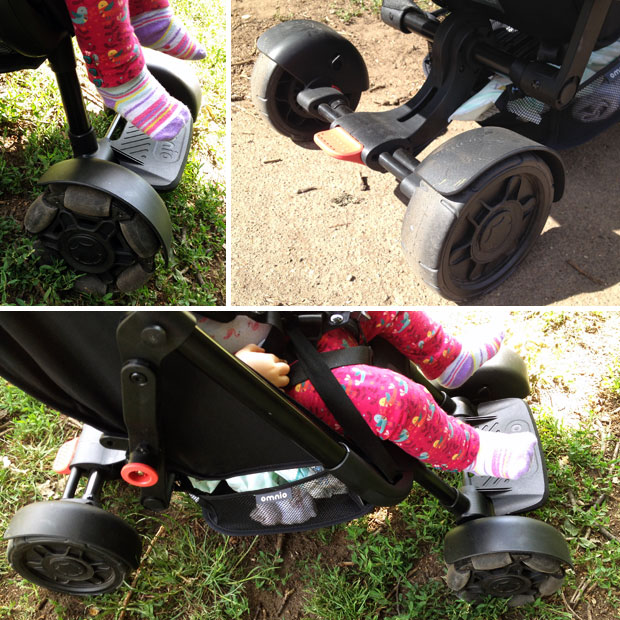 Wheels & Brakes
The wheels! They are what makes the Omnio stroller so amazing to me. I love the compact fold and the wearability but the super smooth wheels make such a difference to me.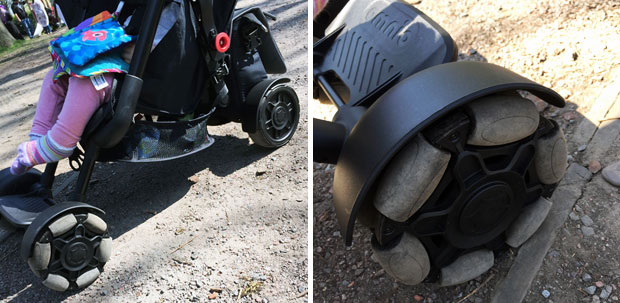 The omni-wheels are not like traditional pushchair wheels with tyres around the outer edges of the wheels, instead they're made of a series of rollers that go the other way. This is hard to describe, but you can see it in the photos. These omni-wheels can rotate like standard wheels but also roll sideways on the roller in contact with the ground without having to swivel. This makes them amazingly smooth on pretty much any terrain. You can see in my video below how the Omnio just glides on any surface and between them too.
Omnio is the very first stroller to use omni-wheels and this provides a superior steering experience compared to traditional stroller wheels. Ease of steering is really important to me and I love that I can push the Omnio on any terrain with just one hand which leaves me one hand to look after my three-year-old too — or my toddler if my eldest is in the Omnio!
These innovative wheels are manufactured in the highest quality polymers to ensure strength, durability and performance. They are revolutionary!
The wheels have a 6" diameter and are extra wide for superior performance on different terrains.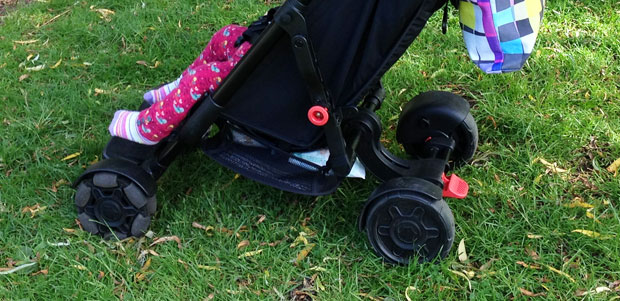 The back wheels look more like regular wheels as you only need omni-wheels at the front to achieve the smooth steering. All four wheels have mudguards that can be removed for easy cleaning. The wheels themselves can be detached too to make the fold even more compact and for easy cleaning.
The brake is a single brake pedal in the middle — the red bit — that you push to apply and lift to release. It's really easy to use and works well! I'm glad that it's in the middle as some pushchairs only have the brake on one side which is not as secure. This brake is great and keeps the Omnio still very well, even on hills!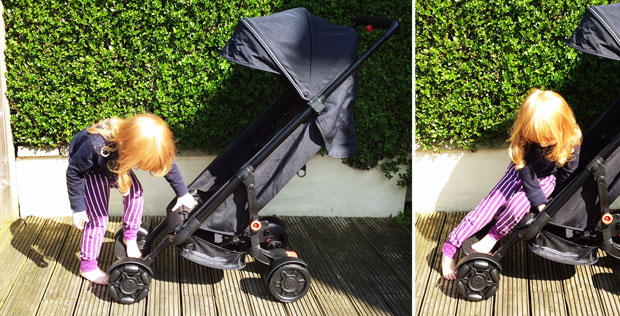 There's a footrest that offers extra support and comfort for taller children. It's got a flip up design that lets it fold away for storage. It also provides a step for toddlers to climb into the Omnio easily.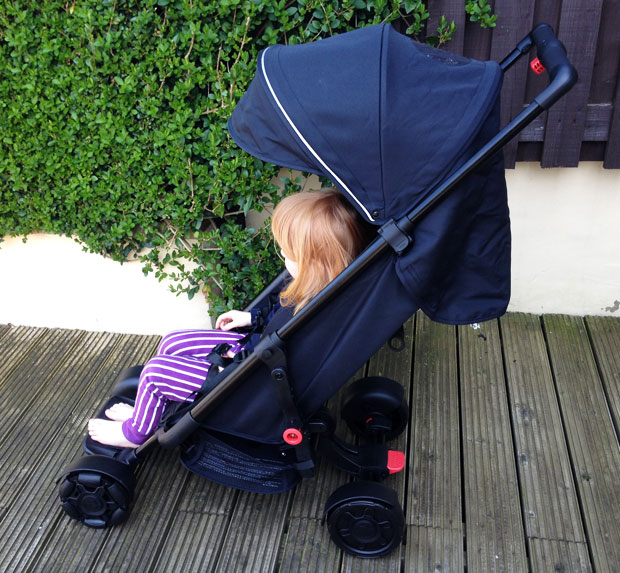 Weather Protection
The Omnio has a detachable all-weather hood which is waterproof and has UV protection (UPF50+). It's got a flexible sun visor and reflective binding and there's a round viewing panel to let you see your child at all times, even when using the hood.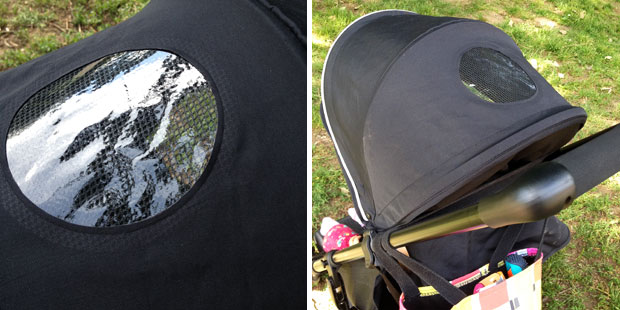 The hood offers good sun protection for my eldest who is, of course, taller than my youngest and reaches further up in the pushchair with her head closer to the hood. My littlest one doesn't reach very far up so she's quite exposed to the sun even when the hood is in use. If it's really sunny, I'd use a sun protection cover like this one to offer full coverage.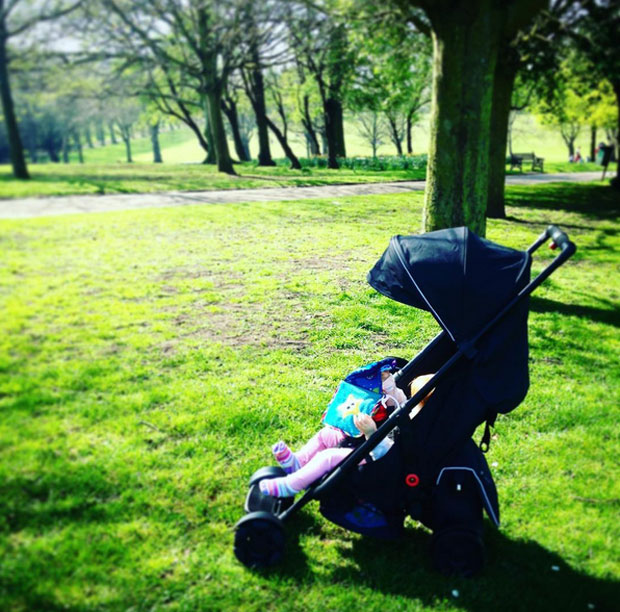 Storing & Shopping basket
The frame folds compactly in seconds and the result can be as compact as 53 x 41 x 22cm (with the wheels taken off) or 28cm deep with the wheels still on. This makes the Omnio incredibly easy to store at home — I put it in my wardrobe on a shelf — and on the go. It fits in the car without filling up the boot. It probably just takes up a fifth or less of our boot and it's no longer an issue to pack our pushchair and luggage or shopping. With other prams, we have to pick one or the other. It's amazing and gives us the freedom to pack how much we want.
This compact fold is also great if you're in a busy café or restaurant as you can just put it under your table. When travelling, this makes it easy to store on trains and planes. The Omnio is the only compact lightweight stroller that will comfortably carry a child up to 22kg (or a market-leading 27kg if you don't put anything in the pocket or shopping net).
You get a cover with the Omnio and this is great as it means you don't need to worry about dirty wheels when storing it in the car or in the house.
The shopping basket or shopping net is detachable and can carry up to 3kg. It's a really small compartment but this is something I expected on a travel style stroller. It is big enough to fit some sun hats and sun cream etc. or a change of clothes and a changing mat, for example.
There is a pocket on the back of the seat with a zipped compartment, key ring clip and external mesh pocket for storing the hood. This pocket can carry up to 2kg.
If I'm doing a food shop when I'm on foot and have a pushchair with me, I just use my trusty backpack to carry the shopping home. When your pushchair is as light and smooth as the Omnio, you can easily carry a backpack too.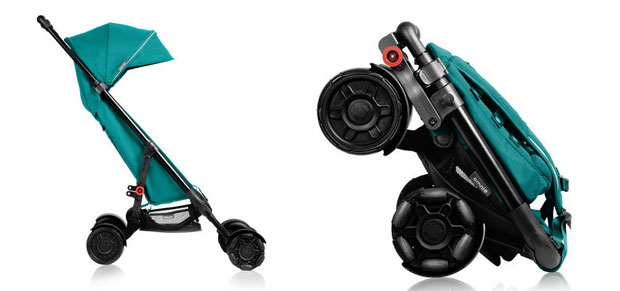 Public Transport and Stairs
Being narrow, it's really easy to fit on any buses and trains. I've already covered the fact that it folds very compactly and how this makes travelling on public transport really easy. The backpack feature makes it really easy to get on all kinds of transport even if you can't stand it anywhere unfolded.
The wheels are easy to push down or pull up stairs but if there are lots of stairs somewhere, you can just choose to carry the pushchair as a backpack.
Folding

Folding and unfolding the Omnio takes seconds and is easy! There are lots of great Omnio instruction videos on YouTube and this one shows how to fold it.

Price
The Omnio costs £389.00 and the storage bag and rain cover are included. This is quite expensive but I think it's worth it — especially if you do a lot of travelling or other activities where the backpack feature will come in handy often or if you have limited storage space at home and/or in the car. Or if you just want an incredibly smooth pushchair that you can easily push on all terrains!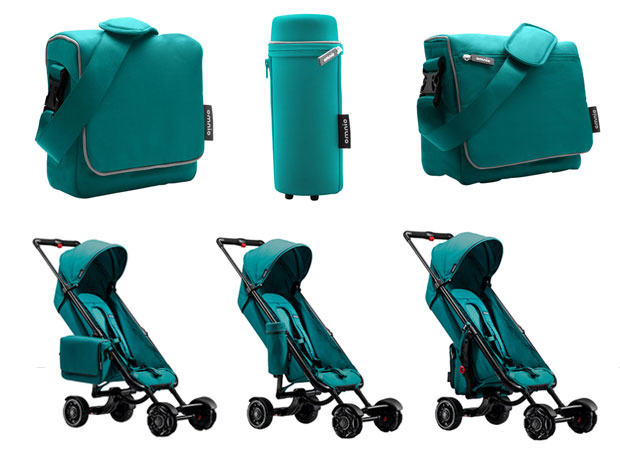 Extras
There are three optional extra accessories that you can buy to go with your Omnio and you can choose to match them or go for a contrasting colour. They are available in the same three colours as the Omnio.
The items available are a stroller bag, an insulated bottle bag and a change bag.
We have the latter two. The change bag attaches to the back of the Omnio and hangs behind the seat which keeps the centre of gravity low down and also still gives you the opportunity to recline the seat. The bag features a removable padded shoulder strap for carrying over your shoulder when it's not on the stroller. The attachment straps are removable too.
With this bag, you get a changing mat which is a decent size and great for when you're out and about. The bag has two external pockets, one of which is zipped and one large zipped main compartment with multiple internal organising pockets. It also has a removable zipped "messy bag" for any wet or dirty items.
The bag is a decent size — 28.5 x 14.5 x 23.5cm, waterproof, wipe clean, has a magnetic closure and has reflective piping for improved visibility at night.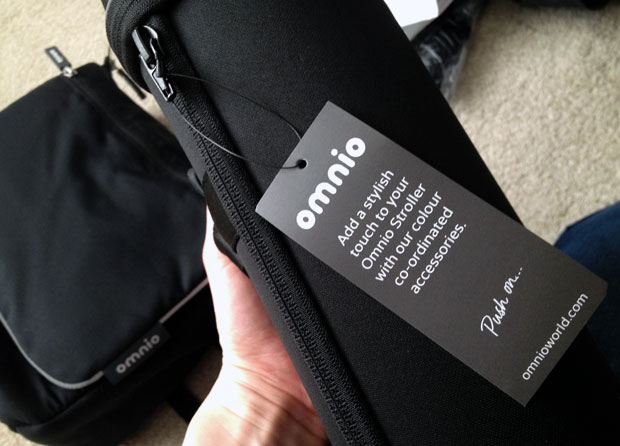 The insulated bottle bag is very roomy and suitable for lots of different types of bottles. It's got a diameter of 10cm and a length of 22cm. It fits toddler bottles, baby bottles or adult bottles. It can even fit a sippy cup and a snack box. It keeps bottles warm or cold and can be attached to either side of the stroller. You can also use the detachable shoulder strap.
It's got a hard shell casing which makes it very sturdy and protective. We have some glass and stainless steel bottles so this is perfect for them. It's waterproof and wipe clean just like the change bag and has a zip closure and reflective piping.
The stroller bag is a smaller alternative or addition to the change bag. It attaches to the side so you can have both bags (and the bottle insulator), if you wish. The stroller bag is a great size for packed lunches or snacks or maybe your camera to capture your family adventures.
It's got protective padding, is waterproof and wipe clean. It's got a magnetic closure and multiple internal organiser pockets. The padded shoulder strap is removable and it's got reflective piping like the other accessories for visibility in the dark. The size is 24 x 11.5 x 20.5cm.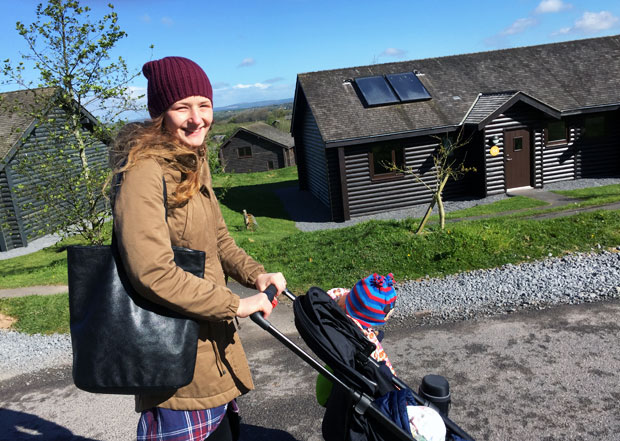 Advantages
Extremely compact fold for easy storage and travel
You can wear it!
Really easy to steer
Wheels are amazing on all terrains
Removable wheels (easy clean!)
Lightweight
Removable and washable seat
Comfortable for the child
Comfortable for the adult to carry
Looks great! Very stylish design!
Matching accessories available
Great for travel and everyday use
Disadvantages
On the expensive side
The hood doesn't offer enough sun protection for younger/shorter children
Not much storage on the pushchair but you can buy bags that attach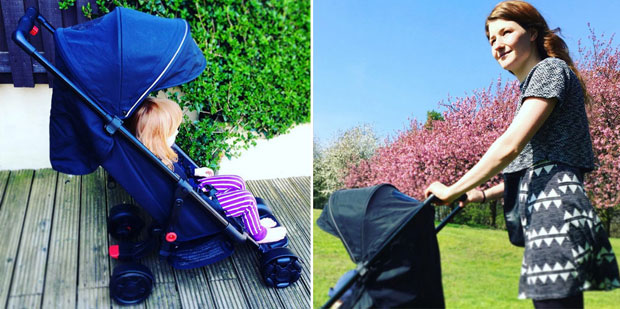 Features / Omnio Review

Very compact fold
Wearable design
Adjustable foam handle with a vertical height range of 81 – 103 cm
All weather hood included
Padded, adjustable and comfortable shoulder straps for the child and the adult when wearing as a backpack
Fully machine washable seat suitable from 6 months up to 22 kg
6 point safety harness with chest-strap
Flip-up, fold-away footrest
The amazing omni-wheels!
Strong and secure single central brake pedal
Safety lock dual lock safety system
Multi-function moulding with locking clamp for telescopic handle, seat tensioning and hood attachment point
Storage pocket on the back of the seat
Removable small shopping net
Rain cover and travel/storage bag included
Omnio Review Overall / Omnio Review Conclusion
Wow! is a great way to summarise my thoughts about this stroller! It is truly amazing and has so many great features that I love and very few negative points at all. It's a breeze to steer and both my kids can use it which provides a great amount of flexibility on family days out.
The compact fold is amazing for storing the stroller in the house and means it only takes up a small amount of space in the car when travelling or just going somewhere more local. It means we don't have to worry about suitcases or other things that need to go in the boot as well. It could even just sit on a seat if needed as it has a storage bag that keeps the wheels off the seat.
I also really like how easy it is to clean as you can take the wheels and mudguards off and wash the seat in the washing machine.
The wearability and compact fold will be great when we take the Omnio on flights in the future and I can't wait for easy train journeys too.
The Omnio is a very special stroller and I highly recommend it! Hope you've enjoyed my Omnio review. It's a long one but this stroller has so many cool features.
Find out more about the Omnio and buy it through Hippychick. It's available in Black, Teal and Red and costs £389.00. Check out the first part of my Omnio review here.
We were sent this pushchair to write this Omnio Review. As always, all my reviews are 100% honest and all thoughts and opinions are my own. Contains a sponsored link.