Our Family First Aid Kit Essentials
|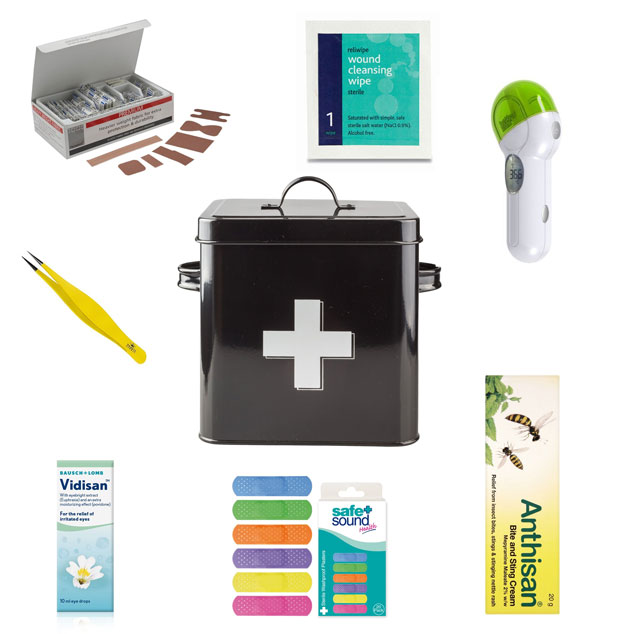 Our Family First Aid Kit Essentials
Having a first aid kit that's well stocked is very important to me. I come from a family of doctors and my mum always had everything we needed at home. I like to keep my first aid kit stocked with the items we need on a regular basis as well as things that really make a difference in an emergency situation. It's good to keep one first aid kit at home and one in the car too for when you're travelling.
Our essentials are:
First aid manual. You can print one online here. We use the one I got at my first aid training course.
Painkillers. We keep a selection of painkillers for adults and age-appropriate ones for children. With the children's ones you also need an accurate measuring spoon or dosing syringe.
Thermometer. We have an in-ear one that the whole family uses and a non-contact one that's great when you don't want to disturb sleeping babies.
Plasters, dressings and bandages. We keep a variety of sizes for different types of cuts. Adhesive tape is good to have to keep dressings in place and bandages are useful for strains.
Antiseptic wipes. These are really convenient for cleaning cuts and grazes to help prevent infections.
Antiseptic cream/spray. These can be applied to cuts after cleaning to prevent infection and some contain a mild local anaesthetic to numb pain.
Antihistamine cream. We rarely need to use this but it's great for insect bites and stings.
Allergy tablets. For my husband's hay fever and my undiagnosed allergy which gives me itchy throat and tongue.
Eye drops. For tired eyes and allergic reactions. Also good if you get something small stuck on your eye and you need to wash it out. One that's suitable for adults and children is Vidisan Eye Drops*.
A tin to keep it all organised it.
*I received a sample of this product.