Out of the Box Gifts Review – The Ethical Gift Box Shop
|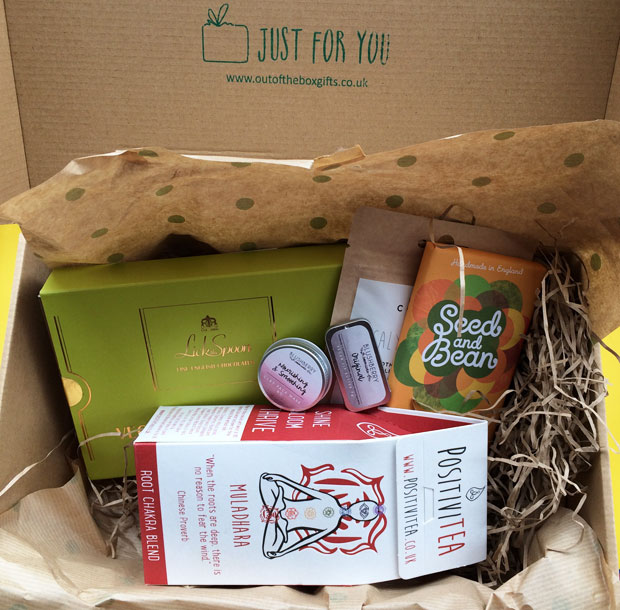 Out of the Box Gifts Review – The Ethical Gift Box Shop
I'm a huge fan of anything that encourages women (especially mothers!) to make time for self-care and this is something that Out of the Box Gifts do very well. They create thoughtful gift boxes with this aim and all the products are handmade in the UK and are carefully sourced from small, ethical businesses. The products are natural, cruelty free and vegan, not to mention all packaging is compostable, reusable or recyclable.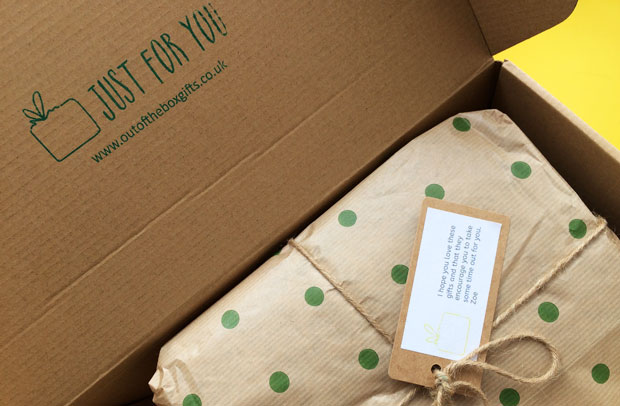 The gifts are beautifully gift wrapped and you can add a personal gift message to the gift tag too. Choose to send the gift box directly to the recipient or to yourself to hand over in person. You can choose from a great range of already created boxes with different themes or Build Your Own Box and choose from a great selection of items to suit the recipient perfectly.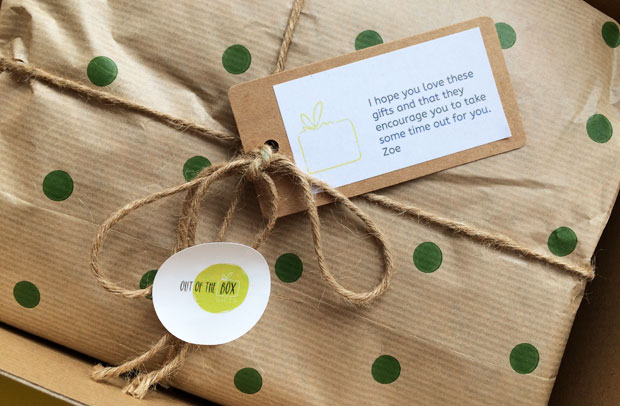 Out of the Box Gifts Review
I've tested out this service and created my own box for myself with the items that I thought was best suited for my taste and needs. It was so nice when the gift box of goodies arrived full of treats for just me (well, nearly!). The timing was perfect — I was having quite a tough week with a teething baby who kept me up two nights in a row, lots of work and a husband who had to work extra hours which meant I was solo-parenting our three girls on no sleep. A box of goodies was very much needed and appreciated!
Read on to see which items I put in my Build Your Own Box gift box…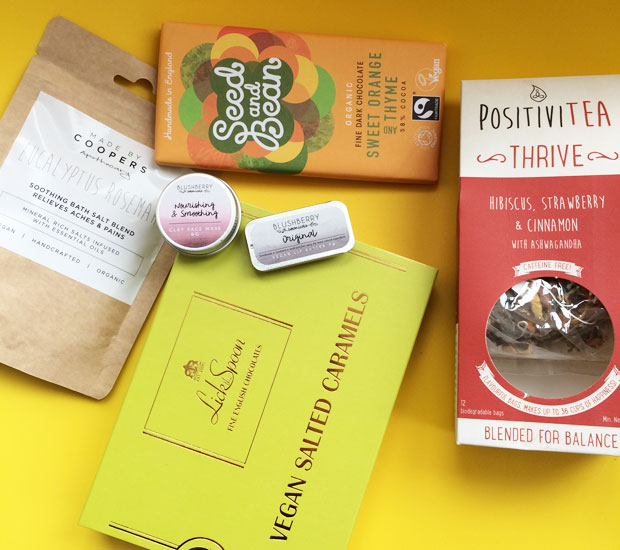 My Build Your Own Box gift box contained the following:
Seed and Bean Organic and Vegan Chocolate – Sweet Orange and Thyme
Blushberry Botanicals Face Masks – Nourishing & Smoothing
Blushberry Botanicals Lip Butters – Chocolate & Vanilla
Made By Coopers Apothecary Bath Salts – Eucalyptus Rosemary
Positivitea Tea Bags – Thrive
Lick The Spoon – Vegan Salted Caramels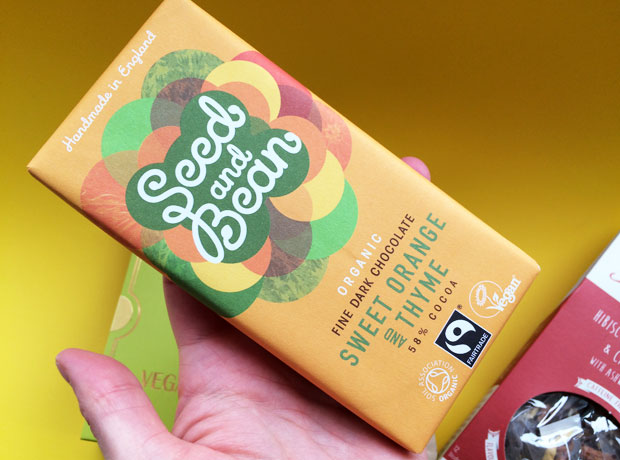 I love trying new flavours of chocolate and this Seed and Bean chocolate in Sweet Orange and Thyme is delicious and very interesting. It's an organic, vegan, fairtrade and ethical dark chocolate bars made by creative, sustainable and ethical chocolatiers. There are a bunch of other flavours available too.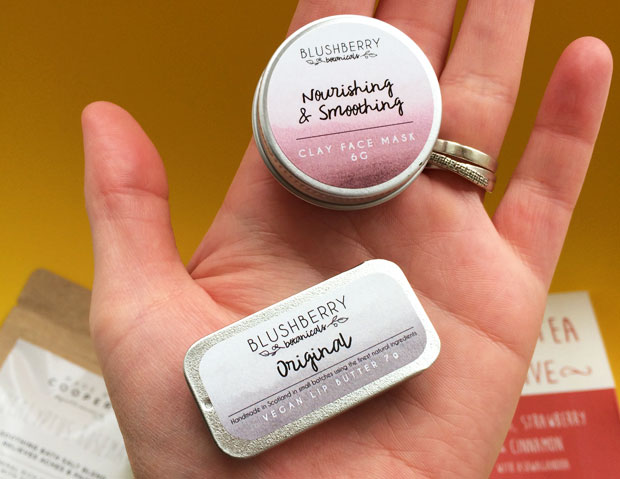 For a bit of pampering, I chose the Blushberry Botanicals Face Mask in Nourishing & Smoothing. Handmade in small batches in Scotland from the finest natural ingredients (organic where possible), it's a natural clay mask with argan oil, rosehip, rose absolute and rose geranium oil. Love the little steel tin and the face mask is in powder form so you simply mix as much as you need with a tiny bit of water before applying to your skin.
I also chose a Blushberry Botanicals Lip Butter for my box and went for the Chocolate and Vanilla Lip Butter flavour. This lip butter is 100% natural and contains no artificial colours or flavours. Very rich and creamy and in a zero waste tin!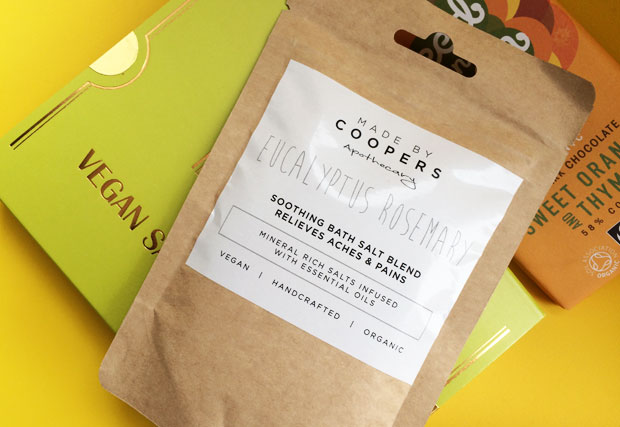 A hot bath is my favourite self-care activity so the Made By Coopers Apothecary Bath Salts were an easy choice for me. I went for the Eucalyptus Rosemary scent and it's absolutely amazing! A little goes a long way to create a soothing bath to relax and unwind and ease any muscle aches. It's organic, vegan, paraben-free and does not contain any artificial fragrances. The eucalyptus, rosemary and lavender essential oils smell so lovely!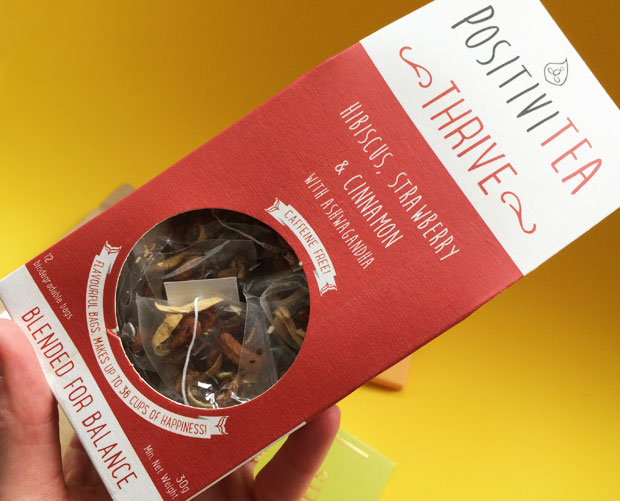 I'm trying to cut down on my coffee drinking a bit so I though the Positivitea Tea Bags would be a good choice for me. I choose the flavout Thrive with hibiscus, straberry and cinnamon with Ashwagandha.
"The root chakra is the building block for all the other chakras and associated with blood and bowel function.  Hibiscus is well known to lower blood pressure and cinnamon can promote healthy blood circulation. Ashawagandha is traditionally used in Ayurvedic medicine to strengthen the organs associated with the root chakra."
These teas are award-winning, healthy, herbal teas inspired by the chakras and blended for balance. All ingredients are ethically sourced and blended and packed here in the UK. The tea comes in biodegradable corn starch bags that can be re-used three times.
When I spotted the Lick The Spoon – Vegan Salted Caramels, I had to try them! Look how fancy they look! I'm not vegan myself (I used to be — currently a low dairy, egg-avoiding vegetarian of 20 years!) but often choose vegan options for snacks especially. This is a box of 12 Vegan Salted Caramel Chocolates by Lick the Spoon. They have a soft caramel centre and a decadent Raisetrade cashew-milk chocolate on the outside. They come in plastic-free packaging and are a great treat for vegans or anyone else.
These are the only things out of this box that I shared with my kids. It was such a generous box and my girls are big fans of salted caramel too.
I'm so pleased with my Out of the Box Gifts gift box! All the items are such great quality and everything was presented so nicely. What a treat! I highly recommend Out of the Box Gifts. Mother's Day is just around the corner and these gift boxes would make wonderful Mother's Day gifts!
Item gifted to me for this review. As always, all my reviews are 100% honest and all thoughts and opinions are my own.