OXO Tot Baby & Toddler Feeding Products Review
|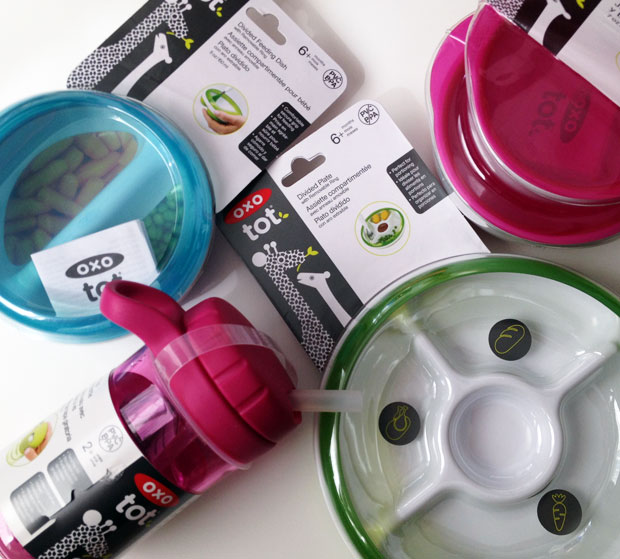 OXO Tot Baby & Toddler Feeding Products Review
OXO Tot is a brand that I always come back to for baby and toddler products. The products are always good quality, a pleasure to use, easy to clean and easy on the eye too. I love the rounded designs and the whites with pops of colours in Green, Raspberry and Aqua.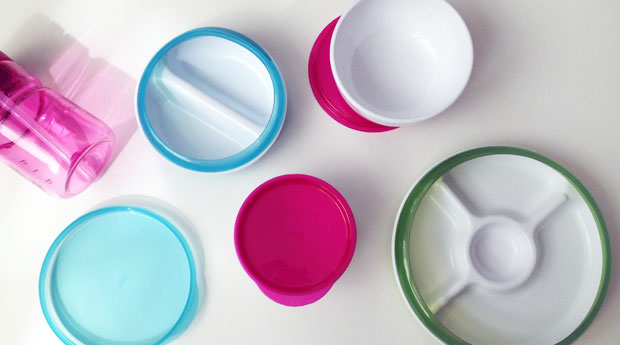 We have a few new additions for both my toddler who is 12 months old and my 3-year-old.
The large Divided Plate With Removable Ring in Green is my eldest's new favourite plate. She's a bit on the fussy side — getting better but still a little bit fussy — so a plate that is divided is perfect for her. It's a good older toddler/young child sized plate and has four compartments.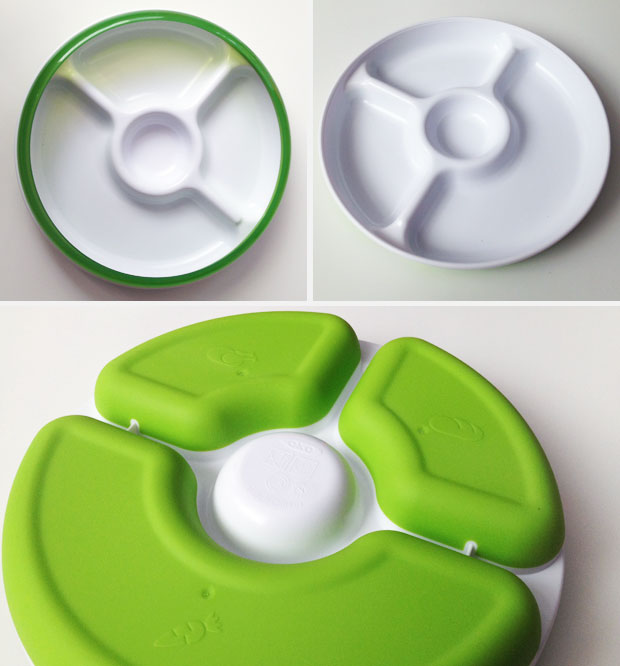 The three large compartments are divided into Vegetables, Carbohydrates and Protein so that you can easily make sure your little one is having a balanced meal. It helps you ensure the portions of these food groups are correct which is nice and useful. There's a small round compartment which can be used for sauces or dips or to hold a small pudding or yoghurt.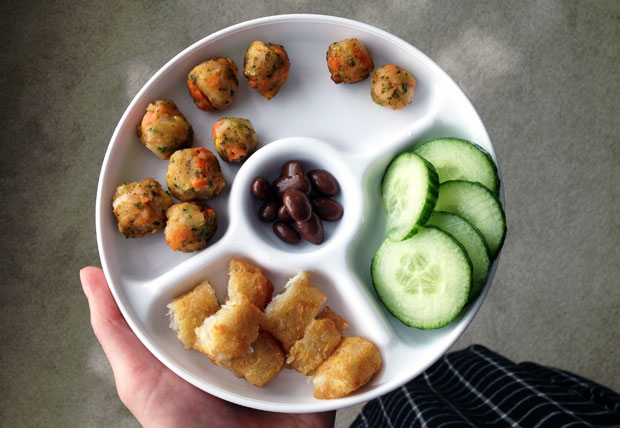 Not all meals have all the types of food groups separate from each other but the compartments make a good guideline! Here my three-year-old had a lunch of fish fingers, vegetable balls made of vegetables and potatoes (which is of course a carbohydrate) and cucumber slices. On this occasion she had a handful of chocolate raisins for dessert too.
The plate has a removable ring that helps keep the food on the plate and also helps guide the food onto cutlery. Once your toddler has mastered self feeding you can remove it.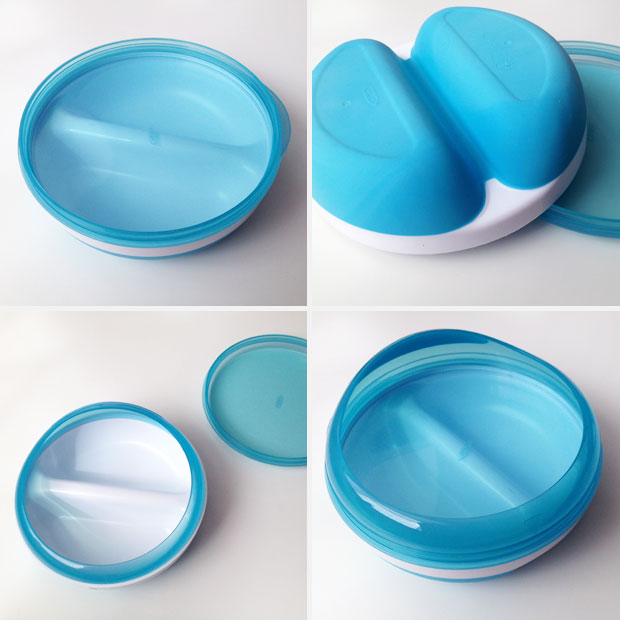 We have the smaller Divided Feeding Dish With Removable Ring in Aqua for my youngest and it's a great size for her. It's got two compartments that each holds 120ml which is the same as a standard baby food jar. The outer ring helps get the food onto the spoon and there's a handy lip to remove any excess.
The dish comes with a snap-on lid to keep food fresh and all bits click together for easy storage and come apart for easy cleaning too.
My littlest girl is Miss Independent and wants to feed herself most of the time so I use this to present two types of food to her at once — like toast and cheese for breakfast or pasta and chicken for dinner, for example. She still has fruit and vegetable baby food pouches on the side too so two compartments are enough for her.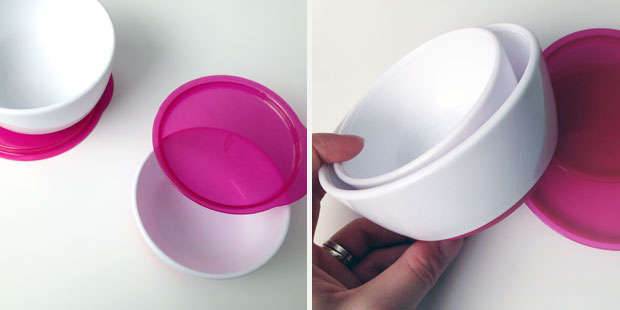 The next item we have is one that the girls share and it's the Small & Large Bowl Set in Raspberry. My youngest has the small one and my eldest the large one. We use them for all kinds of things — snacks, pasta, fruit, yoghurt, etc.

Above you can see my 12-month-old picking the broccoli pieces out of her bowl of pasta to eat them first. She's obsessed with broccoli!
The bowls come with snap-on lids for storing food at home or on the go. They have straight walls to make it easy to get the food onto spoons and forks whether you're feeding your child or they're self-feeding. They are really sturdy and suitable for so many things. I love that they nest for compact storage!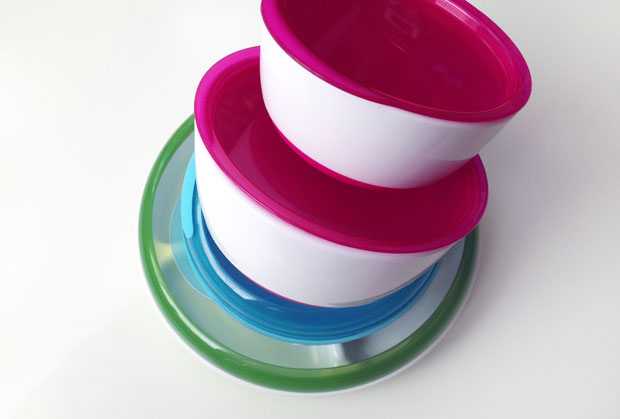 All these items are suitable from 6 months onwards and are free from Phtalates, BPA and PVC. They can all go in the microwave and wash well in the dishwasher too. They also have colourful non-slip bases which help keep the plates and bowls in place on the table.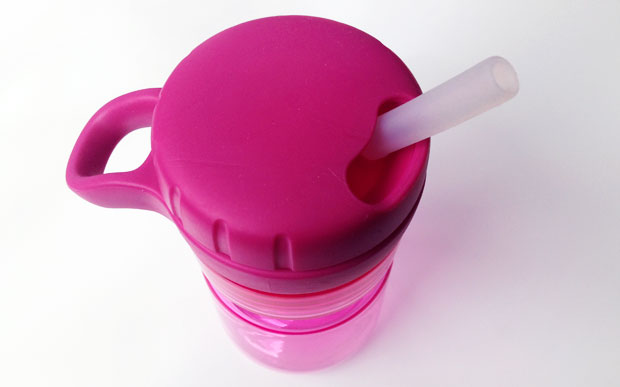 This item is one of my all-time favourite OXO Tot products! It's the Twist Top Water Bottle in Raspberry that my three-year-old uses. She had one a while ago but the straw went missing. I'm so glad we have one again and I think I'll need to get a couple of more because they're brilliant. We've actually got rid of nearly all her other cups and bottles because this one is so much better. We just wash it every day!
Hydration is really important and she drinks so much water from this bottle — much more than she does from other sippy cups and toddler bottles. It must be really easy to use for her.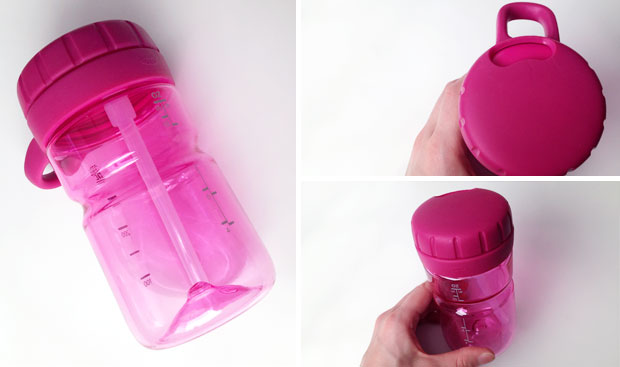 It's a large bottle that can hold 340ml of drink which is great as I want my kids to drink a lot of water. The bottle has a soft and wide straw and a twist top lid that is really clever! You twist it to open and close it and this lets the straw in or tucks it into the lid. Once closed, the bottle is leak-free and the straw stays clean. You don't need to touch the straw either which is very hygienic and great for on the go when hands might be dirty.
It's comfortable for children to hold and use and the wide opening makes refilling and cleaning easy. It's also got a carrying loop which you can use to hook it onto a pushchair or a bag. This bottle is free from Phtalates, BPA and PVC, can go in the dishwasher and is recommended from 2 years onwards. You can take the straw out fully for thorough cleaning which is especially important if your little one drinks milk or juice.
This is my favourite toddler cup/bottle ever! I need to buy a few more soon as my daughter loves using it so much and it makes a huge difference to how much water she drinks.
All items are available in the classic OXO Tot colours Green, Raspberry and Aqua. You can buy them from the OXO Tot website or from Amazon.co.uk.
We were sent these items for this review. As always, all my reviews are 100% honest and all thoughts and opinions are my own.