Personalised Christmas Cards From Mango Salute Review
|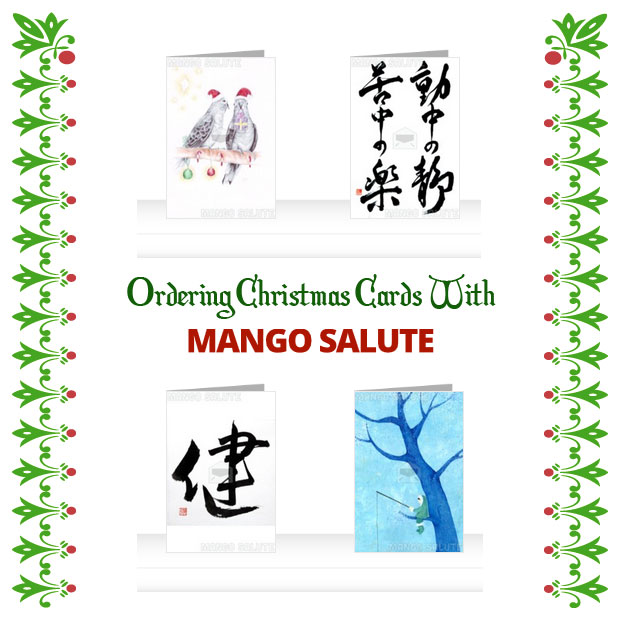 Personalised Christmas Cards From Mango Salute Review
I don't usually send Christmas cards, but give them to my family members when I see them near Christmas. This year I'm doing it slightly differently. I've ordered some of our cards from a new online card shop called Mango Salute.
Mango Salute offer a big range of fine art cards for all occasions. The designs are wonderful and original! I spent a lot of time looking through the different genres and styles and there are so many cool designs to choose from.
Once you've chosen your card front you can choose between different layouts for the inside of the card. You can have all text, text with one picture or text with three pictures. What's really special is that you can add a video to your card if your recipient has a smartphone with a QR-reader. You can record your own video message and upload it to Mango Salute or link the code to a YouTube video. I love this feature but didn't use it this time because most of my recipients don't use QR codes (parents and in-laws!).
The cards are made from high quality, thick paper sourced from sustainable forests. Mango Salute offer a 100% satisfaction guarantee and First-Class worldwide shipping is included in the price of £4.50 per card.
Check out Mango Salute's sweet video below:
At first I had some problems placing my order due to some technical problems on the website. I contacted support over a weekend and by Monday night the issues had been fixed. Mango Salute is a new company and it can take some time to discover all issues in the system. I'm very happy with the speed of response and how fast the team solved the problem, especially since I was placing my order so close to Christmas and some of my cards needed to be sent internationally.
Mango Salute's website is very pretty but there are still a few functionalities that could be added to improve it. Something that would be great is if you could have a folder of your uploaded pictures so that you didn't need to re-upload them if you wanted to use them for several cards. Another photo related feature that I would like to have is the option to move the photos around in the layouts with three photos. At the moment you have to delete your photos and re-upload them to the positions you want them if you want to change the order.
I'm sure Mango Salute will add functionalities like this and it's great that they are asking for reviews and feedback. That's how you make a great website!
Back to my order. I ordered five cards: one my my mum, one for each set of in-laws, one for my sister and one for my daughter because it's her very first Christmas this year. I love that you can add your own photos and text but there's also an option to add quotes (organised by categories) if you're struggling to come up with something to write.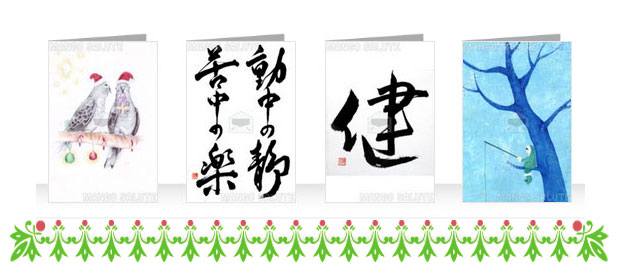 The designs that I chose (above) are Parakeet Christmas, Be Calm When You Are In Chaos, Health, Winter Fishing and a secret one for my daughter. I chose the two winter/Christmas ones for my in-laws and the calligraphy ones for my mum and sister. We love Japanese culture and the messages are very well suited to their recipients so they were the perfect choices! The other two are Christmassy but modern and fun.
I'm really happy with my cards and can't wait to see them in real life! I'm sure all the recipients will love them too.
At the moment there's a special discount code for Mango Salute  that will give you 40% off your Christmas cards! Enter Xmas40 at the checkout to receive this discount. This offer expires end of December. Can be used on non Christmassy cards too, of course!
I was given the opportunity to place my order for free for this review. As always, my reviews are 100% honest and all thoughts and opinions are my own.