Recipe: Healthy Sambazon Açai Compote Pancake Topping
|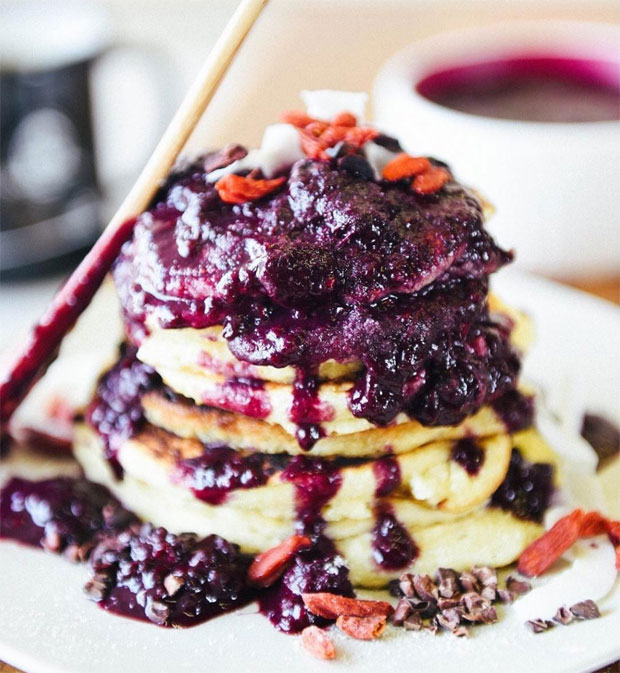 Recipe: Healthy Sambazon Açai Compote Pancake Topping
Traditional syrup is full of so much sugar (and mostly corn syrup) so we figured, why not add some superfood punch to a fruity compote for a tasty pancake topping this Pancake Day. Use your favourite pancake recipe and top them with a dollop of Coconut Yoghurt for a healthy and delicious treat.
Ingredients for the Compote:
1 Punnet Fresh Organic Blueberries (can be swapped for Blackberries)
1 Sambazon Original Superfruit Pack
Optional Ingredients:
Cinnamon
Fresh herbs – Chose from Basil, Mint or Tarragon
Ground Ginger
Method:
In a sauce pan, add blueberries/blackberries and Sambazon Original Superfruit
Begin to cook down on medium heat
If you wish, add a few dashes of cinnamon, a few sprigs of fresh herbs (basil, mint or tarragon) or a couple dashes of ground ginger
Stir often and allow to cook down, until you have a thick syrup that you can draw your spoon through and see the bottom of the pan
Spoon onto pancakes hot or allow to cool and store
About Sambazon
Sambazon is the world's leading producer of Açaí, the King of Amazon superfoods, and one of the purest, most nutritious botanicals on the planet.
Allowing Brits to create the Insta-famous Açaí Bowl at home, Sambazon is on a mission to bring real Açaí to the UK, establishing it as a delicious health food staple, just like it is in the States, Japan, Australia and its home country of Brazil, where for many it is part of the daily diet.X
Click here to view the full collection of Sambazon's recipes.
Sambazon Original Blend Superfruit Pack and Sambazon Pure Unsweetened Superfruit Pack are available in the freezer aisle at Whole Foods Market and Ocado (RRP £4).
Sambazon Açaí bowls are also available to-go in Whole Foods Piccadilly, Kensington, Richmond & Fulham and Crussh branches across London. Purchase from the juice bar.
Recipe provided by Sambazon. Thank you!