Turtle Bay Sheffield Review – A Mixed Review Unfortunately
|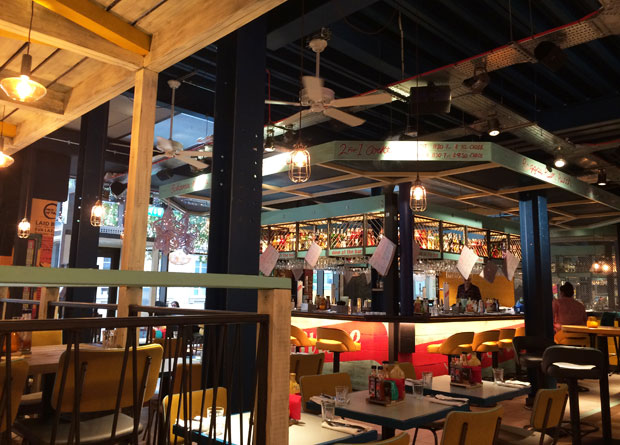 Turtle Bay Sheffield Review – A Mixed Review Unfortunately
A few months ago, we visited Turtle Bay Sheffield when it was newly opened, and we had a wonderful family meal together then. We were really excited to visit again on Friday to check out the new menu but unfortunately this visit wasn't as successful with a few big things going wrong.
We had an early booking at 3.30pm as my husband finishes early on Fridays so we decided to go straight after school before the kids got too tired. We were greeted by friendly and happy staff and the restaurant looked lovely, colourful and inviting.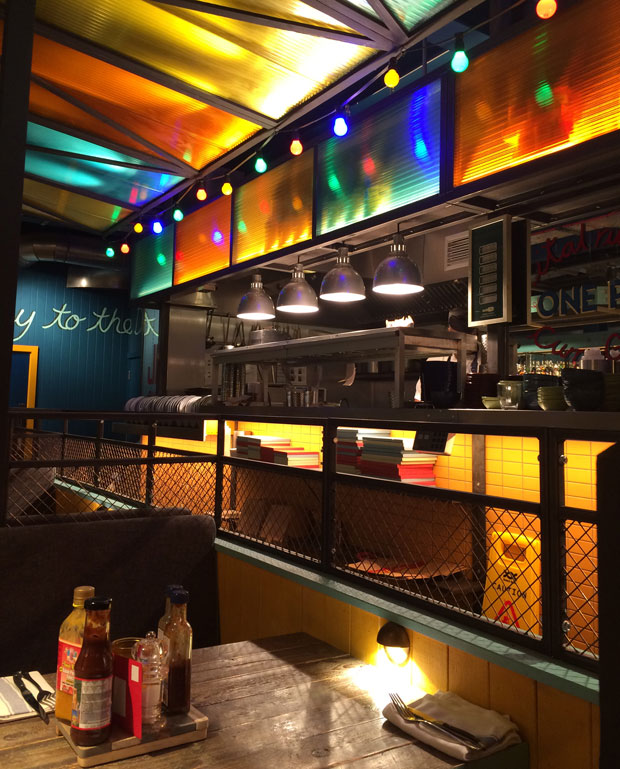 We were seated at our table which was a booth near the kitchen and had the new menu explained to us. Now you kind of build your own meal with many of the mains by choosing side plates that you like which is a good idea. We browsed the menu and then our orders were taken and read back to us — something I really appreciate as this means there's less risk of getting the order wrong.
We both ordered non-alcoholic cocktails which were very tasty and refreshing!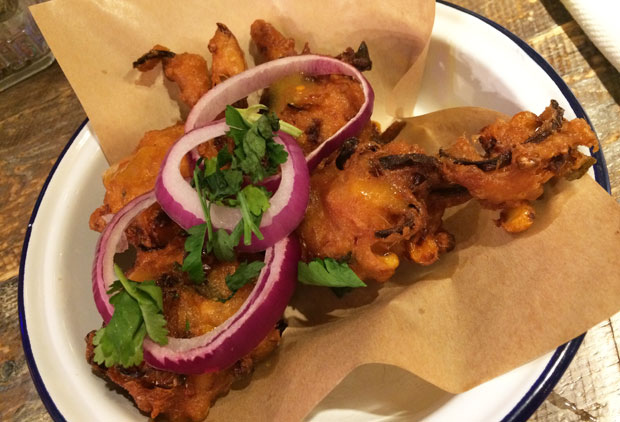 Our starters arrived — my husband ordered had the Crispy Squid and I had the Sweet Corn Fritters. The girls' children's meals arrived at the same time which our waiter had helpfully arranged. We ordered the Flatbread with fries for our eldest and the Chicken Breast with fries for our youngest and the meals arrived looking great but unfortunately here's where we had the first problem.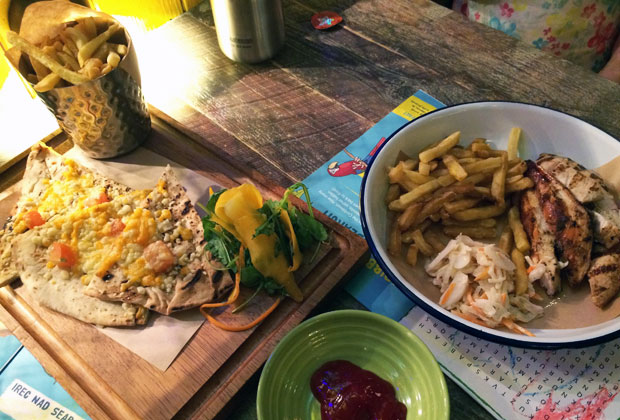 My husband started cutting the strips of grilled chicken breast into smaller pieces for our toddler and soon noticed that quite a big part of the chicken breast was not cooked properly and actually pink and raw (see photo below). We immediately moved the plate away from our toddler, but she'd already eaten some of the chips (and might have eaten one of the pieces that my husband had already cut), and called the waiter over to show him the under-cooked chicken. Hopefully the chips that our toddler had already eaten weren't contaminated by the chicken juices but we've spent all weekend checking for food poisoning symptoms.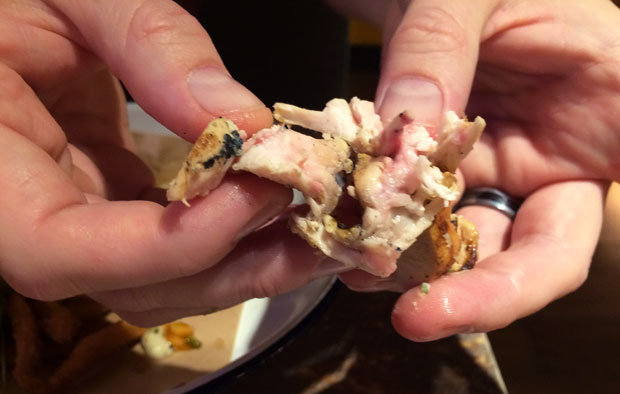 Under-cooked chicken is, as you probably know, very dangerous to eat and can cause severe and fatal food poisoning, especially in people with a weaker immune system like young children so this is a serious issue.
Had this plate been given to an older child who did not need the food cutting into smaller pieces, they would've probably just eaten the chicken not knowing anything was wrong which is a very scary thought.
Our waiter (who I also think was the person in charge of the restaurant at the time of our visit), apologised and took the plate back to the kitchen to show the cook and tell him off. The head chef had not been there supervising as he was on a break but naturally any cook should be able to cook a chicken breast properly. This put a downer on the rest of the visit, but we tried to enjoy the rest of our food.
We asked for another vegetarian flatbread instead of the chicken as we didn't want to risk being served any more under-cooked poultry.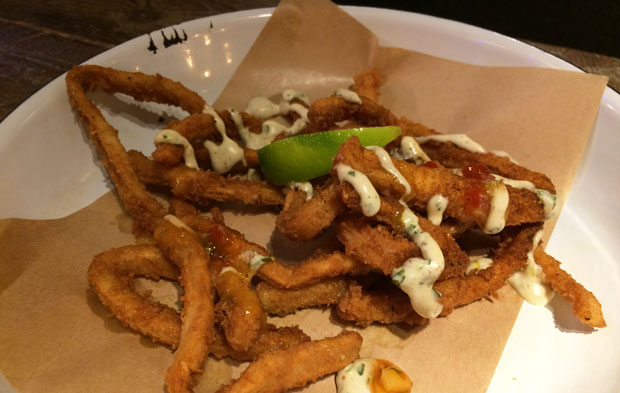 My starter was very tasty, and my husband's squid was nice too, though he had to eat it cold after dealing with the whole chicken situation.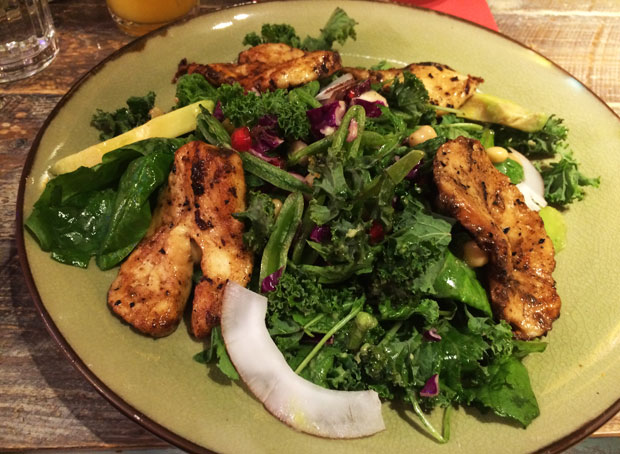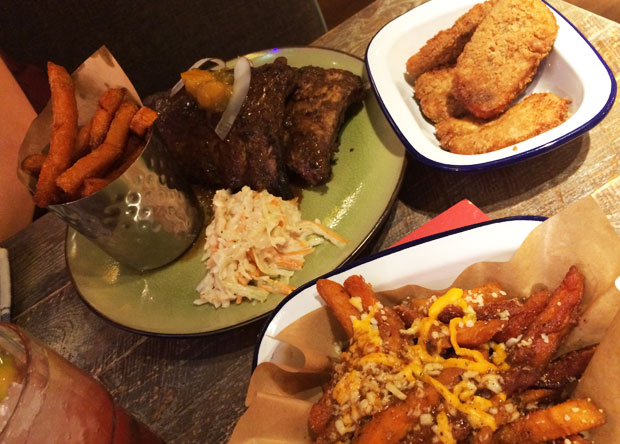 Then our mains arrived. I'd ordered the Supervital Green Salad with grilled halloumi and cheesy jerk sweet potato fries on the side and my husband had the Babyback Pork Ribs that came with sweet potato fries too. He had a side plate of Crumbed Halloumi. Both our mains were delicious, and servings were very generous!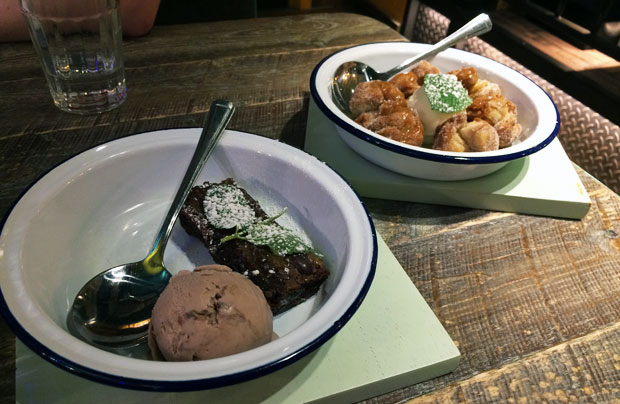 Then it was time to order dessert which is usually my favourite part and the kids love it too. We ordered one Salted Caramel Brownie which is vegan and comes with chocolate ice cream and one plate of Sugar Dumplings which are supposed to come sugar dusted, with rum caramel and vanilla ice cream.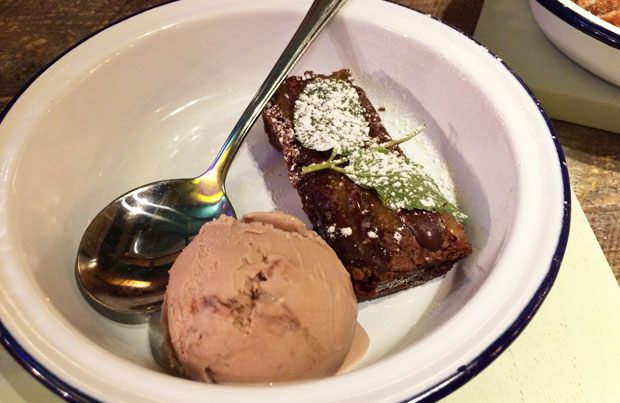 The girls dug into the brownie which was yummy and my husband was the first to try the dumplings.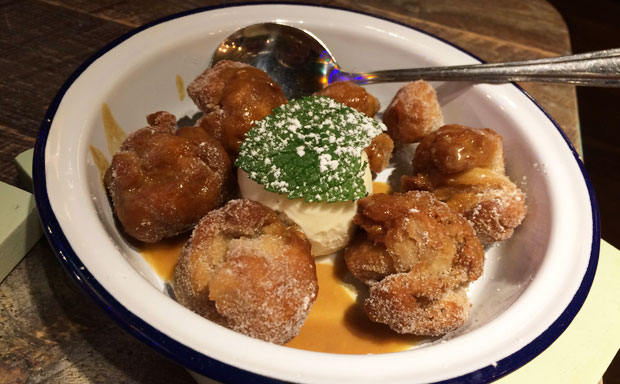 He put one in his mouth and said they're were really strange and salty. I thought they must have used salted caramel sauce instead of rum caramel and then I tried a bite of one and realised what was wrong. The dumplings were not sugar dusted as the menu suggested, but instead the heavy "sugar" coating was regular salt. As you can see in the photo, the mint leaf in the middle was dusted in icing sugar but the dumplings just had salt on them.
They tasted horrible of course and one mouthful made my husband (who doesn't really salt anything) feel really sick and he had to rush to the toilet to vomit it back up.
We told our waiter and he took it back to the kitchen, spoke to the kitchen staff who stored salt and sugar in identical containers next to each other and then he tasted one himself and confirmed it was salt. He made the kitchen staff move one of the boxes to a different area in the kitchen to avoid this happening again.
After the girls had finished the brownie, we soon left, disappointed about the things that had gone wrong with the meal and with a very salty taste in our mouths…
The chicken error is a huge one that needs to be rectified by either getting new kitchen staff or retraining the current one. This is a mistake that cannot happen in a professional kitchen and that can have severe consequences. We were shocked that this had happened at all and it was even more strange when the dessert error happened too.
The staff knew we were there for a review meal and you'd think that, after making such a big mistake, they'd try really hard to make the rest of the meal perfect.
The front of house staff members were all brilliant though and the guy who looked after us was really helpful and made sure to put the chicken to one side to show the head chef when he returned. I spoke to him before we left and asked if there was new kitchen staff or something to explain what had happened and he confirmed that it was a new member of staff who had prepared the chicken and the dumplings.
Our waiter really did do his best and I hope that further actions have been taken to deal with the member of staff who was responsible for the kitchen mistakes.
We were invited to visit the restaurant free of charge in exchange for this review. As always, all my reviews are 100% honest and all thoughts and opinions are my own.