Vegan Christmas Gift Guide – Gift Ideas for Vegans
|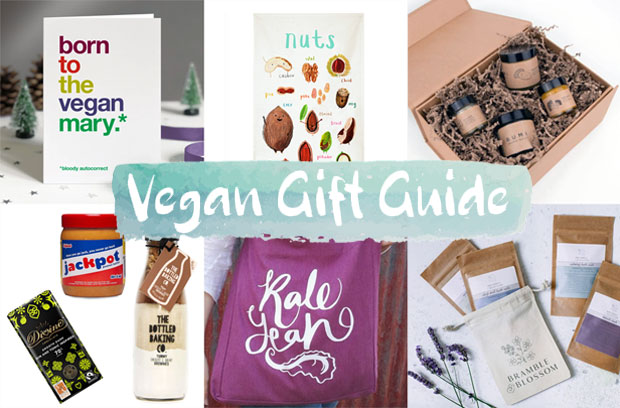 Vegan Christmas Gift Guide – Gift Ideas for Vegans
Veganism is becoming more and more popular which is great news for our planet. If you're not a vegan yourself, it can be difficult to choose a Christmas present for a vegan.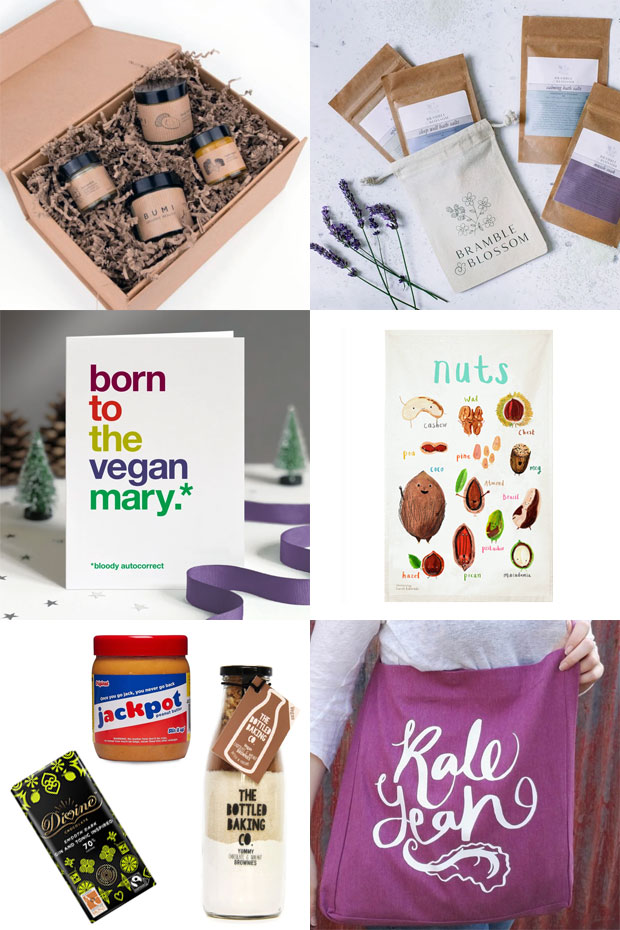 Gift Ideas for Vegans
In this guide, I've collected a bunch of vegan-friendly gifts that would be a great fit for a vegan loved one.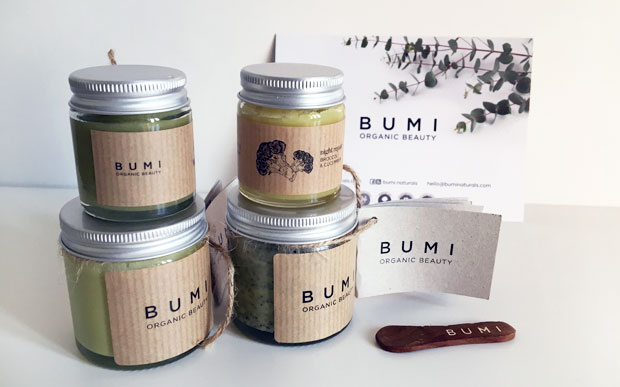 Bumi Naturals Skincare – Vegan Selection Box
Bumi Naturals is a skincare brand that makes handmade products with natural and organic ingredients in small batches. Their Vegan Selection Box is available from MettaLife which is a platform that is home to lots of vegan and ethical brands.
This eco-friendly gift set is perfect for someone who loves natural skincare and all the products are vegan, of course. The products are rich and luxurious, perfect to use as a pampering treat this winter.
In this set, you'll find the following wonderful face and body products:
Face Polish: Juniperberry, Sage, Hemp & Volcanic Ash (30ml)
Night Repair: Broccoli, Cucumber & Rosehip (30ml)
Body Butter: Avocado, Hemp and Shea (60ml)
Body polish: Hemp, Poppy & Lavender (60ml)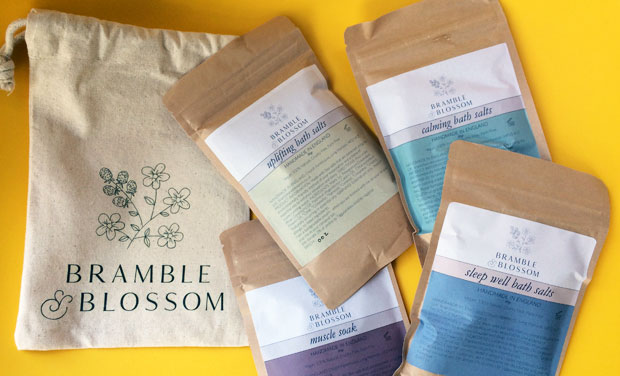 Bramble & Blossom Bath Salts Collection
Bramble & Blossom is a small business that makes organic skincare and aromatherapy wellness products in rural Hertfordshire. They make a beautiful range of handmade, eco-friendly products that are all cruelty free and vegan too.
They have a range of lovely gifts to choose from and one of them is this Bath Salts Collection. This gift pack features four of their best-selling therapeutic bath salts. The salts were extracted from the Dead Sea via solar evaporation and have been packaged up in biodegradable eco-pouches. The four bags come presented in a fair trade cotton drawstring bag that you can use for something else when you've enjoyed your salts.
The four scents included in this set are:
Calming, with rose & bergamot to reduce anxiety and restore mindful balance.
Sleep Well, lavender, marjoram & patchouli to ensure a restful night.
Muscle Soak, soothes tired and aching muscles with a herby blend of essential oils
Uplifting, boosts mood with a delightfully scented blend of geranium and neroli.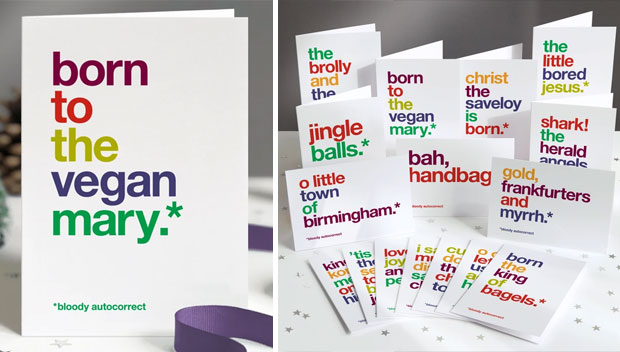 Funny Autocorrect Vegan Christmas Card
A Christmas card specifically designed for vegans! It's part of a range of funny autocorrect Christmas cards by Wordplay Design. The card is printed onto a metallic effect 300gsm card and has a blank inside for your own message. Available as a single card or as part of a pack. Each card comes with an envelope and is presented in a cello bag and posted in a hardbacked mailer to protect the card in transit.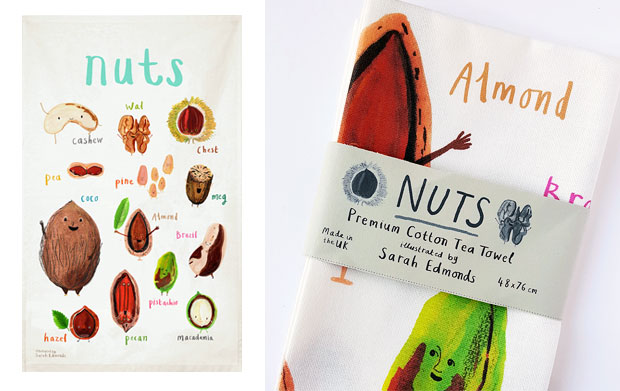 Nuts Premium Cotton Tea Towel
Most vegans love nuts and eat a lot of them so this quirky Nuts Premium Cotton Tea Towel would make a lovely gift! It's part of a funny range of towels, cups and coasters featuring innocent illustrations by Sarah Edmonds combined with words that have a different, less innocent, meaning too for a hilarious combination. Don't worry, this saucy selection is strictly animal, bird and food related though!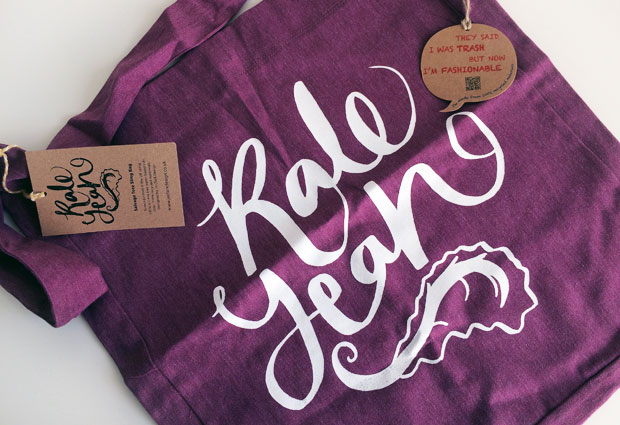 Jo Clark Design Kale Yeah Recycled Sling Tote Bag
A good quality tote bag is always handy to have and Jo Clark Design has a range of funny vegan food related options that would make great Christmas gifts. My favourite is this beautiful purple Kale Yeah sling tote bag which is made from 100 % recycled materials (salvaged plastic bottles and organic cotton). It's got a large typographical print, a popper and a strap that's long enough to allow the bag to be worn either across the body or over the shoulder.
Jo Clark Design tote bags are individually screen printed here in the UK with vegan water based ink. It's a great eco-friendly bag and gift that is sure to make the recipient smile. All Jo Clark Design products are vegan, so do browse the rest of the products available on the website too.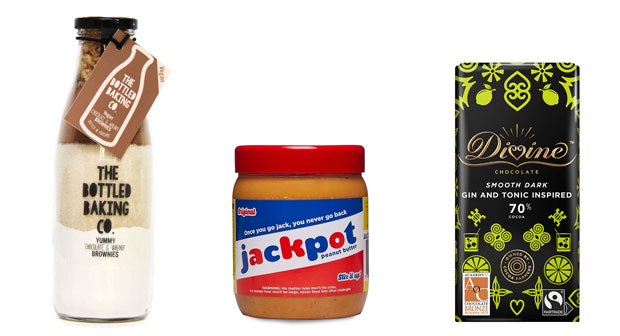 Edible Vegan Stocking Fillers
Last but not least, some edible and delicious vegan stocking fillers! For someone who loves brownies but is not a confident vegan baker, this Vegan Chocolate & Walnut Brownies mix from The Bottled Baking Co. would be perfect. Presented beautifully, this delicious and indulgent vegan brownie mix with walnuts and dark chocolate would be a yummy treat for a vegan to enjoy.
For someone who loves peanut butter, go for a 500g jar of Jackpot Peanut Butter which is vegan and palm-oil free and the company raises money for music venues in the UK too (£1 per sold jar). The delicious peanut butter is made with classic American runner peanuts, rapeseed oil and a pinch of salt — absolutely no additives nor palm oil. To make it an even better stocking filler gift, you can personalise a jar with the recipient's name.
There are not as many fun chocolate flavours for vegans, but some brands are making delicious vegan chocolate that are a bit different. My favourite is the brand Divine which is available in lots of stores, including right here from The Nappy Gurus where you can enjoy 10% off with my affiliate discount code "AMUMREVIEWS". The Nappy Gurus is a vegan shop too. There are many delicious flavours to choose from but the Gin and Tonic Inspired Chocolate is extra festive.
Collaborative post. This gift guide features gifted PR samples. All items have been chosen by myself to be in this guide.