Vegan Sweets from Aldi 2021 – Veganuary | Gelatine-free Sweets
|
Vegan Sweets from Aldi 2021 – Veganuary | Gelatine-free Sweets
I became a vegetarian when I was 12 years old so have now been a vegetarian for 2 decades! Back in Sweden where I'm from, there were a few Pick'n'Mix jelly kind of sweets that were gelatine-free and suitable for vegans and vegetarians but here in the UK, the budget-friendly selection has been lacking until recently.
IKEA sells Malaco Swedish Fish which is a good veggie option but we can't go to IKEA all the time – especially not during lockdown. HEMA, which is a Dutch shop, sells a few vegan sweets options online but, again, it's not as easy as easy as picking up a bag of vegan sweets (when you fancy them!) from the supermarket when you're doing the food shop.
I'm so happy to see lots of brilliant vegan options available from Aldi in all aisles, including the sweets section.
There's a fancy range of Candy Kittens inspired luxury jelly sweets including the following flavours:
Fizzy Pineapple
Juicy Strawberry
Tangy Watermelon
I've sampled the Strawberries and Pineapples so far and they are nice! I've just bought the Watermelon one to see what it's like too. I think they were only 79p too!
Then there's a range of sweets inspired by some of the nation's favourites:
Veggie Wendy the Worm
Veggie Walter the Worm
Veggie Leo The Lions
I'm a big fan of sour worms (this is what I usually buy from HEMA) and the Aldi version is very nice too, though not quite as sour. I've just purchased the sweet worms to try too but didn't get the Lions as I'm not really a fan of foam sweets. These are 85p per bag.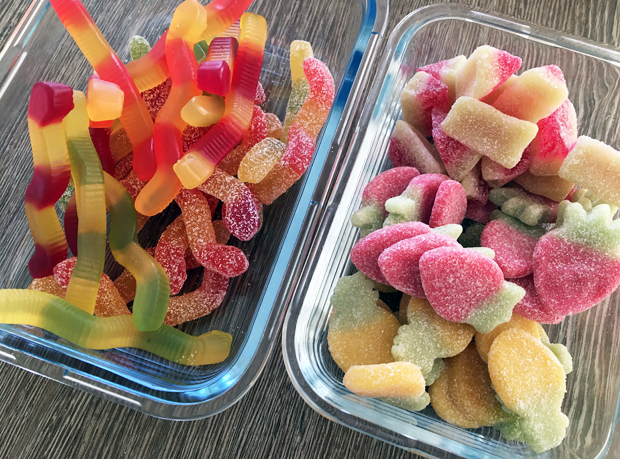 It's great to see quite a large selection of gelatine-free sweets / vegan sweets available in Aldi for vegetarians, vegans and people with other special dietary needs to enjoy. Veganuary is the perfect time to experiment with vegan sweets and treats too if you're not veggie as well.
I hope these sweets and treats are here to stay!
Here's a link to Aldi's vegan section on their website.
Have you tried the vegan sweets from Aldi? What do you think of them?