What to Buy for Father's Day 2022 – A Gift Guide with Things for Dads
|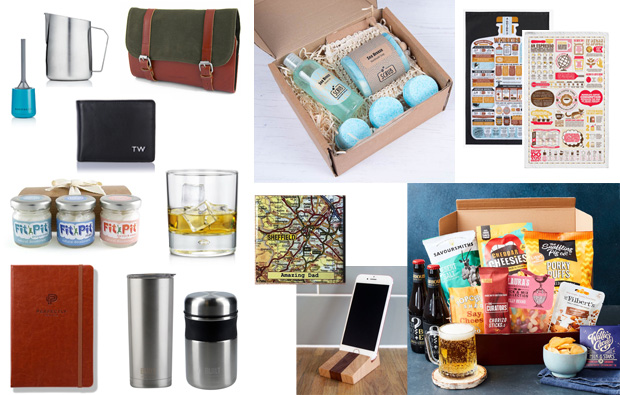 What to Buy for Father's Day 2022 – A Gift Guide with Things for Dads
Father's Day is the next big event in the calendar and the perfect time to treat your dad, grandad or the father of your children. Dads are generally not great at treating themselves so take this opportunity to get the dads in your life something that they will really love. In this gift guide, I've gathered some gift ideas that I think are perfect for Father's Day. So, if you're wondering what to buy for Father's Day 2022, read on…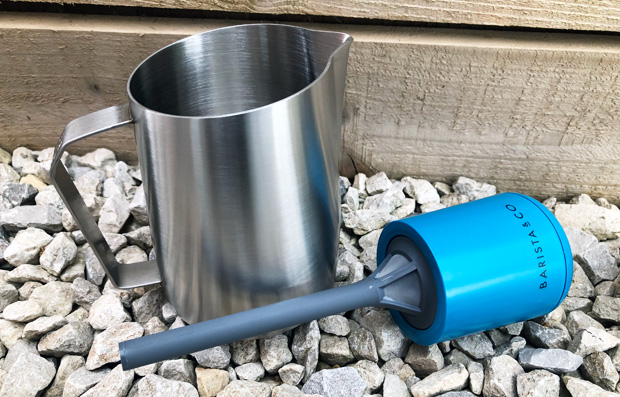 Barista & Co Coffee and Coffee Making Accessories
If you're looking for a gift for a coffee loving dad, head over to Barista & Co to buy him a coffee subscription, bags of coffee or some stylish coffee making accessories. Here, you can see the Dial In Milk Pitcher in gorgeous stainless steel and the Brew It Stick in Teal. The latter is the original coffee infuser and such a handy coffee maker for making delicious fresh coffee wherever you are. It can also be used for loose tea leaves.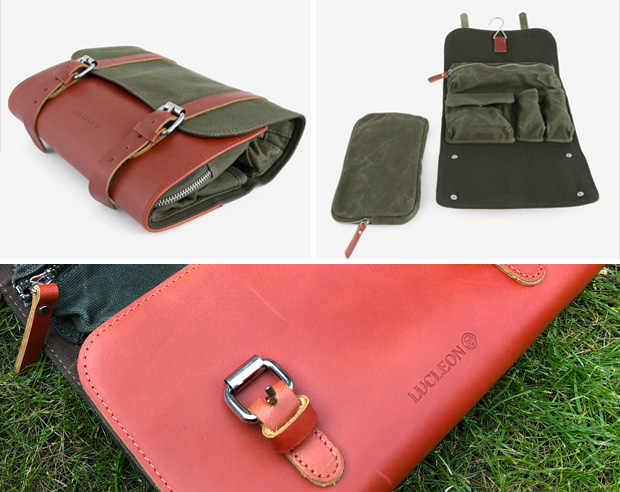 Olive Grover Waxed Canvas Roll Out Washbag
For a father who likes to travel (or simply stay organised), this Lucleon roll out washbag from Trendhim would make a great gift. It's a cleverly designed washbag with 2 zippered bags (one of which is detachable for convenience), 2 slip pouches and 1 smaller pocket. It has a canvas construction and genuine leather details. I closes securely with buckles and has a handy metal hanging hook too. It's also available in Black and Navy Blue. Trendhim have lots of men's toiletry bags to choose from as well as lots of stylish men's accessories.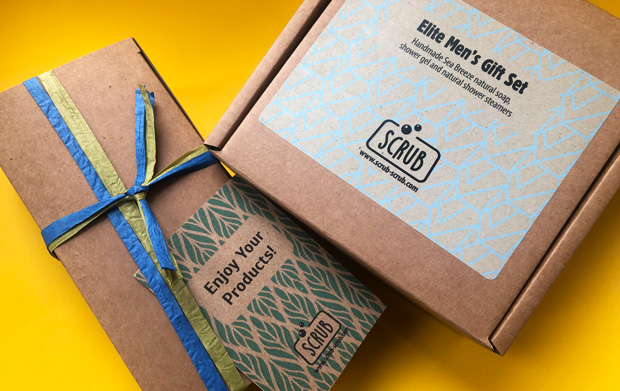 Handmade Pampering Products for Men from Scrub
Men deserve lovely handmade pampering products too, but they can be hard to find. Luckily Scrub has a wonderful range of nourishing products including this Men's Shower Steamers and Soap Gift Set and these fun Dinosaur Egg Bath Bombs.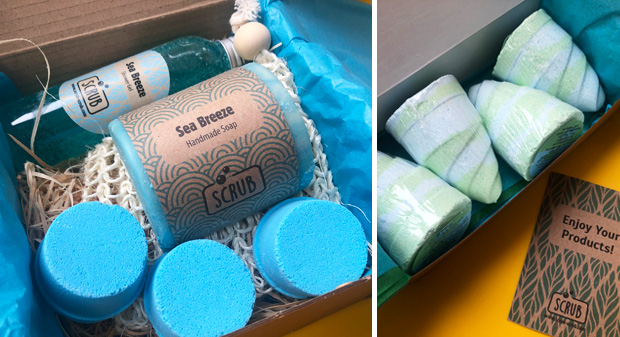 The Men's Shower Steamers and Soap Gift Set contains a handmade sea breeze shower gel, a handmade sea breeze Shea butter soap, three sea breeze shower steamers and a natural soapy scrubber to pop the soap into to create a brilliant skin buffing exfoliator. The sea breeze scent is manly and fresh!
For dads who enjoy a bath (and likes dinosaurs!), check out this set if four Dinosaur Egg Bath Bombs. Once the bath bomb has fizzed away into a gorgeous green bath, a dinosaur egg is revealed on the inside. This can then be placed in a glass of cold water for 12-24 hours, after which it will hatch, and you'll have a little dinosaur. Great for dads who are young at heart and for kids too.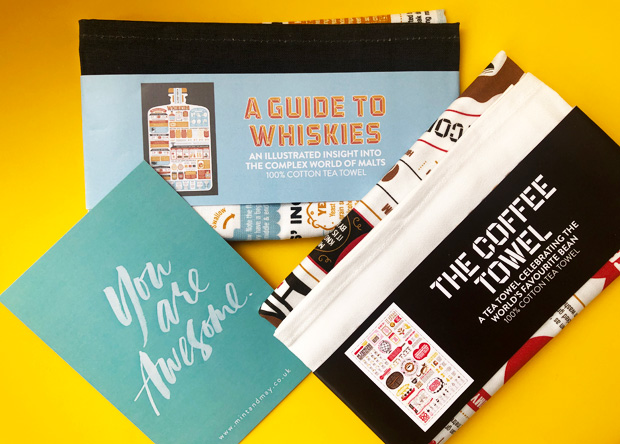 Fun Tea Towels from Mint & May
A stylish tea towel makes a great gift anyone who loves to spend time in the kitchen and has an eye for design. Mint & May have a fun range of high-quality statement tea towels in striking and beautiful designs. There are lots to choose from like pop art style tea towels featuring musicians and tea towels like the ones you can see here that focus on a food or drink topic.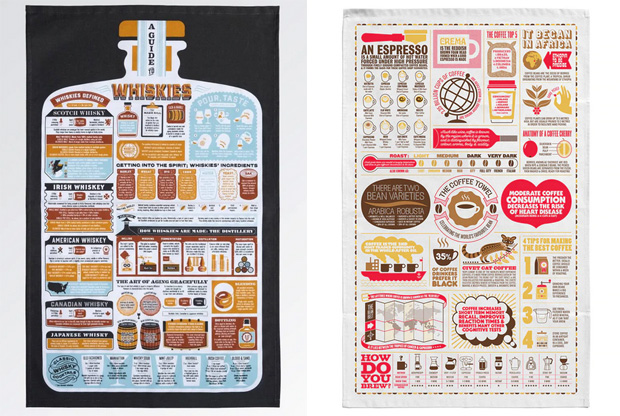 For Father's Day, I thought The Coffee Tea Towel and the Guides to Whiskies Tea Towel were perfect but it naturally depends on the interest of the person you're buying a gift for. Browse the full range of Mint & May tea towels to find the perfect one.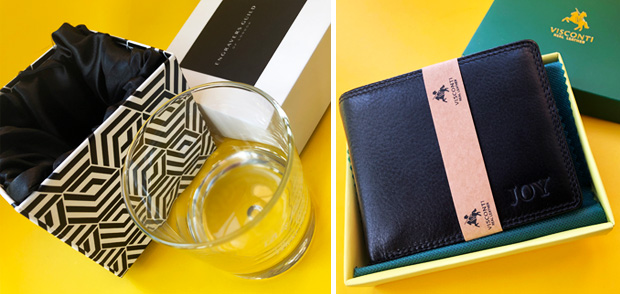 Personalised Father's Day Gifts from Engravers Guild
Personalised gifts always feel truly special so make ideal gifts for occasions like Father's Day. Personalised Whisky Glasses and Personalised Wallets like the ones you can see here from Engravers Guild are perfect gifts for dads or grandads.
However, if you would like to go for a more eco-friendly option, 8000kicks offers the world's thinnest hemp wallet, only 5mm thin and has space for over 6 cards. The perfect gift for your stubborn family member that needs some hemp in his life.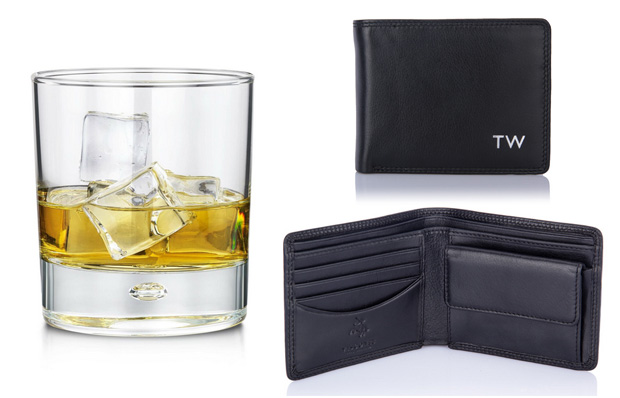 Above, you can see the products from Engravers Guild. First the durable bubble whisky class that is stylish and classic – perfect for a modern whisky lover. Add a message on the glass to make your loved one smile. Comes presented in a luxury silk lined presentation box. You can also see a premium black leather Visconti wallet that can be personalised with initials in the colour and font of your choice. It can carry notes, coins, and cards comfortably and features RFID protection too. The wallet comes delivered presented in a gift box.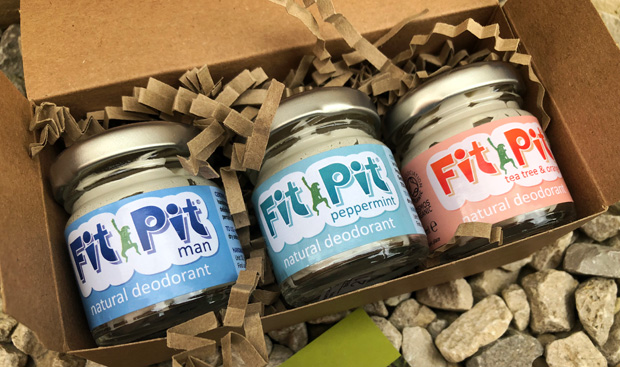 Fit Pit Organic Deodorant Gift Set for Men
Fit Pit is the range of organic and natural deodorants by the brand The Green Woman. They are multi-award winning and plastic-free and one of my own personal favourites. They have a few gift sets to choose from too, including this Fit Pit organic deodorant gift set for men with three different scents in 25ml travel jars. The scents are Man (cypress and bergamot), Peppermint (my favourite!) and Tea Tree & Orange. The jars come hand packaged in a cardboard box complete with a cotton ribbon tied into a bow. A great gift for someone who already loves zero waste and natural products or to introduce someone to this kind of lifestyle.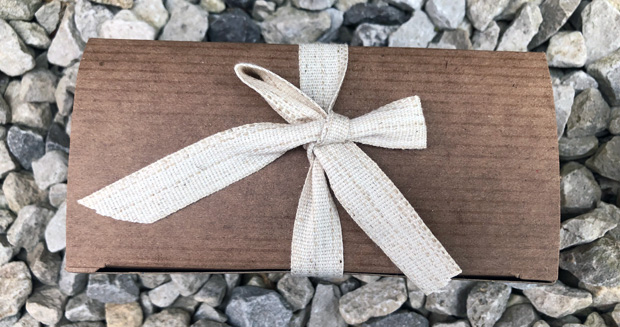 You can enjoy 20% off any products from thegreenwoman.co.uk with my code MUMREVIEWS20. It can be used once per customer until the 01.06.2023. Cannot be used in conjunction with any other offer.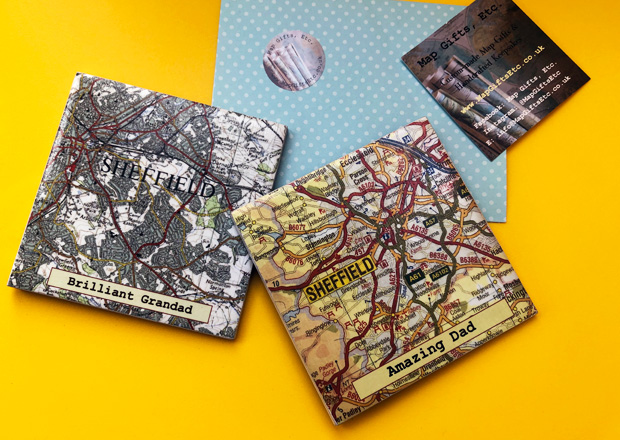 Personalised Map Coasters from Map Gifts, Etc.
Map Gifts, Etc. is a handmade gift business that makes bespoke gifts and home décor items based on maps, using vintage and new maps. You can send a location or postcode that you'd like to be seen on a gift item and Lucie will search for the perfect map to use on your gift. Choose from wooden hanging ornaments, wall frames, ceramic coasters, ceramic mugs, fridge magnets and more.
Here you can see two amazing Sheffield coasters that Lucie made for me with personalised messages for Father's Day. I'm sure these will be very loved and treasured!
Perfectly Penned Premium Notebooks
A luxurious, high-quality notebook makes a fantastic gift and a useful one too! Notebooks come in handy for most people for making lists, sketching, or writing down ideas or perhaps starting to work on writing a novel?
Perfectly Penned is a small family-run, British company that creates great quality stationery that's respectful to the environment while representing an exceptional value.
The stunning A5 notebooks from Perfectly Penned are available in a range of styles, designs and colours. All vegan-friendly and absolutely beautiful! Choose from lined or dotted.
The notebooks come gift-boxed, have been bound using a flat lay design, feature a rear pocket, dual page markers, an extra thick elastic belly band, a pen loop, and a reminder for when you've only got 30 pages left. The covers are luxurious, and the pages are extra thick. A wonderful gift!
Built Travel Mug and Food Flask from cookserveenjoy.com
Now onto some gifts from cookserveenjoy.com for outdoorsy dads! Dads who love to head out on adventures will love these stylish double walled stainless steel accessories from Built.
The Built 590ml Double Walled Stainless Steel Travel Mug Silver will keep cold drinks cold for up to 24 hours and hot drinks hot for up to 6 hours while keeping the exterior a comfortable temperature to hold. Features a cool and sturdy Tritan lid that easily slides open and closed for one-handed drinking (but also clicks into a shut position too). It's a great, functional gift that is great for coffees, teas, smoothies, or other cold refreshing drinks. Fits a standard size cup holder.
The Built 490ml Silver Food Flask works in the same way but is designed for food and can even keep frozen food frozen for up to four hours. Great for soups, pasta salads or even ice cream! It's got a secure silicone seal, so you don't need to worry about leaks.
Both these gifts are perfect for outdoorsy adventures but can of course be very usual for regular office days too.
Handmade Wooden Phone Holder from Pintail Studio
Pintail Studio is a small family business that has been running for over 40 years. The award-winning business makes unique and clever products and everything is handmade in their Nottinghamshire workshop by skilled craftsmen. Creating long-lasting, high-quality items in a sustainable way is the aim.
This beautiful handmade wooden phone holder would make a great gift. It's made from oak and walnut and looks amazing! It's beautifully crafted and such a useful item too – have it on your desk to see your phone, on your bedside table or use for video calls or watching videos on your phone. The little feet on the underside keep it steady on all surfaces.
Treats For Dad Gift Box from needi.co.uk
Meet needi – a gift giving company with a twist! The website has gathered the most fantastic British businesses on their website and have a free gift matching service to help you find the perfect gift. The company also just released video gift messaging which is a fun addition to the gifts! They have lots of amazing gifts that are ideal for Father's Day, including this Treats For Dad Gift Box sold by The Handmade Christmas Co.
This hamper box is full of treats that dad will love – bottles of Curious Brew IPA (of course!) and a lovely selection of both sweet and savoury snacks and treats to enjoy with the beer.
Everything comes packaged in a gift box, ready to be sent directly to the dad you're celebrating or to hand over yourself. I'm sure dads would love unboxing and consuming all these delicious goodies!
Enjoy a discount when shopping with needi.co.uk with my code AMUMREVIEWS. Valid until the 20th of June 2022.
This article contains gifted items. Everything has been chosen by me to be included in this gift guide and all thoughts and opinions are my own. Contains a sponsored link.