Why I'll be Using Reusable Pads Postpartum…
|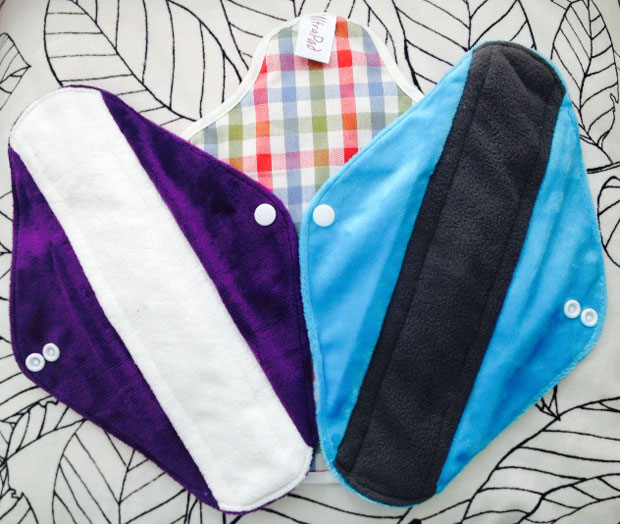 Why I'll be Using Reusable Pads Postpartum…
Update August 2020: I have now had another baby and used cloth pads postpartum again. Head over here to see a brilliant postpartum CSP set from The Nappy Gurus.
I wrote about the topic of using reusable pads postpartum just over a year ago and now the time is nearly here. My second baby is due on Tuesday!
This time around, I'm planning on mainly using cloth pads postpartum and there are many reasons for this choice. I have a few packets of disposable pads for the very first few days post birth when the bleeding is at its heaviest and I will not have the time to run the washing machine as often as usual as I'll be busy getting to know my newborn. I'll still use a cloth pad at least once daily to give my lady bits a break. Then, after the first few days, I'll be using mainly cloth pads.
Postpartum bleeding is something all women have to deal with after having a baby and the bleeding goes on for weeks and weeks. Some women are lucky and stop bleeding sooner and some women bleed for a long time. I bled for six weeks last time so I'm expecting something similar this time around.
I've never liked wearing disposable pads as they don't breathe and are uncomfortable to wear. They're also expensive and end up in landfill after use. Wearing disposable pads for a month and a half is simply not an option for me. Maternity pads are often extra bulky too so even less fun than the regular types.
Most disposable pads contain plastic and that's what keeps them from letting your skin breathe. They're also bleached and full of chemicals that are not good for you or the environment.
Reusable cloth pads are an investment at first but once you've bought them, you wash them and can use them for many years to come which will save you lots of money. The main reason I love them is that they are really comfortable and they let your skin breathe. They keep you dry and fresh and you don't get that clammy feeling that disposable plastic ones cause.
Letting your lady area breathe will help it recover after birth and you'll be much more comfortable too as cloth pads are really soft and lovely.
There are so many brilliant cloth pad brands out there now and lots of pads designed specifically for postpartum use. Overnight ones work really well postpartum too and vice versa. They are so well designed and well made now and some are even thinner than disposable ones.
Some new ones that I'll be testing soon are the Cheeky Mama Cloth Sanitary Pads for Night or Maternity (£5.00 each here) and the Cheeky Mama Ultrapad Cloth Sanitary Pads for Night or Maternity (£7.00 each here or 5 for £24.99 from Amazon.co.uk). I'll be back with full reviews of both these types soon.