Actigun Ace Massage Gun Review | Percussive Massage Therapy
|
Actigun Ace Massage Gun Review | Percussive Massage Therapy | AD
My husband has been suffering with muscular aches and pains for a long time now and saw a physical therapist for this to try to sort it out. She used a massage gun on his back and that made him consider getting a massage gun at home to save time and money but we had not idea what brands to look at and what would be as good as the ones the professionals use.
The stars aligned and I got the opportunity to test the Actigun Ace Massage Gun from Actigun and we couldn't be happier! It's a very professional device that works so well and gives great results! I will go into detail about all the features and how it works for us below but I can tell you now that it's worth the investment.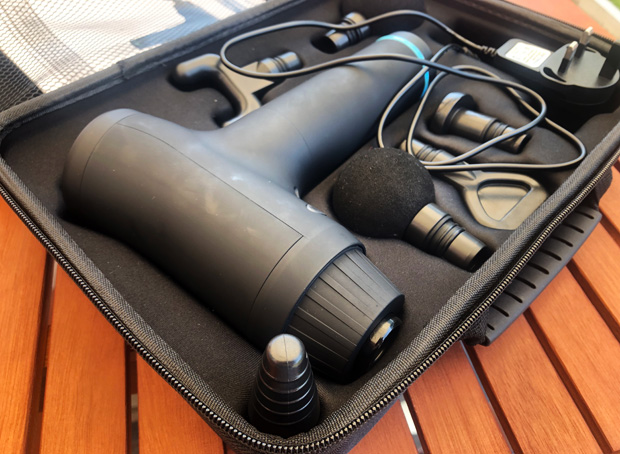 The Actigun Ace Massage Gun provides professional grade massage therapy and deep tissue massage. It comes in a set that includes the massage gun, 6 different massage heads, plug for charging and a handy carry case to store your Actigun Ace Percussive Massager at home and when travelling. It's cordless and rechargeable which makes it easy to use anywhere. It comes fully charged and the battery life is amazing. It lasts for over 4 hours of continued use.
It's really easy to use with its touch screen that clearly shows the speed level and battery life and lets you adjust the speed to your needs. The device is comfortable to hold and has a non-slip grip to make it easy to use anywhere on the body.
The Actigun Ace Massage Gun is a sturdy, high quality device but it's designed to be lightweight at the same time, weighing only 1.5lbs. It's also very quiet for a massage device as it has a brushless motor that operates at just 45 dbs so it will not disturb anyone else.
Most massagers only have a few speed settings, but the Actigun Ace Massage Gun has 30 speed settings (from 1500-3500 r/min) and combined with the 6 different massage heads to choose from you can really customise the device to work for your needs and target the muscles that need work with the best equipment.
We find that the massage is best when someone else helps you do it – at least for some areas on my husband's back that he can't reach well on his own – but it also works wonderful on most areas when you do it yourself which is great. With a toddler who doesn't sleep, this is very useful for us.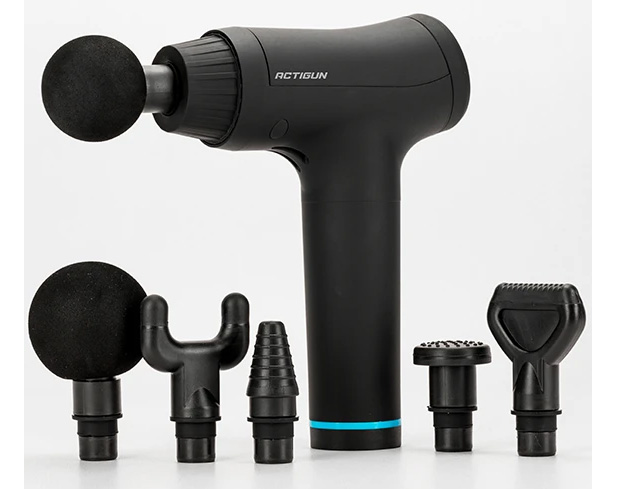 Because the massage is so intense and deep with this device, you only need a few minutes on each area to feel the benefits. It's amazing!
We mainly use the bigger of the two rounded heads for back and shoulder massage but it's great to have the other heads available for when needed.
I used to get really bad leg cramps when I was pregnant, and the tension and pain used to last for days (sometimes a week!) and it would have been so handy to have an Actigun Massage Gun then. I do still get the occasional leg cramp and when I do next, I will try it.
If you're looking to buy a massage gun, I would definitely recommend the Actigun Ace Massage Gun – we're so happy with ours! It's great value for money too at just $169 for this professional level device.
This item was sent for review. As always, all my reviews are 100% honest and all thoughts and opinions are my own.