Dry Kids Rain Clothes Sets for Children Review
|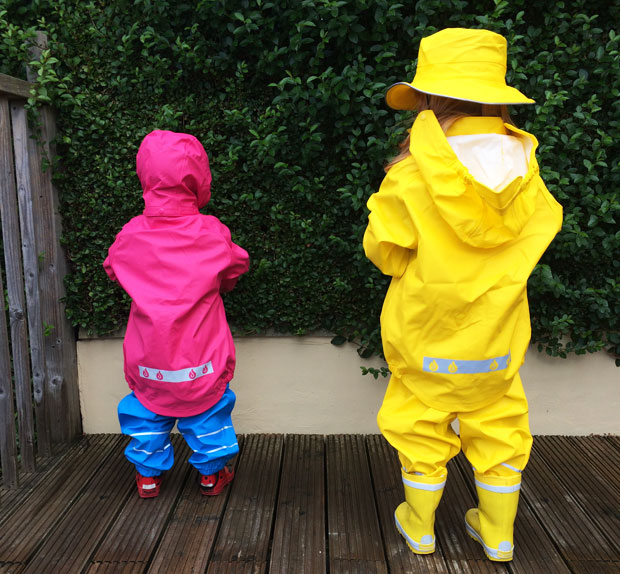 Dry Kids Rain Clothes Sets for Children Review
This week, the weather has been glorious — super sunny and very warm for this time of year. That wasn't the case in South Yorkshire last week, though. Then we had lots of rain towards the end of the week and one of the days were particularly bad with the worst downpour I can remember ever being in.
With my eldest in school now, we can't just choose to stay in when the weather is wet — no matter what it's like outside, we have to leave the house at the same time every weekday morning to get to school on time. I don't drive so the school run means a (long!) walk for us all and it's important that we all dress weather appropriately to ensure we stay comfortable and dry if there's rain.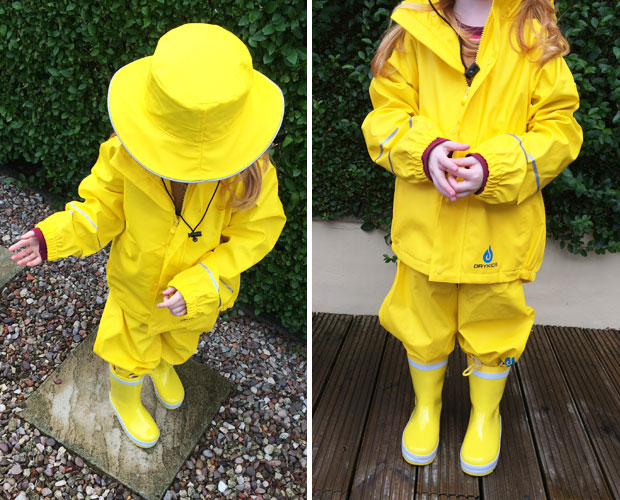 Luckily, our delivery from Dry Kids had arrived ahead of the bad weather last week and we were ready for it with all the gear for the kids. Both my daughters have a Dry Kids PU Jacket and Dungaree Set that provides great coverage for rainy days. My eldest daughter's favourite colour at the moment is yellow (or gold as she likes to call it!) so she chose an all yellow jacket and dungaree set and my youngest went for a mixed set with a raspberry jacket and turquoise bottoms.
The other colour available is navy and the sets are available as matching or mixed in the colours of your choice. They're available in sizes from 2 years to 11/12 years.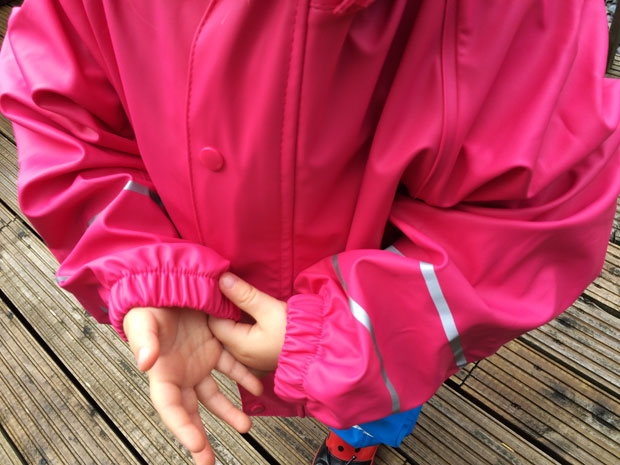 Dry Kids PU coated rain sets are perfect for keeping your little ones dry on rainy days. The fabric is very waterproof and tested waterproof to 5000mm of hydrostatic head and all seams have been heat sealed for a tighter bond to ensure there's no chance the rain water leaks through.
The jacket has a full-length main zip that is hidden under an outer storm flap that fastens with poppers. There's a chin guard to protect chins from the zip too to keep your kids comfortable.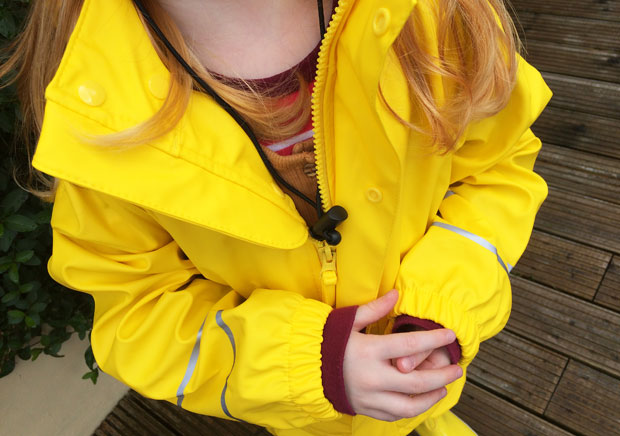 The cuffs of the sleeves are elasticated to keep water out and the back of the jacket features a longer drop tail for extra coverage. See top photo.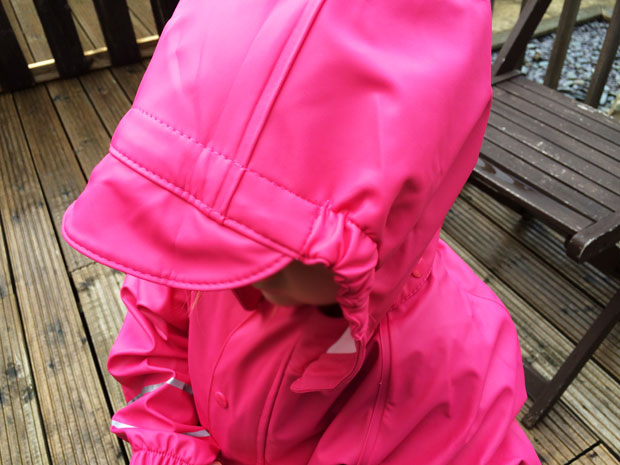 The hood is removable — it's attached with poppers to the collar. It features a peak at the front, like a cap, to keep rain drops away from faces and out of eyes. This is a great feature!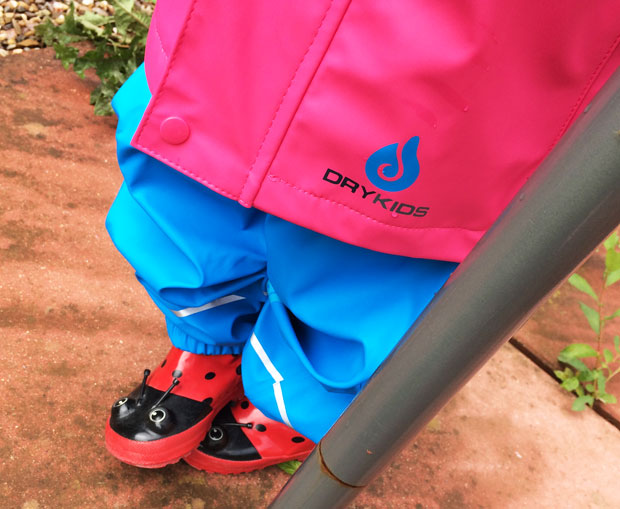 The set features reflective stripes on the cuffs and ankles and details on the back to increase visibility when it's dark.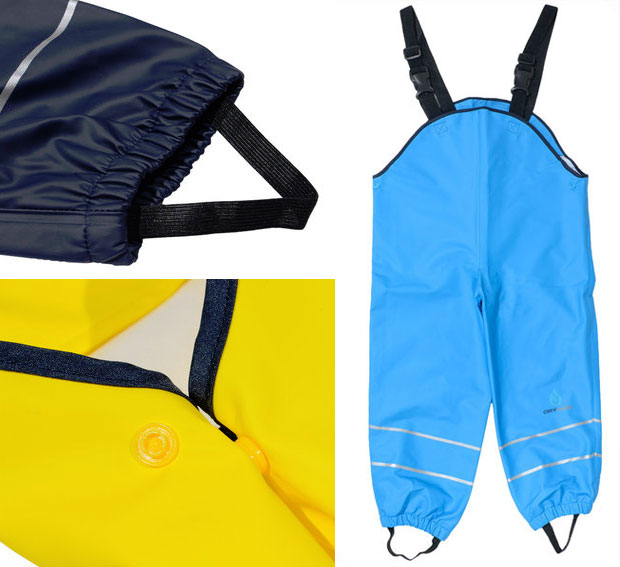 The dungarees have wide and comfortable elasticated shoulder straps, elastic stirrups and poppers at the waist which can make the trousers tighter if needed. This is great as it allows for plenty of room to grow. Both my girls are wearing a set that's slightly larger than what they would need to make them last a couple of years hopefully.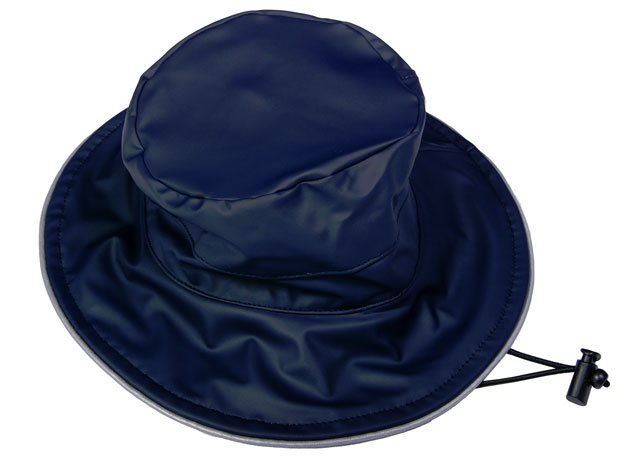 I've always loved the idea of rain hats to help keep kids' face protected from the rain too and the girls have one each from Dry Kids too. My eldest has a yellow wide brim hat and my youngest a navy rain hat. They're available in sizes 2-4 years, 5-8 years and 9-12 years.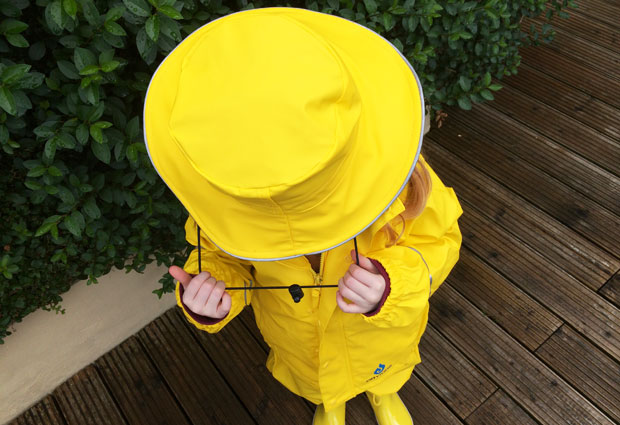 The fabric of the hats is like the material on the rain clothes — PU coated and tested waterproof to 5000mm of hydrostatic head which is just what you need for heavy rain. There's reflective piping around the brim edge to increase visibility when it's dark. The hats have an elastic cord with a spring toggle that you can use to stop the hat blowing off when it's windy. I ordered according to my children's ages so my youngest has the hat in 2-4 years (she's 2 years old) and my eldest has the hat in size 5-8 years (she'll be 5 years old soon).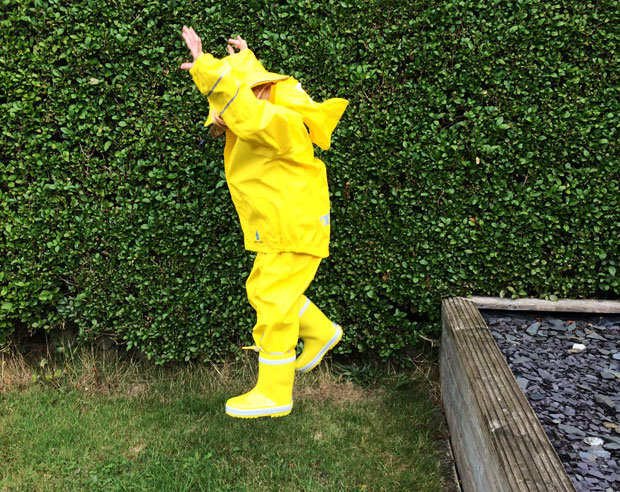 Both the jacket and the dungarees are unlined making them suitable for most temperatures as you can simply layer underneath.
As you can see, the set is really easy to move around in. Great for puddle jumping, active play in the rain and absolutely brilliant for keeping the kids dry on the school run when it's raining heavily!
These clothes were provided to us for this review. As always, all my reviews are 100% honest and all thoughts and opinions are my own.