Geco Supplements – Organic Tomato With Lycopene Review
|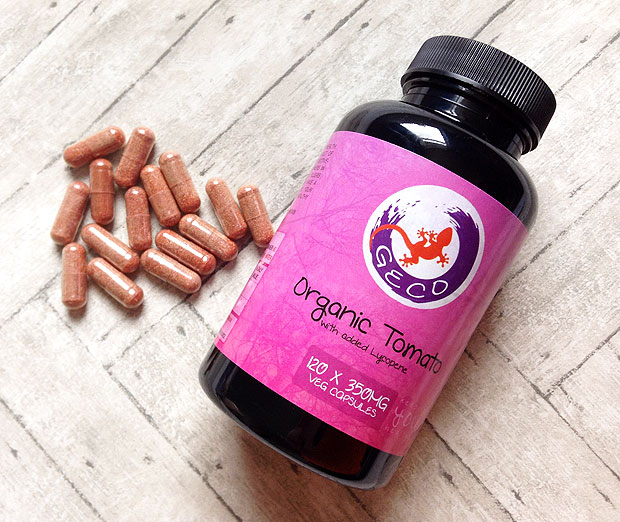 Geco Supplements – Organic Tomato With Lycopene Review
I've been interested in lycopene ever since I learnt that people who eat a lycopene-rich diet have 33% greater protection against the damaging sunrays (you still need to use SPF creams though!). My husband, my daughter and I have very fair skin and burn easily so sun protection is very important to us. We try to eat a diet rich in cooked tomatoes that contain a lot of lycopene but I thought I'd try this supplement for some extra protection.
Lycopene is a very powerful antioxidant and is very effective at protecting the body against oxidative stress and promotes healthy cardiac function and reduces the risk of developing cardiovascular diseases. It's also been shown to protect the prostate! (Not relevant to me personally of course, but for all men out there.)
This supplement by Geco contains high concentrations of lycopene and additional nutrients to help absorb it. It contains 20mg of lycopene and 600mg of organic tomato powder per dosage to make it more like real food and therefore more easily absorbed. The supplement is completely organic, natural and pure!
The capsules are veggie ones, which I appreciate a lot being vegetarian myself.
I think this is a great way for me and my husband to make sure we get even more lycopene into our bodies. It will be especially good in the summer when we need more sun protection. I ordered mine from Amazon, but you can also buy it directly from the Geco Supplements website.
I was sent a bottle of this supplement for this review. As always, all my reviews are 100% honest and all thoughts and opinions are my own.