Greentom Upp Reversible Pushchair Review / Full Review
|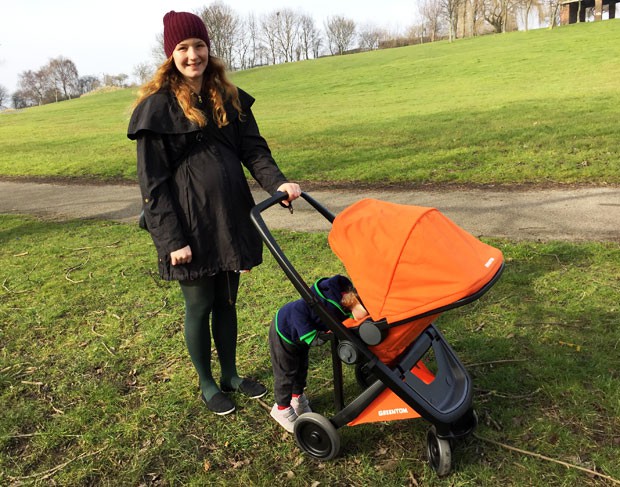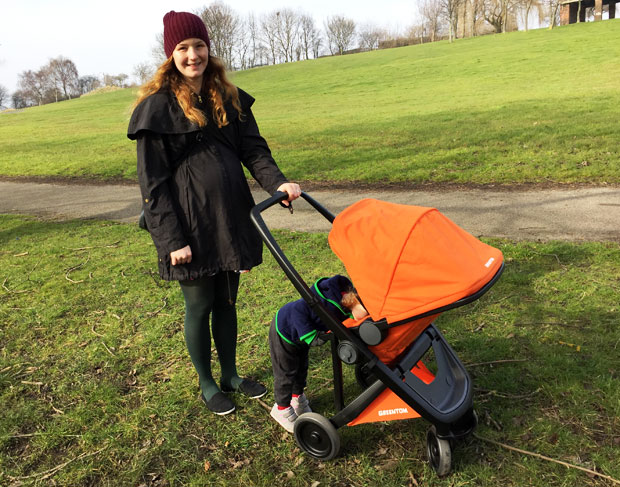 Greentom Upp Reversible Pushchair Review / Full Review
The Greentom Upp system is an innovative invention for the new generation. The Dutch designed system has a frame made of recycled plastic and the fabric is made of recycled PET bottles. This makes this stroller/pushchair the greenest one on earth which is very impressing! It's 100% sustainable and designed for the future.
The system consists of three steps where the frame stays the same but you change from a carrycot to a reversible seat and finally to a larger front-facing seat as your child grows.
We have the middle phase which is the Greentom Upp Reversible Pushchair and we've been using it a lot for a few weeks now. You can customise your Greentom Upp to fit your style. The chassis comes in white, grey or black and there are ten fabric colours to choose from for the carrycots and seats. We went for a black and orange combination.
Unboxing & First Impressions
You can read my Unboxing & First Impressions post here and watch my unboxing video below.
Ease of use & Comfort
The Greentom Upp Reversible is very easy to use. You just click the seat into place and put your child in it and you're ready to go. The handle is at a good height for me — I'm 176 cm tall or 5′ 9″ — and comfortable to hold. You can't adjust the handle so if you're very tall or very short it might not be at the right height for you. Steering the pushchair is easy but best done with two hands if the ground is a bit bumpy. More on this in the Wheels & Brakes section below.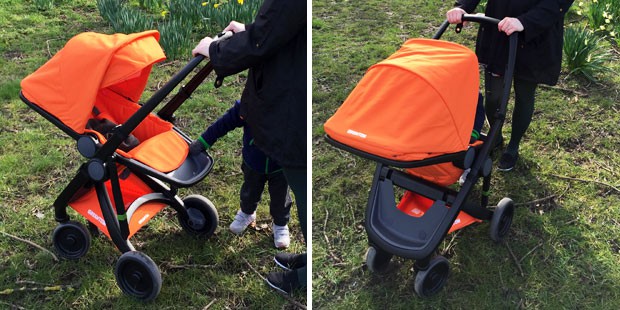 The seat is wide and very well padded. It seems really comfortable and my daughter loved sitting in it from the start. After we'd unboxed and built the pushchair, she wanted to sit in it in our living room for ages!
The pushchair has a 5-point harness and the shoulder straps are very well cushioned. The buckle is easy to buckle up and comfortably holds my daughter without digging in anywhere. It's easy to adjust too.
The footrest looks comfortable and keeps dirty shoes away from the pretty fabric. Because the pushchair is so light, pushing it is very effortless.
Wheels & Brakes
I would describe the plastic wheels as being a medium size. They're not small but they're not large either. The back wheels are bigger than the front ones and the front ones are closer together than the back ones. The rear wheels are 20,3 cm (8") and the front ones are 16,5 cm (6,5").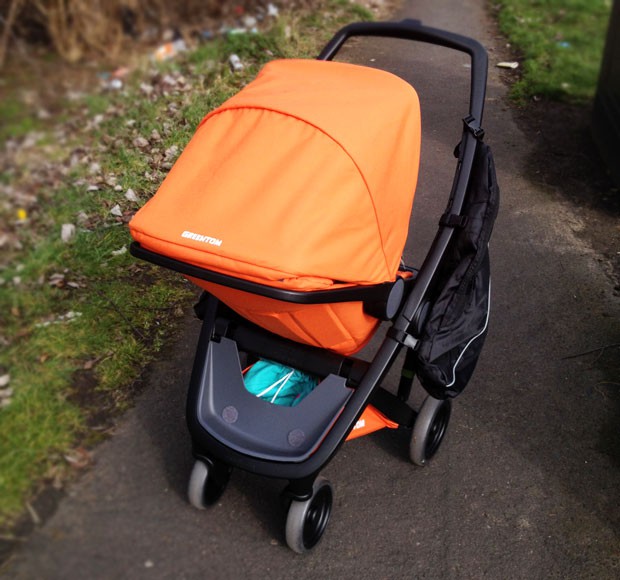 The swivel wheels at the front tend to tilt inwards a bit which I think is the reason why the wheels sometimes struggle on bumpy ground. I have got stuck on small bumps or uneven areas in the pavement quite a few times and I do find that I have to look out more to check for bumps ahead of me to not tipple the pushchair forwards when this happens. It's completely fine on smooth surfaces though and that's why I think this pushchair is best suited for urban environments.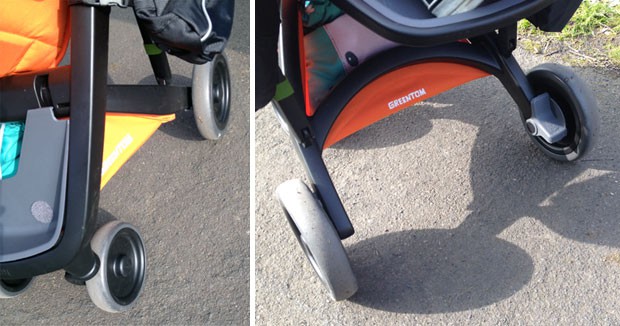 The brake is a small classic one on the right wheel that you step on to brake or lift up to unlock.
Weather Protection
The Greentom Upp Reversible Pushchair does not come with a rain cover but you can buy one separately if you wish to have one. I know some people love them and would prefer them to be included in the price but I personally don't like rain covers and neither does my daughter so we don't use them.
The thick hood of the pushchair is large and offers great coverage. It's got an extra bit at the front that folds down for even more protection from light or rain.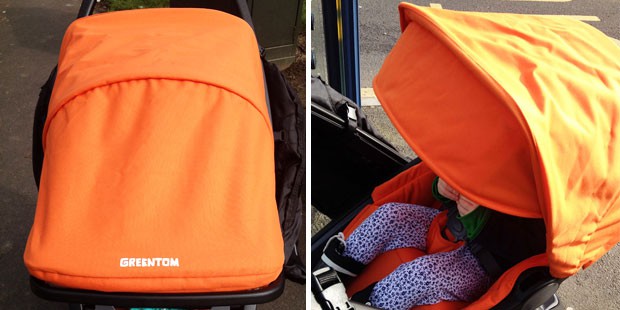 Storage & Shopping basket
Here's where this pushchair is lacking — unfortunately, it's barely got any storage at all. The 10l shopping basket is tiny and quite oddly shaped. It can't fit more than a pouch with a change of clothes for my toddler and a nappy/wipes/travel changing mat kit. The walls of the basket are low too so things can easily fall out on the more open side facing the handle.
I have noticed that if you take the grey plastic cover off at the front, it's much easier to use the basket and reach things that are in it.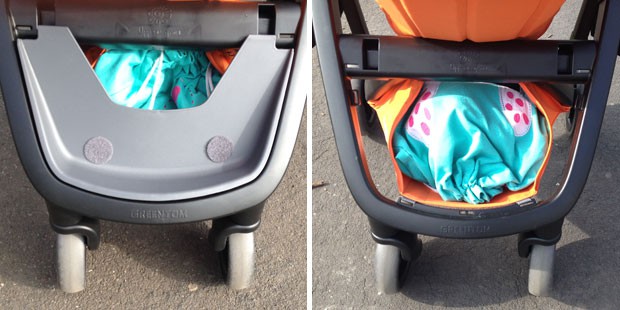 There's no pocket behind the seat like on most pushchairs and due to the design and shape of the handle, you can't hang any regular bags or pram organisers on it to store things in.
The lack of storage is fine if you don't use your pushchair for long days out when you need to take more things for your child and if you don't use it to carry your shopping. Since it's a green stroller, I would have thought a larger basket would have been a priority in the design process so that parents who are eco-conscious could use the pushchair for shopping trips on foot or public transport and use their cars less.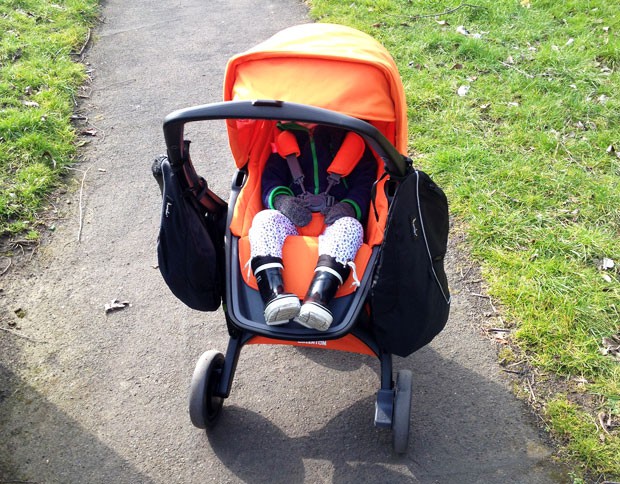 I have overcome this problem by using a clever product called Hamster Bags which attach to the sides of the chassis of any pushchair and offers you a place to store items for your child or your shopping. More about them in a separate post (coming soon!).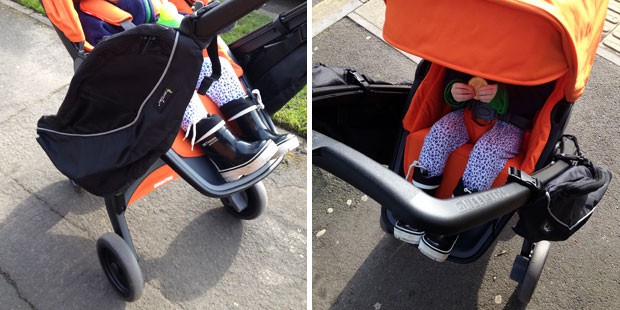 Public Transport and Stairs
This pushchair is easy to get on and off buses and fits neatly on the bus too.
The larger back wheels make it easy to bump up and down stairs which is very important to me as I'm often out and about with my toddler without anybody to help me lift the pushchair up and down.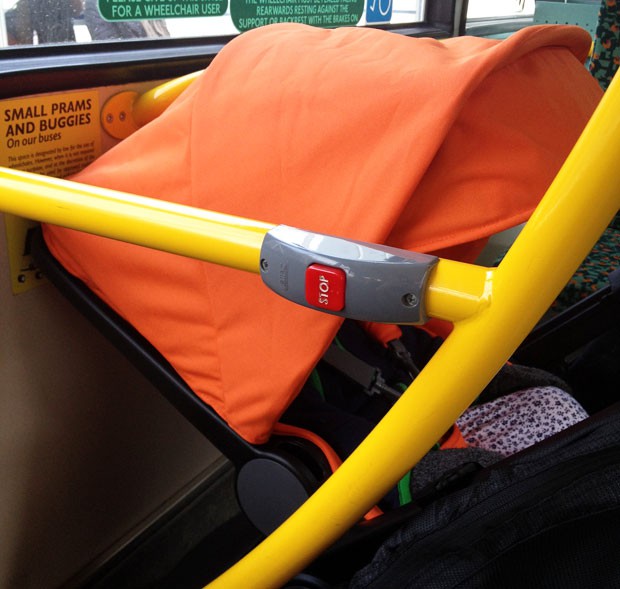 Folding & Storing
When the seat is in the back-facing position — which is how we use it — you can't fold the pushchair with the seat on. You have to click it off and take it off first. This is not really a problem as it's easily done but might not be great if you're in a public place and need to store it or carry it. You can, however, just turn the seat around and then fold the pushchair as they show in this video below.
Here's a video showing how to fold it by taking the seat off first. I do think it takes up less room folded up like this as you can just put the collapsed seat on top of the chassis in the boot of the car for example. The seat doesn't fold but collapses into being almost flat.
Price
The Greentom Upp Reversible Pushchair costs €299.00 which makes it a middle priced pushchair. If you know you'll want all phases of the Greentom Upp system you can buy all parts in the 3in1 package for €599.00 or if you just want the carrycot and the reversible seat, get the 2in1 for €499.00. You can also buy each set individually and get the extra parts on their own when you need them. Available accessories include two different rain covers, car seat adaptors and footmuffs. Prices include VAT, free returns and a lifetime warranty.
Advantages
The greenest pushchair on earth! That's a huge advantage.
Completely made of recycled materials.
Customisable with lots of fun colour options.
One frame that can be used for different seats or the carrycot.
Super lightweight which makes it easy to push and carry.
Very comfortable seat with excellent padding.
Reversible seat.
Thick hood.
Easy to clean fabric.
Really easy to assemble and take apart again to move the seat.
Stunning and eye-catching design.
Disadvantages
The shopping basket is too small.
Lack of storage.
No place to hang regular bags or pram organisers.
Front wheels struggle on bumpy surfaces.
Would be better if the seat could fold too to save room.
Rain cover could be included in the price as many parents want one.
The handle height can't be adjusted.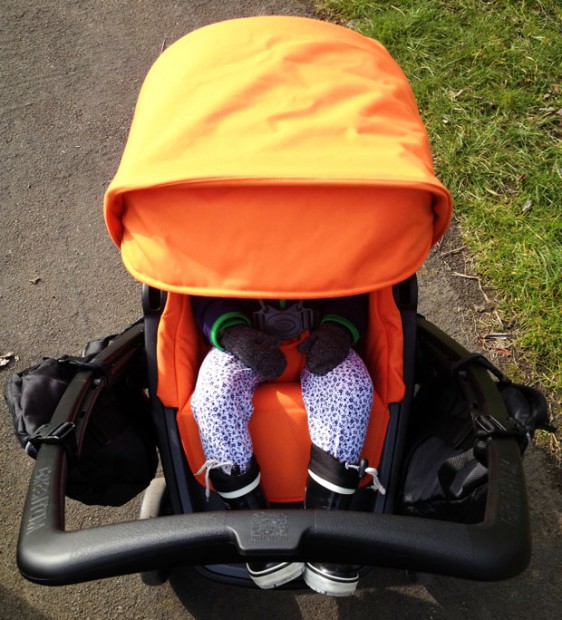 Features
Suitable from 6 months – 2,5 years ( max. 15 kg / 33 lbs, 93 cm / 37″)
Comfortable
Lightweight: 7,5 kg / 16,5 lbs
Maneuvreable
Easy to fold
Compact upright storage:
Ready for use size: 102 x 55 x 79 cm (40x22x31")
Swivel wheels
Frame: 100% recycled polypropene
Fabric: 100% recycled PET-bottles, easy to remove and clean
100% natural mattress
Infinitely adjustable recline
Green: All the way!
One frame fits all
Overall / Conclusion
I love our Greentom Upp Reversible because it seems so comfortable for my 2-year-old daughter. I love that I can have her facing me and that you can change the direction of the seat easily. The fact that you can design a pushchair with a colour combination just for you is lovely and so much fun. I never dreamed I'd have a pushchair in my favourite colour bright orange.
The lack of storage is a shame but the pushchair is still brilliant for shorter outings or with the Hamster Bags that I mentioned earlier which allow you to carry more things on the frame.
It's a good pram for urban environments where the roads are not too bumpy or uneven. I wouldn't use it on walks in the countryside or the woods as the wheels are not made for these kinds of uses. For city outings, it's lovely though!
I love the bright orange design that we went for. It's so easy to spot in crowds and I've received a lot of attention from other parents as it looks so different and interesting.
The fact that the pushchair is the greenest stroller on earth is a huge bonus for me as I think this is something that's very important for us, our planet and our future. More brands should follow in Greentom's footsteps and use recycled materials for their products.
Design and buy your Greentom Upp on their website.

We were sent this pushchair for review. As always, all my reviews are 100% honest and all thoughts and opinions are my own.