InstaNatural Argan Oil Hair Treatment & Elexir Review
|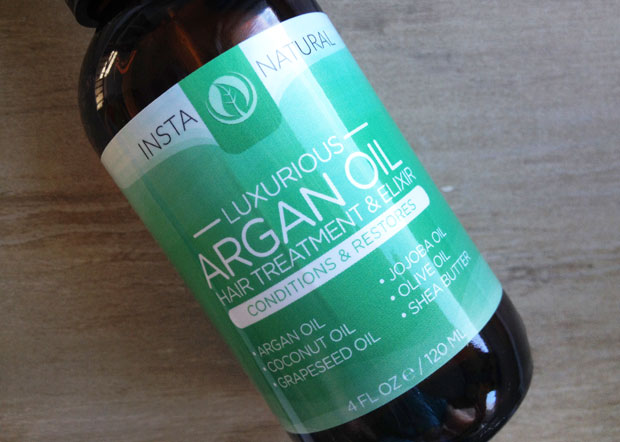 InstaNatural Argan Oil Hair Treatment & Elexir Review
This luxurious new Argan oil hair treatment from InstaNatural is designed to revitalise weak, limp and lifeless hair and quench dry hair's thirst to leave it velvety smooth, frizz-free and with a long-lasting healthy and luminous shine. It's full of natural plant oils that are buttery and hydrating and penetrate the hair fibers to re-hydrate thoroughly.
The oils used are:
Argan Oil
Coconut Oil
Grapeseed Oil
Olive Oil
Jojoba Oil
The formula also contains Panthenol/Vitamin B5 which strengthens the hair by filling cracks and shea butter which thickens the hair and adds more volume.
It's a deeply nourishing elixir that helps condition dry, damaged and brittle hair, making it look healthier, feel softer and easier to manage. It protects against heat and other environmental elements and can also be used as a styling product before using heat tools or to simply tame any frizziness or add shine to the ends of your hair.
For a treatment you can use it for 10 minutes, two hours or oven overnight. Apply as much as needed into the lengths of your hair (the amount depends on the thickness and length of your hair) and shampoo after treatment.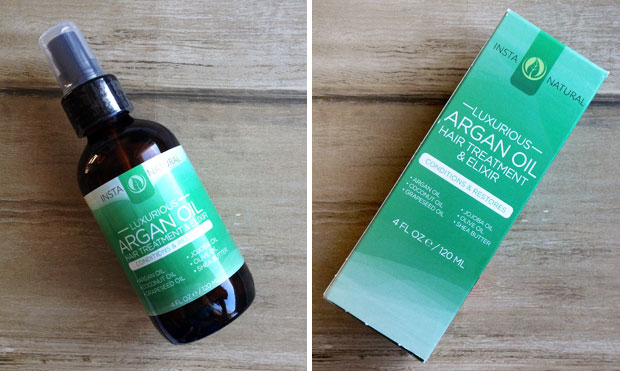 For styling, rub a drop between your palms to warm it up and distribute it and smooth or scrunch into your hair depending on your style.
This is a great product for my hair type. I have long, wavy/curly hair that is wild and often feels dry and frizzy. I always like to use deeply nourishing and conditioning products on the lengths of my hair to keep it looking as healthy as possible. When my hair is hydrated well, my curls look more defined and bouncy which is the look I desire.
I love using this products both ways it's been designed for and if I have the time I will apply it before washing my hair and leave it in for as long as possible. My hair feels so nourished after a treat like this!
It also works really well post hair wash and I apply a couple of drops into the lengths of my hair when it's still damp and let my hair air dry to achieve my natural curls. They end up looking much healthier than normal and more corkscrew like which exactly what I want.
I highly recommend the InstaNatural Argan Oil Hair Treatment & Elexir, especially if you have dry hair that needs a proper boost of hydration. Perfect for the colder months when central heating tends to dry out hair even more.
InstaNatural Argan Oil Hair Treatment & Elexir costs £16.95 and is available to buy from the InstaNatural website or from Amazon.co.uk.
As always, InstaNatural's products are produced in small batches to ensure quality and freshness. InstaNatural is a great company that offers a 100% Satisfaction Guarantee Policy and will refund you if you are not happy with your product.
I was sent this product for this review. As always, all my reviews are 100% honest and all thoughts and opinions are my own.