Optrex Eye Care Products Review and Giveaway
|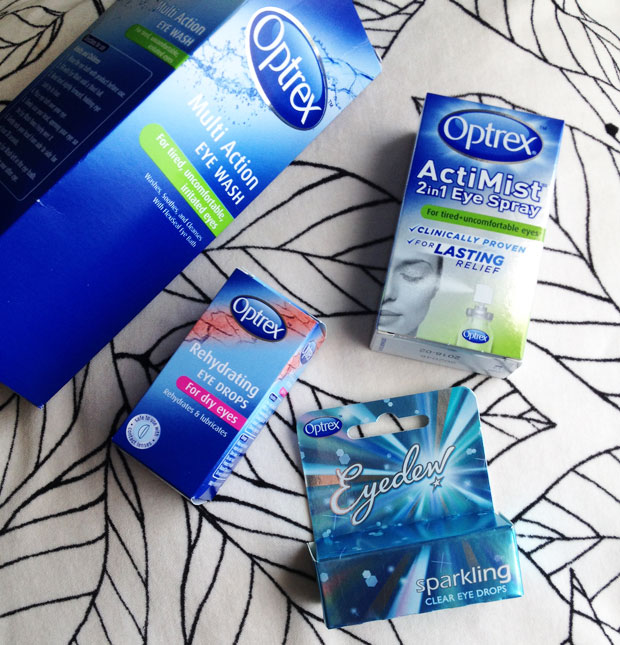 Optrex Eye Care Products Review and Giveaway
Our modern world of too much screen time, lack of sleep, air pollution and central heating is having an effect on our eyes. 43% of the UK population — that's 19.6 million people — suffer from something called Urban Eye which means modern life has caused eyes to be dry, itchy, red, bloodshot, sore, irritated, tired or uncomfortable.
I know this feeling very well! As a mum to a now toddler who has never slept well — which means I haven't had a proper night's sleep in nearly two years — and someone who works on the computer and tablet all day and then try to relax with a bit of TV in the evening, I can feel the effects of the lack of quality sleep and way too much screen time. My eyes feel dry and itchy most days and are definitely tired and uncomfortable. There's not much I can do about the sleep situation or the screen time. We are trying to get our daughter to sleep better but she's still up every night and comes into our bed halfway through the night. To combat the disturbed sleep, we go to bed quite early most nights. The time in front of my computer is my job so I have to do that but I might be able to reduce my free time screen time a bit but watching a bit of TV is the only thing I have the energy for at night, if even that.
Optrex products target a whole host of eye related problems including tired eyes, but also hay fever, uncomfortable contact lenses, etc. There's a large range of specialist eye care products including eye mists, drops and enhancers.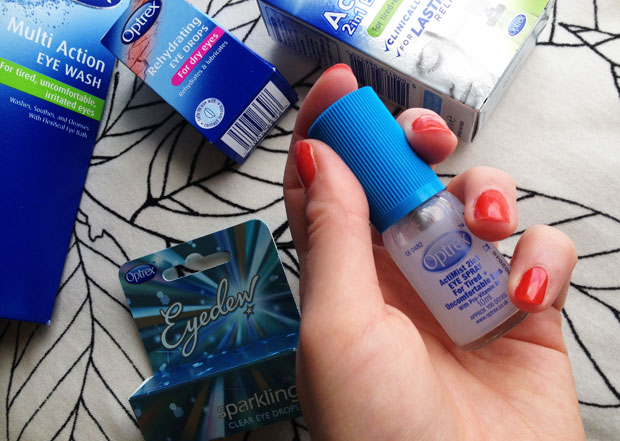 Some of the products are these:
Optrex Multi Action Eye Wash which washes, soothes and cleanses tired, irritated and uncomfortable eyes. It's a gentle formula that has been specially developed to wash your eyes and provide sensitive and moisture replenishing relief for eyes that are irritated because of dust, grit, smoke, etc.
It also helps tackle the side effects of age and modern living — tired and uncomfortable eyes caused by contact lens wear, driving, computer use, working and polluted environments.
It's also a good product to have in your first aid kit to help remove particles trapped on the eye surface like dust or make-up. The eyewash is balanced at the natural pH level of tears and is enriched with plant extracts. It comes with a single eye bath for easy application.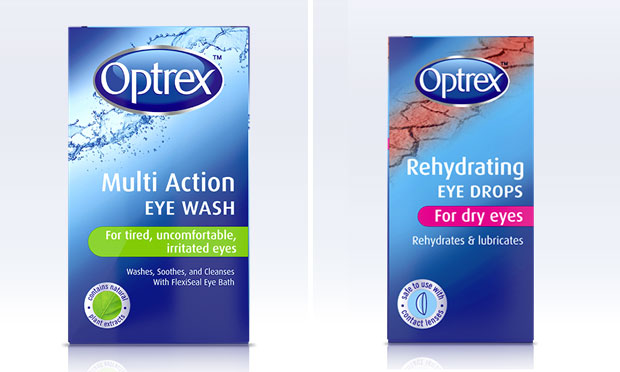 Optrex Rehydrating Eye Drops instantly re-hydrate and lubricate dry, tired or irritated eyes. These drops are designed to tackle aspects of modern living like contact lens wear, computer usage, driving, air conditioning/central heating and air pollution.
The special formula contains ingredients that replenish your tears which lubricate your eyes for an immediate difference. These drops for dry eyes are made with purified water and are completely safe to use with contact lenses.
A great multi-tasking product that is easy to take with you and use on the go when your eyes start to feel dry.
Optrex ActiMist™ 2in1 Tired + Uncomfortable Eye Spray is the product for me! I'm someone who struggles to use regular eye drops and just blink at the wrong time when I try to use them so a spray that you can use with your eyes closed is ideal for me and means I can easily get relief for my tired, dry eyes.
The new formula with Pro-Vitamin B5 can help moisturise the eyelids and the eye area for beautiful looking, refreshed skin. This spray locks in moisture by repairing the eye's natural moisture layer and provides instant relief that lasts up to 4 hours.
A great bonus is that it will not smudge eye make-up and is safe to use with contact lenses.
Optrex ActiMist™ 2in1 is now a desk staple for me and I reach for it when my eyes start to feel dry, tired or itchy.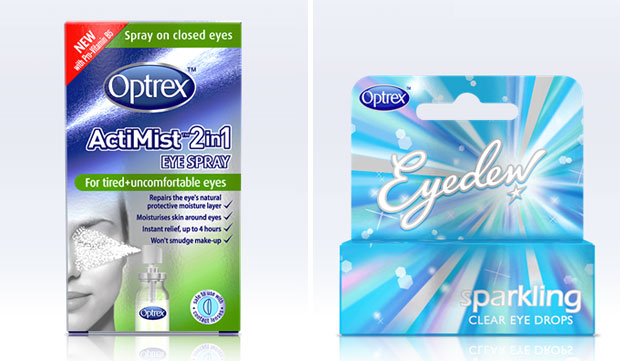 Optrex Eyedew Sparkling Eye Drops are a secret weapon that many celebrities and make-up artists use regularly to get that WOW look. A few drops will quickly make your eyes brighter, clearer and more sparkly which can help make you look well rested and healthy.
These drops enhance your eyes' sparkle and brightness and work on all eye colours. Perfect for important meetings or nights out!
Find out more on Optrex's website and buy the products from your supermarket or pharmacy.
Giveaway:
I've been given the opportunity to give a kit of Optrex goodies to one of my readers. The kit includes one of each of the products in this post. To enter the giveaway, use the Rafflecopter below. Terms & Conditions apply. UK entrants only. The giveaway will end on the 20th of November 2015.
I was sent the products in the photos above to go with this post. As always, all my posts are 100% honest and all thoughts and opinions are my own.