Revolución De Cuba Sheffield Restaurant Review
|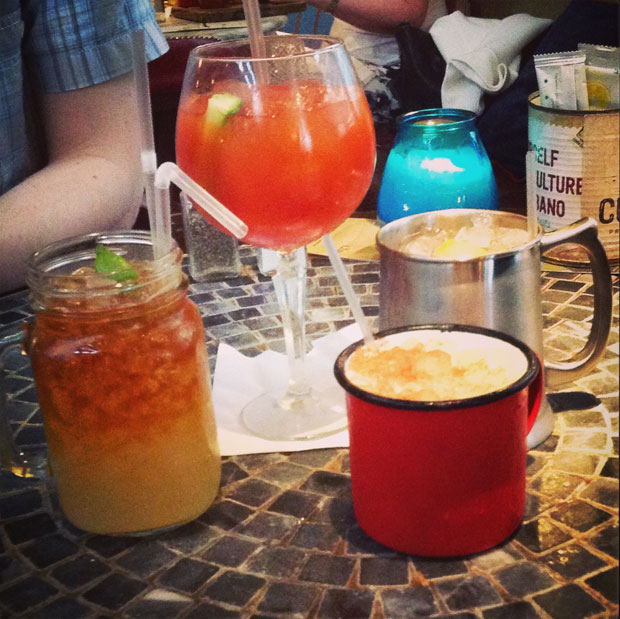 Revolución De Cuba Sheffield Restaurant Review
Revolución De Cuba has been our favourite restaurant ever since it opened in Sheffield a good few years ago. It's definitely the restaurant/bar that we've been to the most. Every time we have family or friends visiting from Sweden, we introduce them to Revolución De Cuba and the ones that have been with us before always want to go back. We've also taken local friends and family and they love it too! Once you go to Revolución De Cuba, you definitely want to go back.
There are many reasons why we love this place so much and keep going back for more…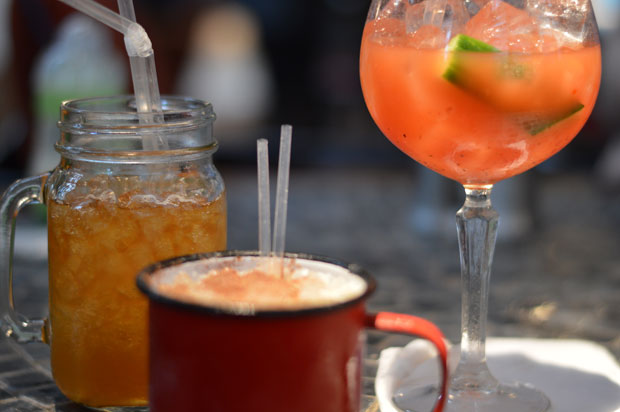 1. The cocktails! Revolución De Cuba is a rum bar and we love rum and we love cocktails. They are made by skillful bartenders and everyday between 5pm and 7pm it's happy hour and you can get two cocktails for the price of one, making them extremely good value.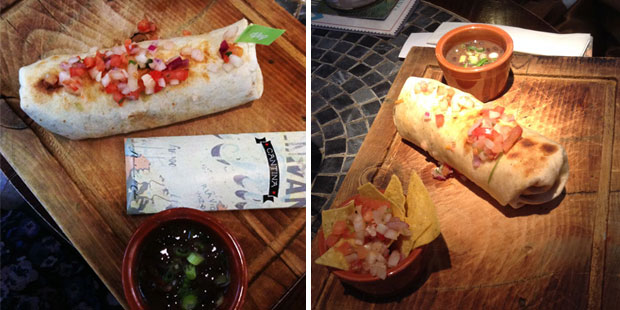 2. The food! We usually go for the Mojito & Burrito deal which runs every Monday-Friday between 12pm-6pm. Again, this is great value at £10 per person and we like to eat quite early anyway and usually get there for about 5.30pm, straight after work. You can choose between four different burritos — usually Beef, Pork, Chicken or Vegetarian — and any of the regular mojitos (or a virgin one if you are driving/pregnant/breastfeeding/don't want to drink).
I'm a vegetarian so always go for the vegetarian option. They do change them up every now and then so it's not always the same. My husband's all time favourite burrito is the current 7 Hour Slow-Cooked Shredded Beef one. With your burrito, you get some nachos, a simple salsa of onions and tomatoes and a bean dip. We usually add lots of the delicious house rum sauce too.
This is a filling and tasty meal and we're always satisfied. Attention to detail is very important and the vegetarian burritos come with a little green flag that says Veg on it to ensure there are no mix-ups. We also love that the food is served on wooden boards — it looks so pretty.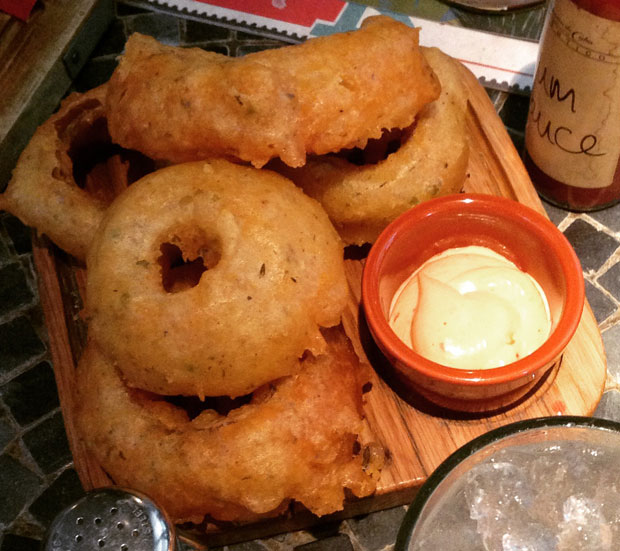 3. The sides and the starters! If you go for the Mojito & Burrito deal, you will be full and you really don't need any sides. If you are ravenous or feel like stuffing yourself you can add a delicious side or starter. My husband loves onion rings and the Revolución De Cuba onions rings are the best ones he's ever had. He said this last time we were there. They are really nice and the size of doughnuts! One of my favourite starters (or bar snacks) from one of the old menus were Chiles Rellenos (cheese stuffed and deep fried hot, green poblano peppers) but unfortunately they are no longer on the menu. They were so good and so addictive. Please, please bring them back.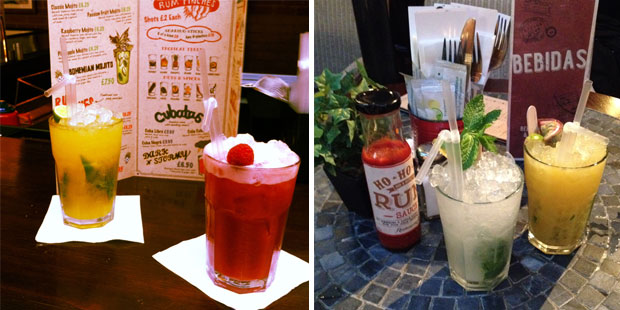 4. The atmosphere and the venue! When you go to Revolución De Cuba it feels like you're on holiday. No matter the weather outside, it feels like you're somewhere warm on a hot summer evening. It feels like you are sat outside and that the sky is just above the hanging lights that decorate the restaurant. The furniture is not all matched which makes the place more interesting — there are small tables and big tables and wooden barrels to use as tables… You can, of course, sit at the bar too. The walls are brick and the windows have shutters adding to that outdoors feel. It's a very relaxing yet upbeat environment. You relax because you feel like you're on holiday and you get energy from the buzz and the music which is often live.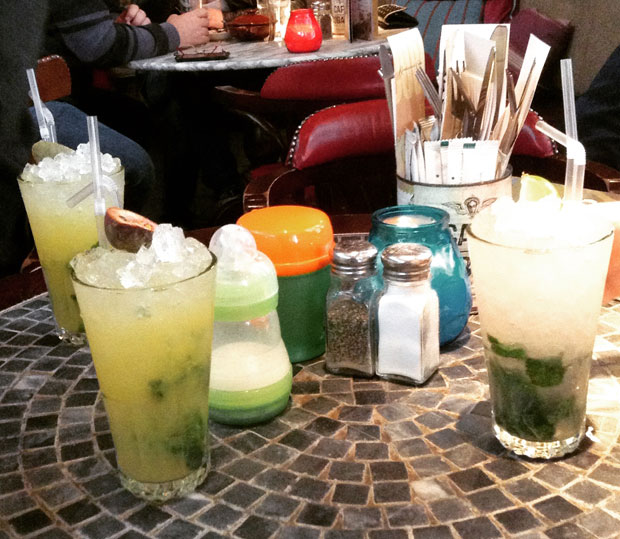 5. Didn't we already mention the cocktails? Of course! Look closely and spot the baby bottle and cup on the table. One of the other things that we really love is that, even though it's not a traditional family restaurant, the members of staff are very welcoming to you when you visit with children. We've been with my niece and nephew once and they offered to make a special kids' meal up for them and when we've been numerous of times with our daughter (now 17 months old), the waitresses and waitors are always really sweet to her and ask if she needs anything and give her maracas to play with. There are high chairs and changing facilities available, too.
Our little girl has come with us every time we've been since she was born and when we go, we go early (also when we can get the Mojito & Burrito and Happy Hour deals!) before the place gets completely filled with people, as popular bars do on a Friday night. Our little one loves the buzz and the music and often dances around sat in her high chair and pinches nachos from our boards.
We usually make our way home around 7pm, full of delicious food and a few cocktails. We are always happy to have enjoyed another family meal together in our favourite restaurant. We are so happy that we can still go even though we're at a different stage in life now that we have a child.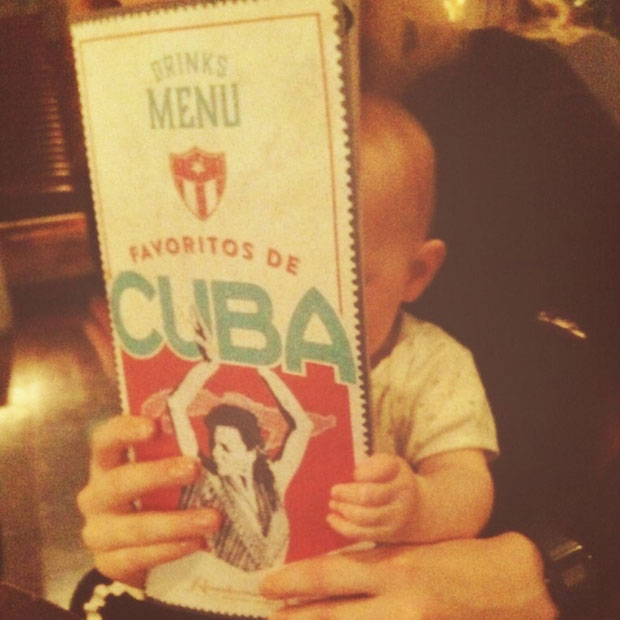 You might have seen this photo last year on Twitter or Facebook. It's our baby girl studying the menu. She's got good taste!
We've been to Revolución De Cuba maybe 30 times (maybe more!) and have never been dissappointed with the food, the drinks nor the service. It's a really lovely place to go to — for food, drinks or both. Find the menu and other locations on RevolucionDeCuba.com.
PS. The photos above are from lots of different visits. We didn't have all those cocktails in one session!