Suspension Micro Scooter Review | A Swiss Design Scooter for Adults
|
Suspension Micro Scooter Review | A Swiss Design Scooter for Adults
My two eldest children both have a scooter and love scooting! I thought it was time for us grown-ups to join in the fun so now we have an adult scooter from Micro Scooter too – the Suspension Micro Scooter in Bronze which you can see in this blog post.
Micro are scooting pioneers and the inventors of the original two-wheeled scooter. They have over two decades of innovation behind them and have won over 250 design awards.
Some other manufacturers like Micro are also following the Swiss design for Electric Scooters with high quality suspension and perks to make them rideable for adults under $1000. 
The Suspension Micro Scooter is Micro Scooter's first ever scooter with both front and rear suspension. The smart spring suspension works vertically on the front wheel and horizontally on the rear one which ensures a smooth and comfortable ride on even rough terrains.
It's a large and robust scooter suitable for longer distances. It's heavy (6.4kg) and very sturdy – you can tell that it's built to last. The scooter has been designed and engineered in Switzerland with impressive attention to detail.
The scooter has a strong aluminium frame and a long deck with plenty of space for adult feet – even in big winter boots as you can see here. It's designed for adults up to a weight of 100kg.
I love the large wheels on this scooter (200mm!) that provide excellent stability and a smooth glide. Even though they wheels are big, the scooter folds up quite compactly ready to be carried or stored away until the next ride.
Other features include a handy kickstand for independent standing and an adjustable handlebar. It's made with replaceable parts to last a lifetime of fun scooting adventures.
The Suspension Micro Scooter is a brilliant scooter for adults who want to join their kids when they're scooting (like me!) but also for people who are commuting and want an eco-friendly, active, fast, convenient, and affordable option to travel to and from work. Great for people who live and work in a city, especially.
Staying safe when riding bikes and scooters is an important topic for me. I wouldn't allow my kids to scoot without a helmet and neither would I. Micro have lots of fun helmets designed for children and a selection of helmets for adults too which is great as adults should wear helmets when scooting as well.
Here you can see the Micro Electric Scooter and Bike Helmet that is suitable for using with electric and non-electric scooters and bikes. It's certified to the highest standards and features the latest hybrid technology. It has a removable peak that clicks on and off, a clever fidlock buckle, air vents, 360-degree reflectivity and a rear light.
The helmet provides great coverage and protection and is available in two sizes. It's easy to use and comfortable to wear and will keep me safe when I'm scooting. Kids do as you do, not as you say, so by wearing a helmet yourself, you're setting a good example as their role model.
Scooting is a new activity to me and I've been out a few times now, testing the Suspension Micro Scooter and working on my scooting skills. It's so smooth to ride and easy to maneuver! I'm looking forward to many fun scooting sessions with my children and am really excited about what new outdoorsy adventures we can go on now.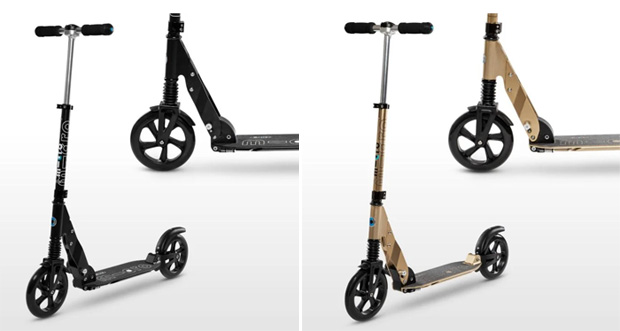 The Suspension Micro Scooter is also available in Black but doesn't the Bronze look amazing? The RRP is £209.95 and it's available to buy here.
This scooter and helmet was kindly sent to me for review. As always, all my reviews are 100% honest and all thoughts and opinions are my own. Contains a sponsored link.