Teach English Online as a Work from Home Opportunity for Mums
|
Teach English Online as a Work from Home Opportunity for Mums
Childcare is extremely expensive here in the UK and in many other countries too so many parents look for job opportunities that let them work from home to allow them to be more flexible when it comes to childcare. Flexible jobs with the option of working from home allows parents to save money on childcare and spend more time with their children. It's the ideal situation for parents of young children.
If you're new to the working from home scene, you might be wondering what kind of careers you can do successfully from the comfort of your home. There are lots of options out there – some that require courses to prepare and to get the required skills and qualifications and some where you use the knowledge that you already have.
Teach English as a Foreign Language Online
A great opportunity that works for many is the field of online education. There are lots of people around the world who want to learn English from a native speaker so teaching English online is a great work from home opportunity for mums.
If you already have teaching experience from previous jobs that's great but you don't need to have prior experience to get started teaching English as an english tutor.
The online teaching platforms that help provide students with these language service also help get their teachers and tutors ready for the full process. They'll have all the information you need to know about teaching English online. They'll also help you get the necessary TEFL (teaching English as a foreign language) qualifications and, once done, will help you find job opportunities.
Of course there are lots of other subjects that you can teach too – perhaps you have experience teaching physics and want to find online physics teaching jobs.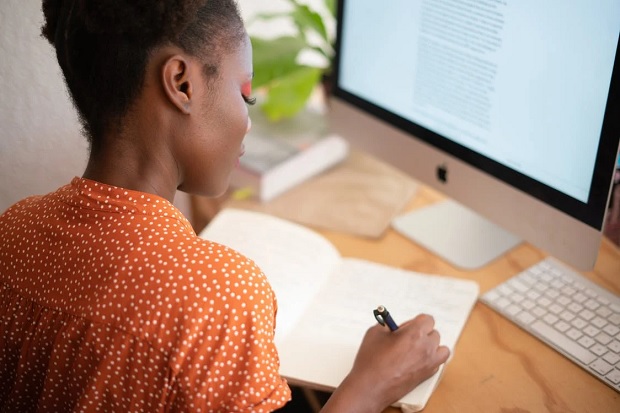 What Equipment Do I Need as an Online Teacher?
Great English skills and a TEFL qualification are both necessary parts when you want to teach English online but there are also a few other things that are needed.
You need to have a computer with a reliable and fast Internet connection, a good-quality webcam, good-quality headphones with a microphone and some props. Suitable lighting is also a good idea to ensure good video quality. The video and sound quality is very important when you're teaching languages as your student needs to be able to see and hear you properly and vice versa.
Props like a whiteboard and flashcards are also very useful when teaching languages online.
How to Get Started Teaching English Online
If you think that teaching English online could be a good work from home career opportunity for you, it's easy to get started. Do a bit of research online and start working on your TEFL qualifications as soon as possible. This usually takes around 120 hours so make sure you have some time spare for your studies.
Once you're qualified to teach online, it's time to start applying for teaching jobs online and to set up your new workspace at home to have it ready for your first lesson with all the necessary equipment.
Teaching English online is a great work from home opportunity for friendly people who are passionate about language and who like to connect with new people.
| Collaboration.