The Ultimate Holidays – The Family Vacations I Wish to Go on One Day
|
The Ultimate Holidays – The Family Vacations I Wish to Go on One Day
Growing up, my family travelled quite a lot — for business and pleasure. My parents both worked as doctors working on exciting research projects and that meant visiting countries all around the world for meetings, congresses, presentations and a few longer stays working in labs abroad. Most of the time, us kids (four of us!) came along and we even attended school and nursery in Japan for a few summers. Travelling was a huge part of my childhood and the urge to see the world has stuck with me.
There are many places that I want to see and when the kids get a little bit older, I wish to go on some exciting trips to extraordinary places for fun family adventures and some relaxing too!
One of them is Kauai, Hawaii, because it looks like such an amazing place and it offers plenty of activities for the whole family.
Hawaii is a place my mum and dad visited before I was born so I missed out on that one as a child but would love to go there now and stay in one of the Kauai beach villas available.
Kauai is an island that is part of the Hawaiian archipelago and it's been nicknamed "the Garden Isle" thanks to its tropical rainforest that covers most of the island. It's a beautiful place and it's so lush and colourful!  It's also got dramatic cliffs and of course stunning beaches. Imagine staying in a luxury beach-front villa with the amazing beach right there for relaxing, playing and swimming at any time. On days when you want a bit more activity, you have the mountains right there so you can go on a family hike. It's exactly the kind of holiday that my family would love.
I've been reading up on things to do with your family in Kauai and other things than playing at the beach, swimming and hiking include things like learning how to surf or snorkel — this would be an amazing activity for older kids, as well as exploring the local cuisine and visiting parks.
There are some quite impressive playgrounds available in Kauai which is great for entertaining younger kids. Opposite Lydgate Park, a beach in Kapaa on the east side of Kauai, there's a playground called Kamalani Playground which is quite special. It has a large wooden structure with swings, slides, balance beams, stairs and much more and it sounds like a brilliant place for children to explore. It's very Hawaiian as it features volcanos, local animals and sculptures.
Kauai offers the perfect balance of activities for a holiday in my opinion: relaxing, exploring, fun for the kids and a different culture to learn about. Simply perfect!
Another one of my dream destinations for a family holiday is Australia. I'm still learning about what's available and don't have a plan for the trip yet but basically, I would like to fly over to Australia and rent a motorhome or a caravan and drive around the country seeing different places.
Australia also offers a good balance of things to do with stunning beaches ideal for families and water sports but also city life and lots of nature to explore. There are so many dangerous wild things living in Australia though so I think we would have to explore with a local guide who knows more about the dangers and how to avoid them.
Though I love relaxing on the beach, I'm a city girl at heart and exploring local cities, towns and villages is one of the best parts of going on holiday for me. Melbourne and Sydney look amazing and would be great to visit to discover restaurants and the city culture of Australia and of course see all the sights and architecture. You can go on tours on buses through the cities and there are many options of day trip cruises in Australia too.
Another Australian must-see is Cairns which is a laid-back city with lots of brilliant and bustling cafés and markets but also close to lots of beaches. In Cairns you can visit the Great Barrier Reef and Wet Tropics World Heritage Rainforest and explore a truly tropical oasis. From Cairns, you can also make the Kuranda Scenic Railway Day Trip which takes you to a rain forest village and includes a variety of activities including to the Tjupakai Aboriginal Cultural Park and Rainforestation Nature Park. You get to browse local markets and try local cuisine and even hang out with koalas and exotic birds! At the end of the day trip, you glide through the treetops back to Cairns on Skyrail Rainforest Cableway which gives your amazing aerial views of the forests. What a way to explore!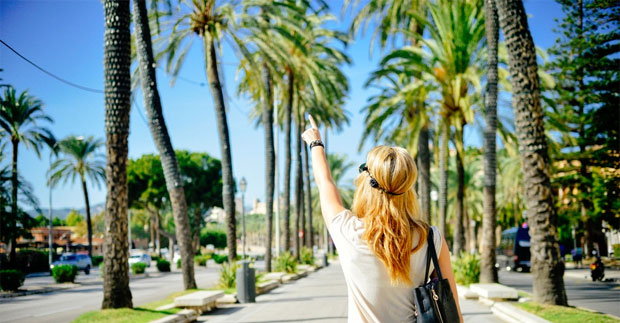 There are so many interesting places to visit on our planet and these two are the most special ones on my travel bucket list. Hawaii and Australia have some similarities — beach life and warm climates — but they're both unique places too. I really hope we can arrange to go on these family holidays one day when the kids are a bit older! It would be so amazing to explore these destinations as a family and have fun, relax, learn and make wonderful holiday memories together. I might set up a new savings account to start saving specifically for this goal to ensure it can happen.
If you could go anywhere in the whole world, where would you go? What's the vacation of your dreams? Is it somewhere tropical like Kauai, somewhere versatile like Australia? Maybe somewhere completely different — like Iceland which is also on my travel bucket list. Let me know in the comments below where you would like to visit the most.
Sponsored Post. All thoughts and opinions are my own.