Tidy Books ForgetMeNot Family Organiser Review
|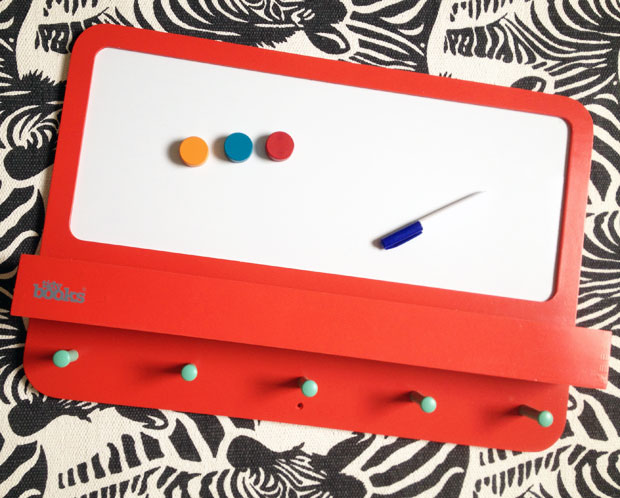 Tidy Books ForgetMeNot Family Organiser Review
Family organising seems to take up a lot of time and I'm always looking for solutions to make things easier. I'm aiming to have a home for everything so that I know where things are when I need them quickly.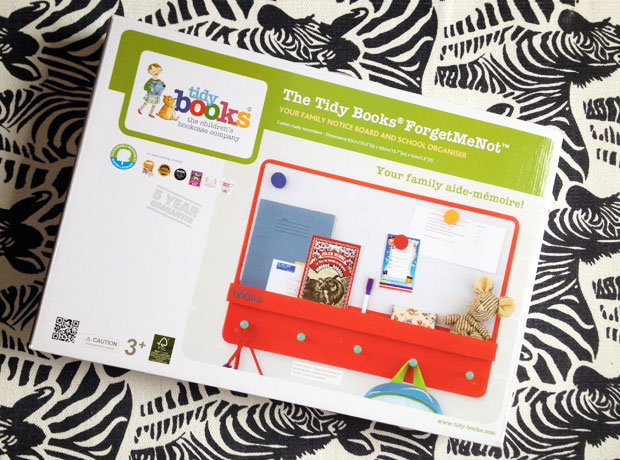 The ForgetMeNot by Tidy Books is a family notice board and school organiser and becomes a tidy and organised place to put things like letters you need to deal with, party invites, school bags and coats and to write notes for things you need to remember.
Its dimensions are H40cm x W60cm x D9cm and it's a stylish magnetic whiteboard with a deep lipped shelf to store things like books and keys and a row of hooks in a contrasting colour underneath for hanging bags and gym kits and things like that.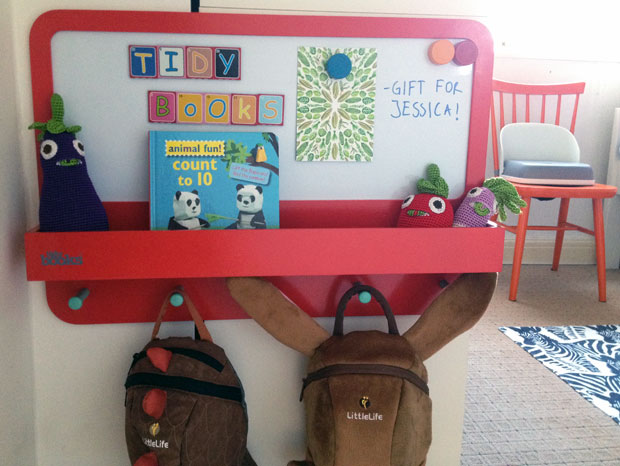 The ForgetMeNot is an original design by Geraldine, founder and designer of Tidy Books, who is a mum herself. She says:
"Everything I make is designed to be fun and enjoyable for children, to draw them in and foster their sense of independence.

I created the Forget Me Not because I wanted one place to put everything the kids need for school, just in the right place as we go out the door; important trip letters, dinner money, gym kit etc, so nothing gets forgotten in the mornings.

I make sure all my designs are stripped back to keep them looking stylish so they blend easily into a home. It's about creating a timeless classic that can be passed down through the generations.

My designs give kids the freedom to discover their world by themselves- because kids really do know best."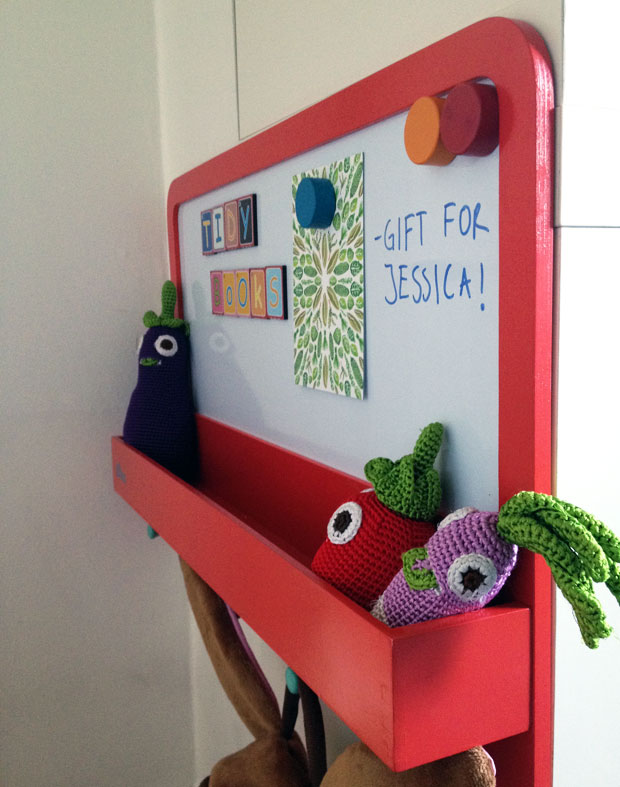 The ForgetMeNot can be used in so many different areas of a busy family home. I considered putting it in the kitchen to use for shopping lists and letters and clothes that my daughters use in the garden and also considered the hallway for keeping everything we need before heading out like a changing bag, kids' coats, keys etc. but then settled on putting it up in our daughter's room.
We attached it to the side of her large storage unit and onto the wall too. We put it at a height where she can reach it herself (she's three years old) and are using it for playing with magnets, writing notes, hanging her backpacks and storing toys and other bits and bobs. She loves it! Finally, she has a place for her bags!
This is a simple but so practical and helpful product! It encourages everyone to be organised by just being available.
The whiteboard is stain resistant and you get a suitable marker pen included with the ForgetMeNot. The three colourful magnets that are also included are really strong to hold thicker letters and cards.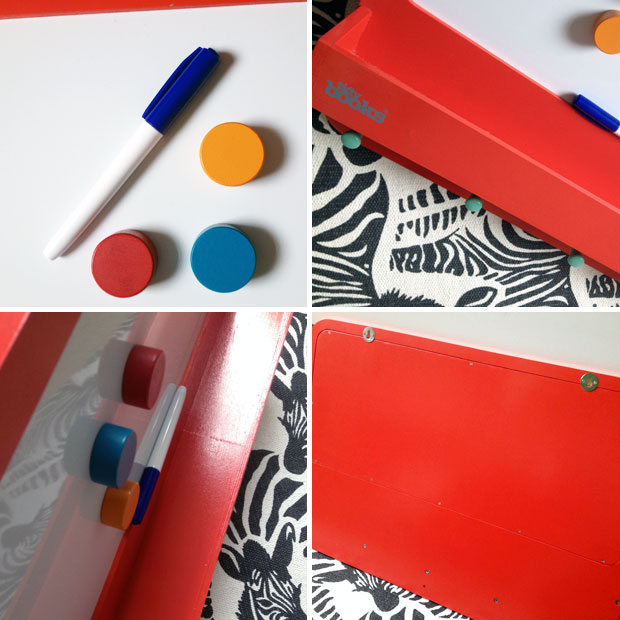 The frame and shelf is made from sustainable wood (not MDF!) and you mount it to the wall with a system that hides the screws. You get three screws and plugs in the box but you might need different plugs depending on your wall.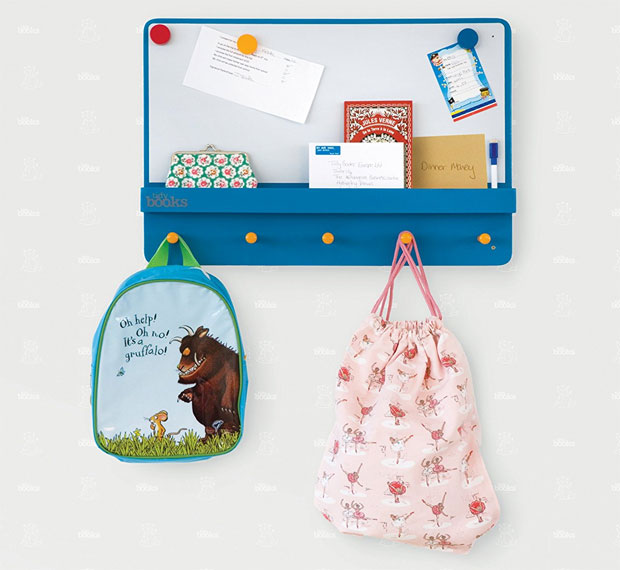 We have the red design which I think is a beautiful orange-red colour. The finish is done in water lacquer which is safe for children and much better for the environment than traditional paints.
The ForgetMeNot is also available in Blue, White or Natural. They all look lovely but the red one is my favourite!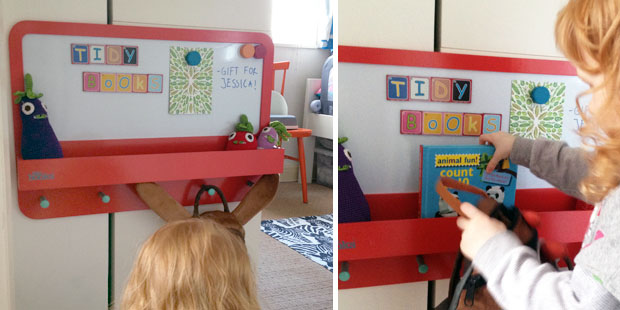 This product has become a great solution to some of our storage problems and my daughter loves being organised and having a designated place for some of her things that were lacking a home before. I'm sure the ForgetMeNot will grow with her and we'll just move it around to a different spot in her room when she's older.
Find Out More
Read more on the Tidy Books website where you can also buy this product and many other clever and fun storage solutions for families. You can also buy it from Amazon.co.uk.
We were sent this item for this review. As always, all my reviews are 100% honest and all thoughts and opinions are my own.