Weleda Rosemary Bath Milk & Lavender Bath Milk Review
|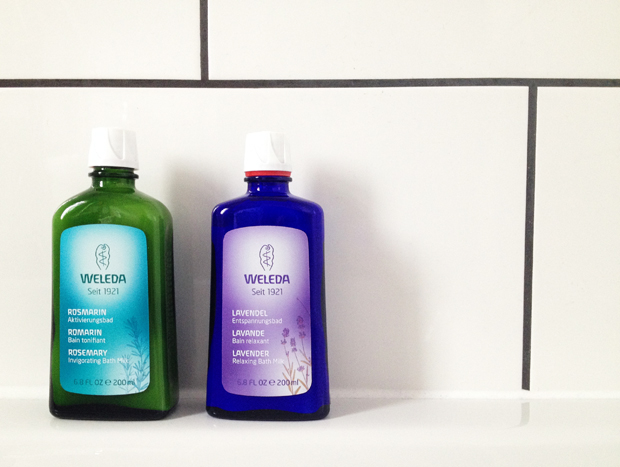 Weleda Rosemary Bath Milk & Lavender Bath Milk Review
Bathtime is a really precious time for me as a mum and I'm not talking about the time when the kids have a bath. No, this is all about MY bathtime. I love having a soak with something luxurious in the water and a good book in my hands. Sometimes a glass of wine too! These 20 minutes or so that I get a few times a week are pretty much the only time I get to myself. Of course, I shower on the days that I don't have a bath but showers never feel like me-time. Plus you can't read in the shower and drinking wine in the shower is pretty much impossible too! I've never tried.
I like to make my baths a bit special and use products that make me feel relaxed and pampered and that smell amazing. My latest discovery: bath milks from my favourite skincare brand Weleda.
At the moment I'm enjoying baths with their Rosemary Invigorating Bath Milk and their Lavender Relaxing Bath Milk. They pretty much do the opposite things so I choose depending on my mood. Do I need help to de-stress and relax before going to bed early or do I need to lift my mood and energise myself?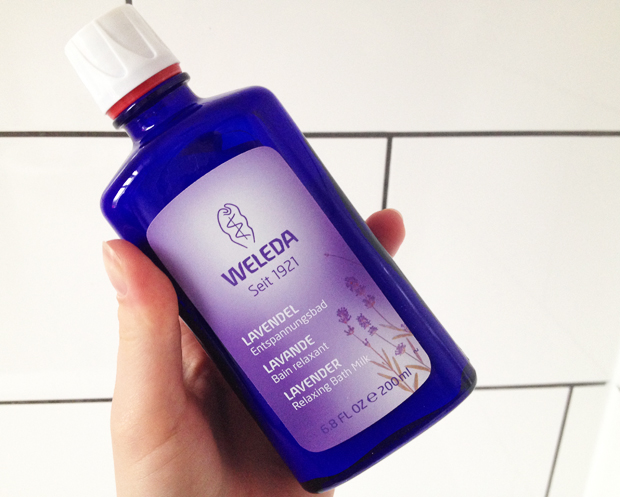 To calm my senses and my body, I use the Weleda Lavender Relaxing Bath Milk. Lavender is known to be relaxing and this product creates a soft and milky bath to slip into for some calmness and rest. It's ideal for a bath right before going to bed as lavender is a classic aid for sleep.
The lavender oil in this gorgeous milk, is soothing and calming and helps balance your nervous system. I think lavender helps relax me for bed but also helps calm me down when I'm feeling stressed.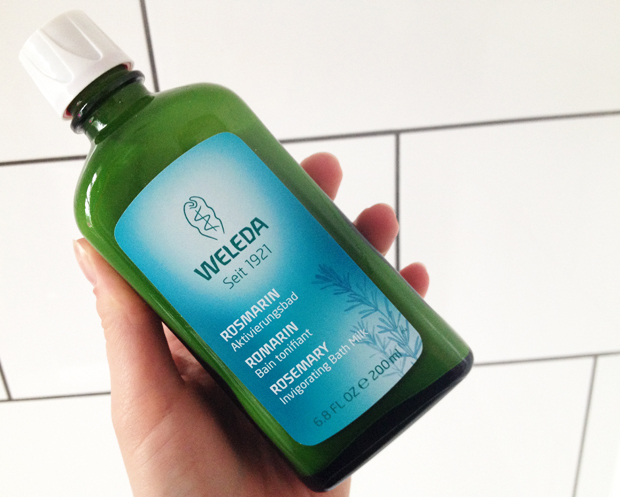 When I'm tired and want to feel more energetic — maybe to stay up for a few hours or before going out for the evening — I go for the Weleda Rosemary Invigorating Bath Milk. It makes our whole bathroom smell amazing and even my scent-sensitive husband likes it!
The lovely fragrance gets to work straight away and revives my body and mood. It wakes me up and makes me feel more energetic.
Rosemary oil is very refreshing and energising and it clears my head and perks me up.
These bath milks are suitable for vegans and come in beautiful classic Weleda glass bottles that look great on display. At first, I thought that the 200ml bottles wouldn't last very long as I'm always so generous when pouring bath products but I use them according to the instructions which say to use 3-4 capfuls per bath which is absolutely plenty to create a milky bath that smells wonderful. The bottles actually last ages as the product is so intense and concentrated unlike many products on the market. Weleda never water down anything — their products are amazing quality!
The bath milks cost £12.95. You can buy them online from the Weleda website or Amazon.co.uk where the prices can be a bit lower sometimes — at the time of writing, the Lavender one is just £8.60.

Whilst writing this review, I came across four more bath milks on the Weleda website that I would love to try next — an Arnica Muscle Soak, a Citrus Refreshing Bath Milk, a Pine Reviving Bath Milk and a Wild Rose Cream Bath. I can just imagine all the glorious scents filling my bathroom…