10 Crochet Tips For Beginners: How To Start On A Project
|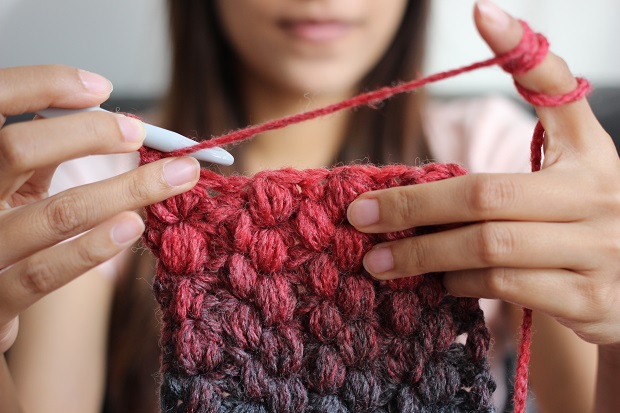 10 Crochet Tips For Beginners: How To Start On A Project
Crochet, which is French for 'small hook,' is a handicraft that involves creating textiles interlocking a thread, yarn, or stands using a crochet hook. Crochet is a cheap hobby you can pursue, most especially if you have plenty of free time.
Learning crochet allows you to turn simple or plain materials into beautiful handicraft art pieces. So, how do you start on a crochet project as a beginner?
10 Top Crochet Tips For Beginners:
If you're starting a crochet project and it's your first time, check out the following tips so you can enjoy the experience:
Learn the Basic Crochet Materials
First of all, DoYouSew.com explains the importance of knowing the basic things you'll need for this new hobby. It's important to know and prepare all the crochet materials and tools you'll need to avoid disturbing your concentration from moving around looking for things when you're already sitting relaxed and crocheting.
The basic materials and supplies to have are yarn, your preferred crochet material, hooks, tapestry needle, stitch markers, and hook case. Make sure to put everything in one place to avoid misplacing them.
Choose Worsted Weight for the Perfect Yarn
The yarn is used to create the main fabric of your crochet project, which is classified by the fibers used and weight. The most common types of yarn include polyester, cotton, acrylic, wool, and superwash merino. Whether you're planning to crochet a phone cover, potholder, or baby rattles, choosing the correct yarn material and weight is essential
When it comes to weight classifications, yarns have corresponding numbers: lace at 0, superfine at 1, fine at 2, DK or light at 3, medium or worsted weight at 4, bulky at 5, super bulky at 6, and jumbo at 7.
For beginners, medium or worsted weight is highly recommended. They're easy to crochet as compared to heavy thread or yarn, allowing you to smoothly create patterns.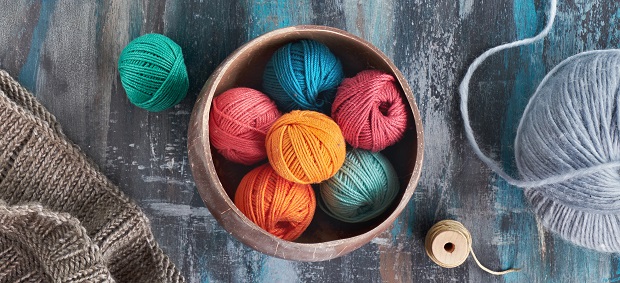 Make Sure the Crochet Hook Size Matches the Yarn
Many people don't know the difference between crochet and a knit. It actually boils down to the needles used. Two pointed needles are used in knitting, whereas crocheting uses just one curved hook. Crochet hooks can be made of metal, plastic, wood, or bamboo.
While you're crocheting, you'll eventually realize the right hooks for your projects. When buying a hook for a yarn, make sure that the hook size matches the yard label's suggested size.
Check the different types of crochet hook:
Ergonomic Hooks: They have some sort of grip, putting less stress on the hand while you're crocheting. Hence, ergonomic hooks are recommended for those who have wrist or hand issues as it prevents cramps.
Aluminum and Plastic Hooks: These hooks come in different sizes and are cheap. However, plastic hooks are a bit harder to work with. They might break because plastic hooks are a little flimsy.
Handcrafted Hooks: Hook makers manufacture handcrafted hooks with ergonomic handles made of polymer clay. Some handcrafted hooks are even carved out of wood. To ensure high-quality, read reviews before buying handcrafted hooks.
Choose Bent Tip Tapestry Needle
A tapestry needle is similar to a sewing needle but with a soft tip, which is a vital part of basic crochet materials. The purpose of this tool is to weave the yarn ends together and to avoid pricking you or splitting your yarn.
By using a tapestry needle, you can make different crochet garment styles. It's best to use a bent tip tapestry needle when you're sewing together amigurumi, which is a Japanese way of crocheting mini-stuffed yarn creatures, as it'll serve as ergonomic hooks.
Invest In A Hook Case for Organization
While a hook case is optional, it still promotes organization because you can put all of the crochet supplies in it.
You can buy a hook case in a local craft store or online.
Use Stitch Markers
For beginners, using stitch markers will help you master every crochet pattern. Using stitch markers for large projects is highly recommended to keep track of rows, helping you avoid losing count.
Stitch markers keep track of the round's first stitch. They're also useful when you're marking armholes and hold panels together while you're sewing.
Take Advantage of Yarn Bowl
Yarn balls can flop everywhere and fall on the floor. With a yarn bowl, you keep your yarn organized and accessible.
Use a Ball Winder
A ball winder is a handy tool to turn skeins into small yarn cakes, making them super cute and easier to fit in your new yarn bowl. With a ball winder, you can also unwind the ball as you're crocheting, which helps avoid running into tangles and snags.
Choose Simple Crochet Patterns
You don't have to pressure yourself by crocheting a complicated pattern. Novice crochet hobbyists should start with simple crochet patterns.
Check the following examples:
Crochet Necklace: Make a gorgeous necklace with one stitch. To make it more special, add beads and color-changing yarn.
Crochet Coasters: Create a perfect backdrop for your early morning cup of coffee with a square motif crochet coaster. They're sleek and reflects the traditional granny squares.
Simple Dishcloth: Grab a cotton yarn, and create a simple dishcloth. Single crocheting a simple dishcloth makes your dishes clean. Once you've mastered crocheting, you can create a longer version, such as matching kitchen towels.
Basic Beanie: Beginners can't go wrong when crocheting a basic beanie. Use single crochet stitches to keep it simple. You can add some texture by working each stitch's back loop.
Also, adding some colorwork is fun and makes the beanie more appealing.
Make a Crochet Chain
When making a crochet chain, you can start by practising for about 10 to 15 minutes every day until you're able to hold the yarn to the point that it's no longer too tight or too loose. Here's how to make crochet chain:
Around the hook, make a slip knot–wrapping the yarn around the crochet hook. The tail of the yarn should hang behind the loop.
Guiding the hook, loop it under the tail and back out.
Tighten the yarn by pulling the tail around the hook.
If you're right-handed, the left hand's thumb and middle finger are used to hold the slipknot end.
Guide the yarn to the front using your index finger around the hook handle.
Pull the yarn using the hook to form one chain.
Repeat the steps to make a long chain.
Conclusion
There are many crochet items you can create as a novice crochet hobbyist. By knowing the basic materials to use and choosing the correct size, type, and shape of your crocheting supplies and tools, you'll enjoy crocheting simple items and eventually master the craft.
Invest in a hook case, a yarn bowl, and a ball winder for more organized work. Choose simple crochet patterns to avoid getting overwhelmed with complex patterns. Doing so makes crocheting a lot more relaxing and enjoyable. Refer back to these crochet tips for beginners whenever you feel necessary.
Article by Ian Finch:
Ian Finch is a blogger who has been writing informative articles for more than ten years now. When not busy writing, Ian spends most of his time at home with his pets. Hope you've enjoyed these crochet tips for beginners by Ian.